iOS 10 Public Beta 6 Is Now Available To Download
I missed iOS 10 Public Beta 5! And now Apple has already seeded iOS 10 Public Beta 6 to public as of last Friday 19th Aug 2016. Well, I guess Apple is getting closer to release final version of iOS 10 since it's now mid of August already and if rumor is true, iPhone 7 – the next generation iPhone will be release somewhere on 7th September 2016, so (most) probably, this iOS 10 Public Beta 6 is the last public beta before eventually Apple release the final version of iOS 10.
How to Get iOS 10 Public Beta 6
If you are enrolling your iDevice in the beta program but didn't get pop up from Apple, you can alternatively check from Settings > General > Software Update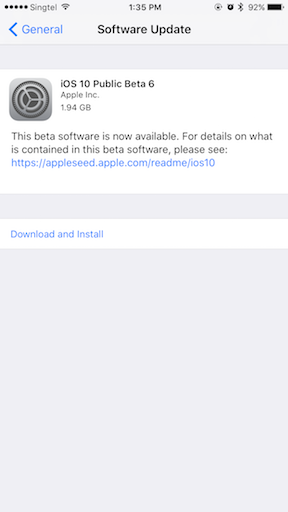 Just in case you are new, never roll your iDevice before, head here for steps on how to join and become iOS 10 public beta program and tester. It's totally FREE and does not require any jailbreak/hacking.
Nothing New Spotted in iOS 10 Public Beta 6
So far I couldn't see any difference (yet) in this Public Beta 6 with previous Public Beta. Perhaps the improvements are more to make it more stabilise and/or something un-noticeable to me.
1 thing I do spotted is the size of iOS 10 Public Beta 6. Previous public beta was just 400-500MB, but Public Beta 6 took out 1.9GBs!
Anyway, to see the whole new iOS 10 public beta features, do check the following:
Check here, here and here for new features found on iOS 10 Public Beta 1
Check here for new features found on iOS 10 Public Beta 2
Check here for new features, bugs found on iOS 10 Public Beta 3
Check here for new features, bugs found on iOS 10 Public Beta 4
---
For list and/or quick review of iOS & Android FREE APPS, FREE GAMES and/or FREE tips & tricks and latest iOS & Android news, visit below:
---