Experiencing iOS 10 Beta – Day 3: Photos App
Today is the 3rd day I'm using iOS 10 Beta on my main iOS device, and I did encounter a rather annoying bug.
Unable to hear people when they call me (not reproducible)
And vice versa, other people also couldn't hear my voice. Luckily when I restarted my iPhone, the problem was gone. Did anybody encounter the same?
---
Apart from the bugs, I started exploring Apple stock apps and here are my findings:
Photos App
Unlike iOS 9 and before, on iOS 10 Photos app albums are shown in grid mode. That's the first thing I notice when first time opening Photos app after installing iOS 10 Beta.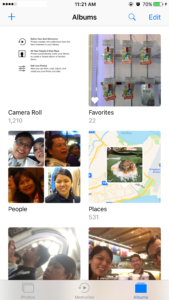 Second glance, I found Photos in iOS 10 also has new menu: Memories.
And on my subsequent glances, I found there are new default grouping: people and places.
If you ever used Google Photos before, the Photos app now is pretty much similar to it.
Memories
Memories is grouping of photos taken at certain point of time, and just like Google Photos' Creation, Memories is automatically group your photos and create a video from it.
People
People is a new photos grouping based on people's faces. It is smartly identify the photos then group the same faces within one group. Say: there is a selfie that consists of me only, then there's a photo of me and my wife and there's another photo of me and my friends. Photos now group these 3 photos into 1 folder with my face as the folder's thumbnail.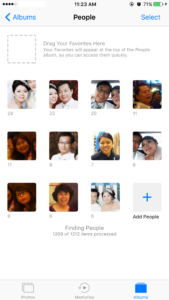 My finding is Photos app is still less smart compared to Google Photos app. I have old photos of myself around 2013 stored on my iPhone, compared to me now (2016), I was bulkier (read: fat/chubby) before on 2013 and now I'm skinnier. Somehow Photos app create 2 thumbnail folder with 2 of my faces: 1 is face from 2013, and the other 1 is face from 2016. While the same photos stored on Google photos, Google stores it under same 'face' folder.
Places
Places is actually not a new feature, it has been in previous iteration of iOS, just that only today it has its own folder, called Places.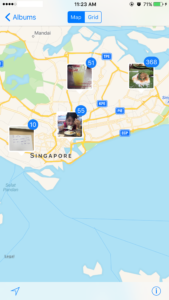 Places basically will show where on earth your photos were taken and group them based on their locations.
Mark Up
With iOS 10 now it's possible to put mark up on your photos, whether a text or a mark.
The marker also comes with few colors.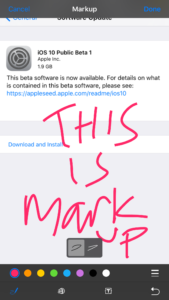 One feature I felt lacking is the ability to save the altered photo as a new photo, leaving the original photo untouched, although you can revert the changes back, but I prefer to have 'save as' capability.
Hopefully they introduce it in the next beta or final version.
And well that's about it my 3rd day experience of using iOS 10 Beta on my main device.
---
For list and/or quick review of iOS & Android FREE APPS, FREE GAMES and/or FREE tips & tricks and latest iOS & Android news, visit below:
---