UberEats Boost – A New Way to Boost Your UberEats Income
To register yourself to become UberEats courier (aka Driver or PowerRider), heads to this link for details.
Tips on what every UberEats couriers should bring with them, click here.
What is UberEats Boost?
It's a new UberEats programme for its couriers to know better where are the high demand areas – marked with higher boost percentages, so that couriers don't waste their time and energy go and wait at the wrong area, but instead they know where to go and wait.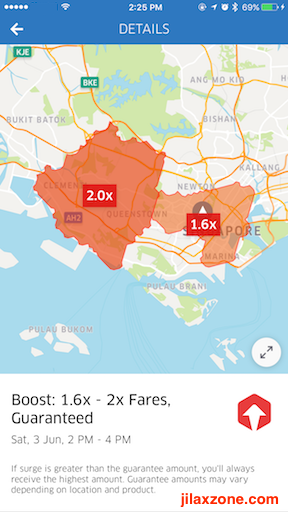 The end goal is to make sure all UberEats orders get picked-up and delivered to customers as soon as possible – since using the Boost info, most of the couriers – me included – are always looking for places with higher Boost in hope for higher earnings. It's a win-win solution for UberEats and for its couriers – us. Uber gets all of its customers served, while us getting more and higher earnings. Good job Uber at finding the right formula.
Notes: Courier(s) mentioned in this post refers to UberEats Driver(s) or PowerRider(s).
Disclaimer: I'm not an Uber employee. I'm just trying to share to you everything I know about this and based on my personal experiences working as one of their couriers. The info provided here is as correct as possible to my knowledge at the time the article is written. Uber, however, may change any of their policies without further notice in which my article may no longer be deemed correct. To avoid such mistakes, it's advisable for you, readers especially couriers, to always counter-check with Uber for anything.
How does UberEats Boost work?
Accept order as usual, pick-up, deliver and complete order as usual. Nothing really change except the part when they calculate your earnings. Now, couriers don't need to wait until next Monday for Uber to calculate your final earnings. The moment you complete your order, the app and their system will directly calculate your earnings based on Boost you get.
How to know which Boost Rates you are getting?
First of all, the Boost rate applied to your earning is not Boost rate at the time you accept the order, but at the time the order placed by the customer to the restaurant. And until today, there's no way to check the Boost rate you are getting. One way to check and know the Boost rate you are getting is from your earning trip, compare and calculate your base fare and the Boost fare you are getting. Illustration below.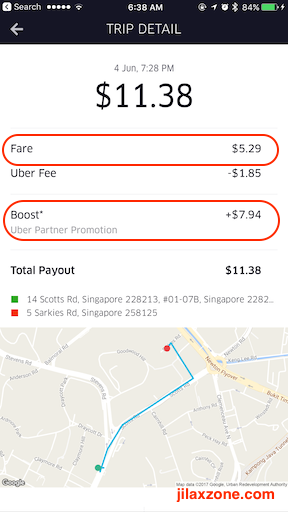 How to get UberEats Boost Rate by Reverse Calculate Your Earnings
From the image above, here's how you can get the Boost Rate applied to your order.
| | |
| --- | --- |
| Fare | $5.29 |
| Boost | $7.94 |
| Boost Rate Calculation | = ( Boost / Fare ) + 1 |
| Boost Rate | 2.5x |
However, do note each week Uber will update its Boost information. The Boost rate may be the same like previous week, but they may also be different from last week. Uber, even may change the Boost rate during peak demands and/or during peak couriers means more couriers than orders.
How to get the latest UberEats Boost info?
The easiest way is from the Uber Driver app screen. On the main menu, you'll find info like the one in picture below.
On the top right of the screen, find the Boost icon (icon with arrow facing up). Tap on the Boost icon to show like image above. Tap on the "View Schedule" to see the latest Boost info and rates.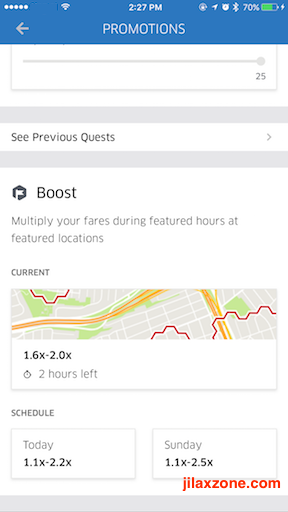 When UberEats Boost commencing?
It was commencing back either in April or early May 2017 for selected couriers who opt to join the UberEats Boost trial programme.
---
Find other awesome articles, tips, tricks related to Life and Tech, iOS & Android quick review on:
---
How to apply UberEats Boost yourself?
Since 15th May 2017 if you are an existing UberEats courier, you are automatically converted from Incentive based to Boost based earnings.
If you are registering as an UberEats Driver after 15th May 2017, you are automatically applied UberEats Boost based earning.
Why Uber change from Incentives model to Boost model?
The real reason I can see (and based on my personal experiences) is Uber trying to get the max out of it by coming out with win-win solution. See explanation below why it's a win-win solution for Uber as provider, us as couriers, and customer as end users.
To this date, there are at least 2 types of UberEats courier: the relax one and the one who diligently over-deliver.
The relax one is just like me. I only do delivery based on my capacity only and some strategy to max out my earnings. Since I'm a walker, I do delivery by walking here and there. My energy and tired level, unfortunately unlike a motorcycle where you can easily top-up its gas to continue running, is finite.
So during UberEats Incentives time, Uber has this incentives on weekend:
10am-11am: guaranteed earning $8/hour, when you do minimum 1 delivery. Total guaranteed income I can get is $8 on this time slot.
11am-2pm: guaranteed earning $14/hour, when you do minimum 3 deliveries within the time slot. Total guaranteed income I can get is $42 on this time slot.
2pm-3pm: guaranteed earning $10/hour, when you do minimum 1 delivery. Total guaranteed income I can get is $10 on this time slot.
Here's my strategy during Incentives time
My strategy was, I do only 1 delivery during 10am-11am and then I shall rest. I get $8 on this, although I'm doing only 1 delivery.
When 11am come, I come back online and do only 3 deliveries until 2pm. If there's time left, I better rest my leg for the next time slot. Anyway, I already get guaranteed income of $42 on this, although I'm doing only 3 deliveries within the time slot.
When 2pm come, then I come back online and do 1 delivery only until 3pm. If there's time left, I better rest my leg for the next time slot. Anyway, I already get guaranteed income of $10 on this.
Now hopefully you get it what was my strategy during UberEats Incentive time.
Now with the new UberEats Boost, Uber is trying to max out its couriers to max out its earnings from customer who order; to make the relax one, like me, to do more to earn more. It's a new way Uber eliminates its relax and lazy drivers. This method makes its couriers to deliver more, because it's simply the more you deliver the more money you earn.
Overwhelmed with orders? Here's how you can stop accepting orders temporarily. Check here.
Ways you can "cheat" UberEats Boost system to get more earnings:
Knowing all that and since we can't really choose but to accept with open heart UberEats new Boost system, here are ways we can still "cheat" UberEats to get more earnings:
Most dumb way and mostly applicable for UberEats walker
Select and operate only at the highest boost of the day. Since your will is infinite however your energy is finite (applicable to walker and cyclist), so you have to be smart to manage your energy level.
Say, rather than working from 2pm-6pm (that's 4 hour, with Boost only 1.1x – 1.3x), better spend that finite energy of yours to work from 6pm-9pm (that's only 3 hour, however the Boost rate is higher, usually 1.5x – 2x). In the end, online for 3 hours from 6pm-9pm you will get even more earnings compare to online for 4 hours from 2pm-6pm.
Use Any Mode of Transport. Applicable for UberEats walker and bicycle
Be it a scooter, e-scooter, eBike, bicycle, rented or your own.
Since now bicycle rental like oBike is booming and literally everywhere islandwide, assuming you are taking order with 2x Boost, spend $1 for half an hour renting oBike and with the assumption you will get $9 in earning, you still save $8. Check here for more info about the bike rentals.
| | |
| --- | --- |
| Earning | +$9 |
| Cost of renting oBike | -$1 |
| Total Earning | $8 |
Use e-scooter, if walking and cycling are tiring, plus renting a bicycle reduce your earnings, bring and use your own e-scooter. All you need to do is to press that pedal to go ahead.
Find less but still good enough Boost area, less crowded = less order = less rival.
Applicable for all UberEats couriers. Most of us couriers always crowds at the highest Boost area in favor to get more order and more earnings. But most of the time, because highest Boost area unfortunately also crowds with couriers, I get only 1 or 2 orders within 3 hours online. In comparisons, at less crowded area, since not so many rivals, I can get 3 orders within 3 hours online.
Last but not Least
My personal opinion from a person who has tried both systems: Incentives and Boost, I, as an UberEats walker, I still prefer Incentives than Boosts given my reason and sample above. Anyway, I can't choose but to accept and embrace the Boost system. For yourself and just for my record, which one do you prefer more?
---
For Life & Tech tips, iOS & Android Apps and Games quick review, do visit below:
---