Make any phone reverse charging compatible | May come handy to recharge any battery-powered devices
No soldering. No cracking open your phone. No rooting no jailbreaking no software patching nor software hacking required too.
This may be handy if you are in emergency situation where your battery-powered device is depleted while you need it to work. The good thing is this method doesn't require you to open your phone nor require you to wiring anything to phone logic board and certainly, you don't need to own latest Samsung Galaxy or latest Huawei smartphones to do reverse charging.
Reasons why you ever need to reserve charging.
When reverse charging was first introduced, the idea didn't really seem so appealing. However with recent movement making everything to be wireless, that makes the idea of doing reverse charging to be much more make sense. There's smartwatch that needs to be constantly charged, and there's now so many wireless headset or earphones on the market that need to be constantly charged as well. I bet many of you today are either using a smartwatch or wireless headset.
Make your phone to have reverse charging feature – here's how to do it.
While Samsung and Huawei comes with their wireless reverse charging solution, what I'm about to show you is unlike both of them. Doing this may not be able to help charge your smartwatch – I haven't tried charging smartwatch myself but I do think that should be possible though you may find it hassle to do it – but at least I have tried this myself to charge a wireless Bluetooth headset. The idea is if you are a person who can't live without a music and a headset, this method will help you to recharge your wireless headset while you are on the go.
The steps below will make your phone to have reverse charging feature – similar to newest Samsung Galaxy or latest Huawei smartphone, but instead of doing it wirelessly, what I'm about to share you in this article is the wired solution.
What you need are: OTG and charging cable.
Probably at this moment, you have figured it out yourself. However for those who haven't figured it out, here's the step by step how you can enable reverse chafing on your smartphone
1) Plug the OTG cable to your smartphone
If your phone comes with USB C port, then find OTG cable for USB C. If your smartphone comes with micro-USB port, then find OTG cable for micro-USB.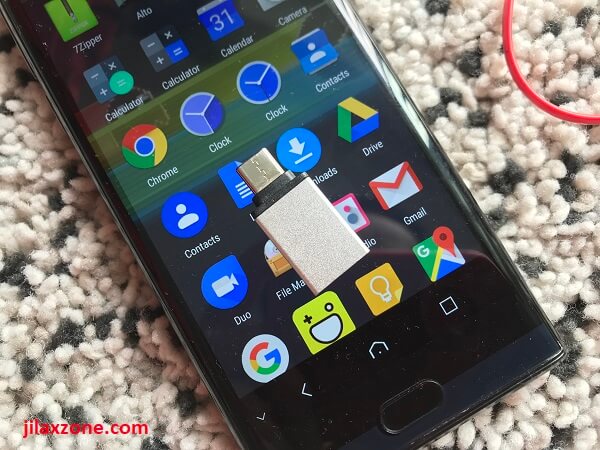 2) Plug the headset charging cable to the other end of OTG cable (to the normal USB port)
Your headset comes with its own charging cable, right? Now plug that cable to the OTG cable.
3) Plug the other end of headset charging cable to your headset.
If you do it correctly, it should be pretty much similar with this configuration.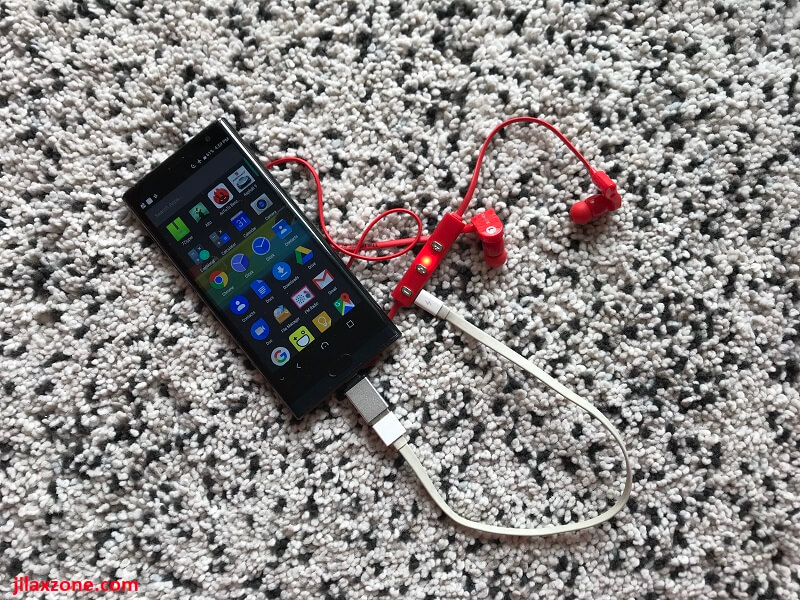 And if you do it correctly, by right your headset should have started charging. Voila! You just enable (wired) reverse charging on your smartphone.
You may want to test your other gadgets or accessories whether or not they can also be charged using the same method.
Now why you want to do this wired reverse charging.
Imagine a situation where you are on the go, commuting or traveling. You don't have any computer nearby, you don't bring your laptop with you. You don't bring your power bank too. All you have is your smartphone, charging cable and OTG cable.
And your wireless headset is showing it's time to charge, so rather than continuing without any music, better to use this method to charge your headset and keep enjoying the music.
Caveat
This "hack" works for most phone. But probably not all. I personally tested this reverse charging on Nexus 7 2013 version and Chinese Android Smartphone. Not sure if this method works for iPhone as I didn't tried it myself.
And so far, my tablet and smartphone run just fine after doing this reverse charging multiple times. However do this "hack" on your own risk. I won't be held responsible for any damage happening to your devices and accessories.
In case you have questions or comments, don't hesitate to post it down below on the comment section below.
---
Do you have anything you want me to cover on my next article? Write them down on the comment section down below.
Alternatively, find more interesting topics on JILAXZONE:
JILAXZONE – Jon's Interesting Life & Amazing eXperience ZONE.
---
Hi, thanks for reading my curated article. Since you are here and if you find this article is good and helping you in anyway, help me to spread the words by sharing this article to your family, friends, acquaintances so the benefits do not just stop at you, they will also get the same goodness and benefit from it.
Or if you wish, you can also buy me a coffee: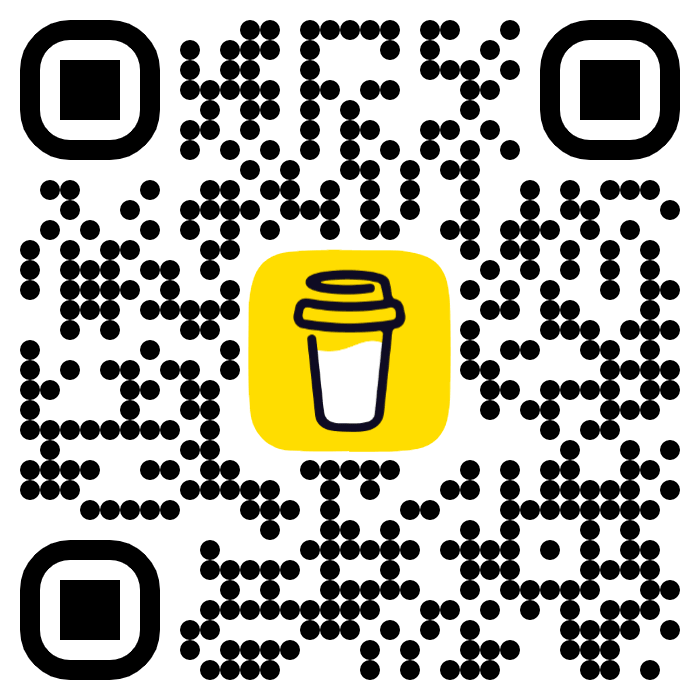 Thank you!
Live to Share. Share to Live. This blog is my life-long term project, for me to share my experiences and knowledge to the world which hopefully can be fruitful to those who read them and in the end hoping to become my life-long (passive) income.
My apologies. If you see ads appearing on this site and getting annoyed or disturb by them. As much as I want to share everything for free, unfortunately the domain and hosting used to host all these articles are not free. That's the reason I need the ads running to offset the cost. While I won't force you to see the ads, but it will be great and helpful if you are willing to turn off the ad-blocker while seeing this site.