Huawei: who needs Google Play Store? Meet Huawei AppGallery app store
Huawei AppGallery can also be installed to any Android device.
Download link and detailed steps to install provided.
Update on 5 Sep 2020:
Fix the broken download link.
Original article:
Working in technology related field teach me something good: always have a backup and mitigation plan in case things go the unexpected way – or in technical term: always have try-and-catch error implemented, so that when unexpected error comes, program doesn't crashed. That's exactly what happen to Huawei right now and what Huawei so far has been doing.
From recent news, we know that US government is banning Huawei. As a result, many US companies – if not all – already cut ties with Huawei. Google was one of the company who cut ties with Huawei. Though in the end US government gave extra time to Huawei to settle things with existing companies, but Huawei as one of the big player in Technology space – like me – they had to prepare for the worst. Huawei has prepared their try-and-catch error.
Google cut ties. Huawei has AppGallery
Not sure when Huawei really started the project, but today Huawei is ready with its own app store – in case it lost access to Google Play Store. Huawei has Huawei AppGallery.
Though at this moment, the app libraries and games selections are not as many as you can find on Google Play Store, but Huawei, for sure on their end, is pushing for more developers to join its App Store.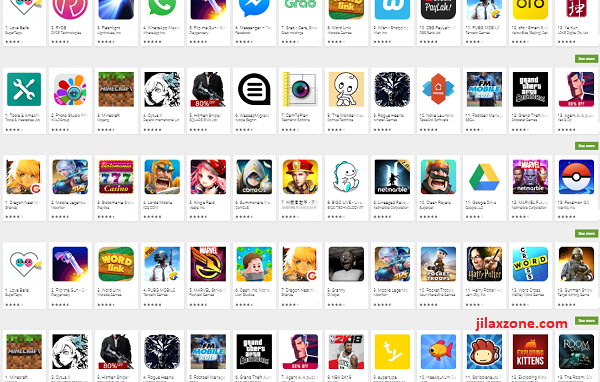 So in case Google really cut access to Google Play Store, you can always download Huawei owned app store, called the AppGallery here.
Huawei AppGallery Download link
From your Android device, head to this link: Huawei AppGallery.
Here is how to install and use Huawei AppGallery.
Prerequisites:
In order to install Huawei AppGallery and apps or games belongs to the AppGallery, you have to first enable "unknown sources".
Read here for details step by step on how to do it.
---
Disclaimer: By default, unknown sources is disabled. And there's a reason for it. Google as the Android maker wants you to be protected and be safe from anything malicious while at the same time to keep people using Google's own Google Play Store and not something else. By enabling unknown sources, you will have the ability to install 3rd party apps, including alternative app stores (such as Huawei AppGallery) other than Google Play Store. Though I'm sharing my experiences here, under no circumstances will I be held responsible or liable in any way for any claims, damages, losses, expenses, costs or liabilities whatsoever (including, without limitation, any direct or indirect damages for loss of profits, business interruption or loss of information) resulting or arising directly or indirectly from the use of this article and its contents. Do read, follow and use my article and my recommendation here at your own risks.
Article continues below.
---
Popular on JILAXZONE today:
---
a) Make sure you have run the prerequisites above to enable 3rd party app installation on your Android device.
b) Download Huawei AppGallery, download link is given above, using your browser and Android device, tap on the "Install" button.
c) When prompted, tap on "Install AppGallery".
d) The browser will asked you to save the "com.huawei.appmarket.<version>.apk" file, tap "download" to save it to your Android device.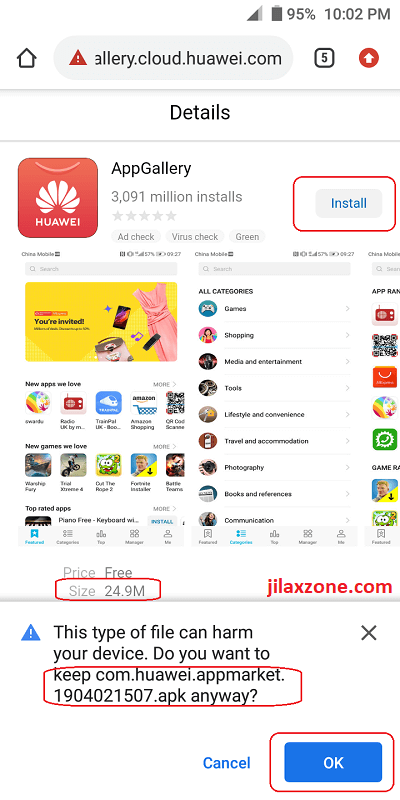 e) Once downloaded, tap the download file, "com.huawei.appmarket.<version>.apk" to start the installation. Tap "INSTALL" when prompted.
f) Once installed, an icon shall be created on your Home screen. Go and find "AppGallery" and tap on it.
g) First time running it, you'll get prompted "Allow AppGallery to make and manage phone calls?", tap on "ALLOW". If you tap "DENY", you won't be able to use AppGallery at all.
h) Next screen, you'll be prompted with AppGallery Privacy Notice. Do read them, and tap on "NEXT" to continue.
i) Next subsequent screen, you'll be prompted with Permissions and user agreement. Do read them, tap "AGREE" if you agree to it. Tapping "DISAGREE" however, you won't be able to use AppGallery at all.
j) Huawei AppGallery will detect your whereabouts and redirect you to the country of your whereabouts.
Done. Now you can enjoy using Huawei AppGallery to download and install Android apps and games.
Great thing about Huawei AppGallery
1) Compatible with all Android device, not just Huawei
The great thing about Huawei AppGallery is that you don't need to own Huawei device to install Huawei AppGallery. You can install the app store on any Android supported devices.
2) No login ID required to download apps and games
After installing and giving it access, you can tap on any apps or games you like to download and install, all without the need of login ID.
Great thing about Android as an open platform
Either you are using Huawei device or some other Android brands (Samsung, Xiaomi, and many more), you have total freedom on which app store to install on your device. If Huawei AppGallery libraries don't satisfy you, you can always install something else, some other app stores available.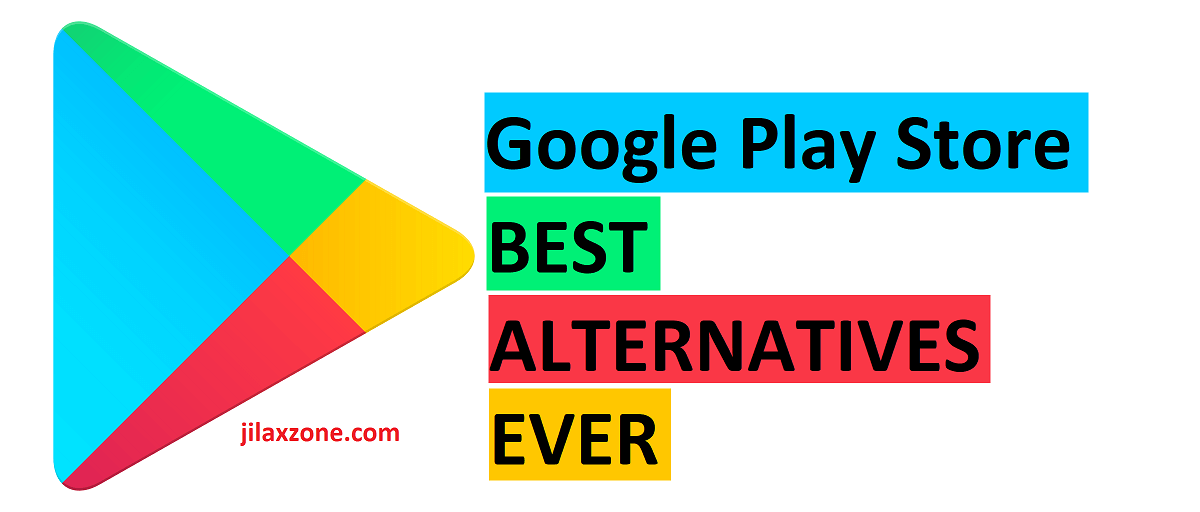 In case you don't know, there are so many Android app stores out there, beside Google Play Store and Huawei AppGallery. Check here to know the best Android app store available for you to download.
Bring it all together
With such freedom to choose for app store, which app store are you using today?
---
Do you have anything you want me to cover on my next article? Write them down on the comment section down below.
Alternatively, find more interesting topics on JILAXZONE:
JILAXZONE – Jon's Interesting Life & Amazing eXperience ZONE.
---
Hi, thanks for reading my curated article. Since you are here and if you find this article is good and helping you in anyway, help me to spread the words by sharing this article to your family, friends, acquaintances so the benefits do not just stop at you, they will also get the same goodness and benefit from it.
Or if you wish, you can also buy me a coffee: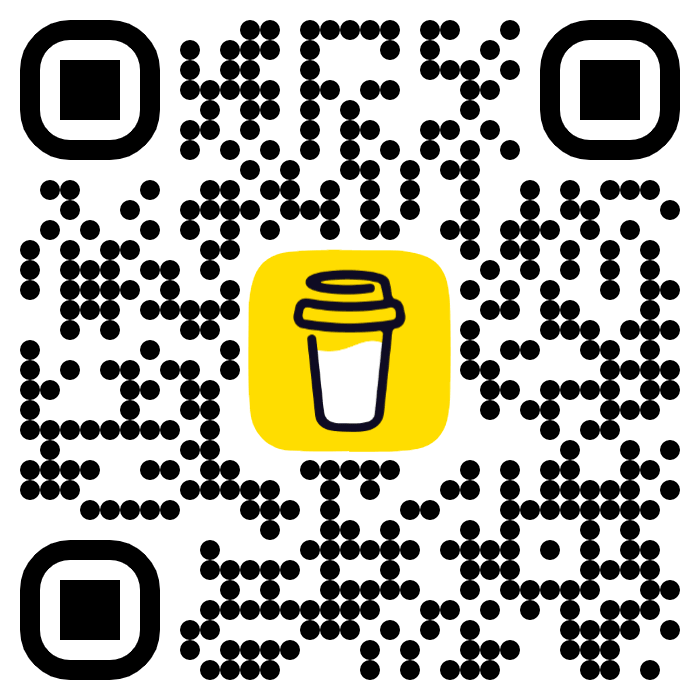 Thank you!
Live to Share. Share to Live. This blog is my life-long term project, for me to share my experiences and knowledge to the world which hopefully can be fruitful to those who read them and in the end hoping to become my life-long (passive) income.
My apologies. If you see ads appearing on this site and getting annoyed or disturb by them. As much as I want to share everything for free, unfortunately the domain and hosting used to host all these articles are not free. That's the reason I need the ads running to offset the cost. While I won't force you to see the ads, but it will be great and helpful if you are willing to turn off the ad-blocker while seeing this site.