Android: How to Install 3rd Party Apps or Games – Sideload APK [No Rooting Required]
Android devices, either phones or tablets, normally has Google Play Store as its standard app store that house millions of Android apps and games. However unlike Apple with its closed iOS ecosystem, Google with its Android is an open source with an "open" concept even when it comes to install apps and games. It's not a must to install all apps/games from Google Play Store, you can, however, get either apps/games from somewhere else, from another application stores or from developer website or 3rd party website and install it to your Android.
Reasons why people install 3rd party apps/games on their Android devices
Some reasons why people wants to install apps/games from other sources/application stores but not from Google Play Store:
– The apps/games does not exists on his region
– The apps/games does not certified to be compatible with his Android
– It's under beta/testing mode
– It's not allowed to be put in Google Play Stores, due to contains some modifications/something deemed malicious: such as rooting app.
– It's a hacked apps/games that contains additional features
– It's a pirate apps/games
Whatever the reasons is, unlike Apple where you have to jailbreak your iOS device in order to install these 3rd party apps/games, on Android you don't have to jailbreak or root your device just to install 3rd party apps/games from non Google Play Store. All you need to do is just to enable what people called as sideloading APK.
---
Find other awesome articles, tips, tricks related to Life and Tech, iOS & Android quick review on:
---
How to Sideload APK to your Android device
No jailbreak or rooting required, unless you are installing/sideloading APK which needs root access.
Due to every Android devices and Android OS version could be slightly different from one to another, if you can't find the menu I mentioned below, do find similar menu/labels on your Android device. FYI. This tutorial is made using Nexus 7 2013 tablet with Android 6.0 Marshmallow.
Here we go.
1. On your Android device, go to Settings > Security.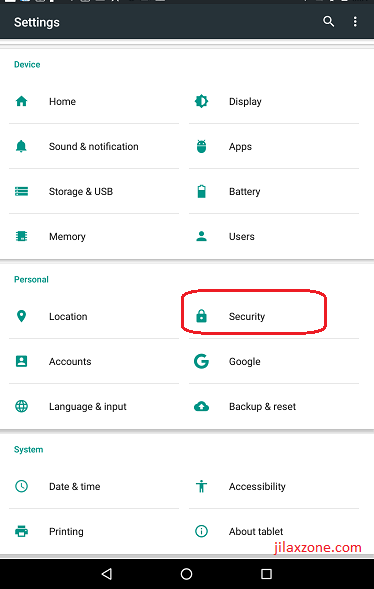 2. Under Device Administration, find Unknown Sources
3. See the description, "Allow installation of apps from sources other than the Play Store", tap/slide to turn ON – means you are activating the installation from unknown sources/activating the sideloading.
That's it.
Now if you manage to download the apps/games from 3rd party websites/application stores, you can install it on your Android devices. Happy sideloading!
---
Disclaimer:
Sideloading APK (apps/games) is a feature found on every Android device (which is not locked down). Though the way to sideload is considered safe – since its a feature from Android (no jailbreak nor rooting is required) – however the apps/games that is sideloaded to Android may contains malicious codes/programs that can caused your Android devices to stop responding or lose data. Do consider backing up your Android devices before proceeding and do it at your own risk.
Under no circumstances will I be held responsible or liable in any way for any claims, damages, losses, expenses, costs or liabilities whatsoever (including, without limitation, any direct or indirect damages for loss of profits, business interruption or loss of information) resulting or arising directly or indirectly from the use of this article and its contents.
---
For Life & Tech tips, iOS & Android Apps and Games quick review, do visit below:
---
Hi, thanks for reading my article. I do spend my time and efforts writing this article based on my own experiences for my own journal as well as to share the knowledge to whoever read it so hopefully they can get the benefit out of it
If you find and feel this article is good and helping you in anyway, help me to spread the words by sharing this article to your family, friends, acquaintances so all this goodness, my spent time and efforts do not just stop at you, they will also get the same goodness and benefit from it.
Thank you!