iPhone X: Prolong & Preserving battery life and How to avoid battery draining
So finally you get your hands on the new long-awaited iPhone X, well congratulations! For those who have preordered but haven't got their hands into the new iPhone X, be patient ya.
As a new iPhone, iPhone X – like all other new iPhone and phones, has this question that pops up into everybody's minds, "How long does the iPhone X battery last?", or for those who have gotten their hands on and given it a try "why my new iPhone X battery draining so fast?".
So today, I would like to give some tips and tricks you can do on your new iPhone X to save, prolong, preserve the iPhone X battery. Here they are.
Updates on 30th November 2017:
13. Use Black Color Background Wallpaper
iPhone X screen is based on OLED technology. OLED screen has technology for which any black color shown on the screen, it will just totally turn the pixel off hence the deep black color and at the same time saving energy in the process.
So if you are using a full black wallpaper, your iPhone X will have higher battery saving rate compare to those that is using colorful wallpaper.
Here's how to change your wallpaper on iPhone X:
14. Turn OFF Background App Refresh
As highlighted by Redditor beyondthetech (the reddit link is here), he is right when telling turning OFF background app refresh should help preserve iPhone X battery life. Thus I added here on my list for iPhone X (I did discuss about it before here but it's not about battery saving instead tweak to make older iPhone running faster ).
Well, in short, turning OFF background app refresh does indeed save and preserve the iPhone X battery life. However there are save caveats turning it OFF: any background activities will not run. Things like leaving Google Photos to backup your photos on the background, leaving the Maps position your whereabouts on the map, these things will no longer work when the app is in the background. However, in case you are worry turning off background app refresh will turning off notifications as well, then worry no more. Any notifications such as Facebook, WhatsApp, Instagram, are still coming even though you are turning off background app refresh.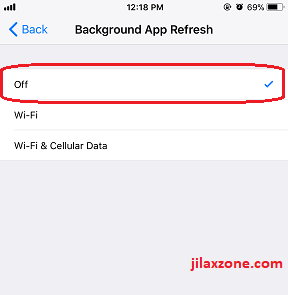 Bring it all together
So that's 14 of them which hopefully help you preserve, save and prolong your iPhone X battery life. Good thing is that all these tips and tricks also works for any other iPhone as well. Do you have something else to add on the list? Do let me know by leaving your comments down below on comment section. Cheers!
---