Meet Telepod – a new way to travel & move between places in Singapore
Early this year, I wrote
article
telling about the first bike sharing platform introduced in Singapore (check
here
). And today Bike sharing is something common here in Singapore. Started with Ofo with their yellow bikes, then now the city state country has at least another 4 vendors providing the bike sharing services – Obike, Mobike, GBike, Baicycle by Xiaomi.
Singapore – Keep Improving
As Singapore continues to position itself as a smart city – smart nation in all aspects, Singapore – the government, companies, and its residents – keeps (try) improving the way its people lives, works and enjoying the city. While recently government did open house for its newest train network system – the DTL (Downtown Line) – which stretches from East at Tampines to West at Bukit Panjang, and although the city state now has at least 5 vendors doing bike sharing, it's not stopping these group of NTU students to get creative and help improve the way people can travel between places where MRT, public buses and even shared bikes are not really an option. Meet Telepod – the E-scooter for sharing.
How I meet and get to know Telepod
Recently I spotted something different and new appearing in the bicycle park at Tanjong Pagar Center, they are e-scooter. However, when I looked closer, turned out they are not just normal e-scooter owned by individuals. They are color the same black and blue and have the same branding labeled as Telepod and the most important thing is they have serial number and barcodes! Long story short, Singapore, apart from the bike sharing, now has e-scooter sharing as well. It's the first in Singapore to provide e-scooter for sharing.
Advantages of using Telepod vs MRT, Public Buses, Bike Sharing
1. It can reach places where MRT and Public buses are not really passing through it. I am an UberEats Courier and I struggle a lot to deliver in places like Orchard and City area, because there's so much one way, uphill, and places not connected by bus or MRT, now with Telepod,  these unconnected places can be easily reached.
2. It does not take any of your energy. While using bike, it can reach places where MRT and public buses are not really passing through it, however using bike, it consumes your energy. Telepod on the other hand, since it's an e-scooter, it has its own battery, all you need to do is just press that accelerate button.
---
Find other awesome articles, tips, tricks related to Life and Tech, iOS & Android quick review on:
---
How to use Telepod – The E-scooter Sharing
Interested to try? Here's what you need to do.
1. First of all you have to downloadthe app
Android download link
here
.
2. Then Register yourself by providing your name, contact number, email address and password
3. Read the warning signs, using Telepod E-Scooter: only allowed on footpaths and cycling/shared paths, have to keep speed between 15-25KM/h, left button is for braking, right button is for accelerating, while middle is for turning on the e-scooter.
4. Give the app accessto use your location while using the app. Fail to do so will cause you won't be able to locate nearest Telepod E-Scooter.
5. Do deposit of $49 – similar like Obike and Mobike Bike Sharing. Deposit is refundable as long as no damage to the E-Scooter after use.
6. Locate the Telepod E-Scooter. There's one in Tanjong Pagar Center Bicycle Park. At the time this article is written, there are currently 22 locations island-wide and growing.
7. Start commuting and enjoy!
Telepod – E-Scooter Sharing – Affordable Rental Fees
Telepod is charging $0.09/min, which means typical 15 minutes use to travel you from one place to another place will cost you $1.35 – cheaper than taking Taxi/Uber to go to places hard to reach by MRT and public buses.
To make it easier for you, here the time and cost on a typical usage:
1 min – $0.09
10 min – $0.9
15 min – $1.35
30 min – $2.7
60 min – $5.4
Things to note about Telepod – E-Scooter Sharing
Unlike Bike Sharing where most vendor allow you to park the bicycle anywhere you like – as long as it's not inside your own house, using Telepod is a bit different. You cannot park the Telepod E-Scooter anywhere you like, but on designated places called the Pod.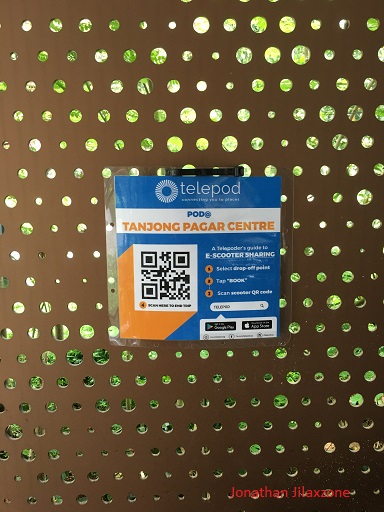 To start using, you need to scan the barcode from the E-Scooter, however when you are finished using, in order to stop it charging rental fees to you, you need to scan the barcode at the designated pod area. Fail to scan the barcodes at the Pod after renting, the Telepod will still charge you rental fees.
Bring It All Together
Great idea guys! With now E-Scooter joining the sharing race, Singapore residents get another additional option when it comes to commute between places. And given its easiness and more fun to use, faster to reach destination and most important thing is no human energy required – means less sweaty, I do believe many people will start taking Telepod as one of their main option for commuting to nearby neighborhood area.
---
For Life & Tech tips, iOS & Android Apps and Games quick review, do visit below:
---