FREE! Ep 21: FREE Games! Android, iOS, Nintendo Switch, PC, PS4, PS5 & Xbox Series X. Limited Period Only. Download link inside.
Who doesn't love free stuffs? I do love them. Here are FREE stuffs for this episode. Enjoy!
There are Android, iOS, Nintendo Switch, PC, PS4, PS5 & Xbox Series X, S and One FREE games available to own/download
Some of these games are available for FREE for limited period only, so go get them while they are FREE
In case there's no enough FREE games here or looking for some other FREE! things, do check at the bottom of the article to get more FREE! stuffs
Some of these games are better to play with controller, head to the controller section to get recommendation
Gathered across various sources around the world and from the internet, here I share with you all the FREE! stuffs – products or services – that I found them interesting. Some of them are totally FREE! while some of them are just temporarily FREE! So be sure to get/download/consume them while they are FREE!
This time, I found various FREE! apps & games for Android, iOS, Nintendo Switch, PC, PS4, PS5 & Xbox Series X, S and Xbox One platforms. Some of them are only FREE! to play (without you owning the game), some of them are temporarily FREE, some require you to read the instruction to get the app/game for FREE, while some others are FREE to keep. So don't wait to get and try them while they are FREE! Without further ado, here they are.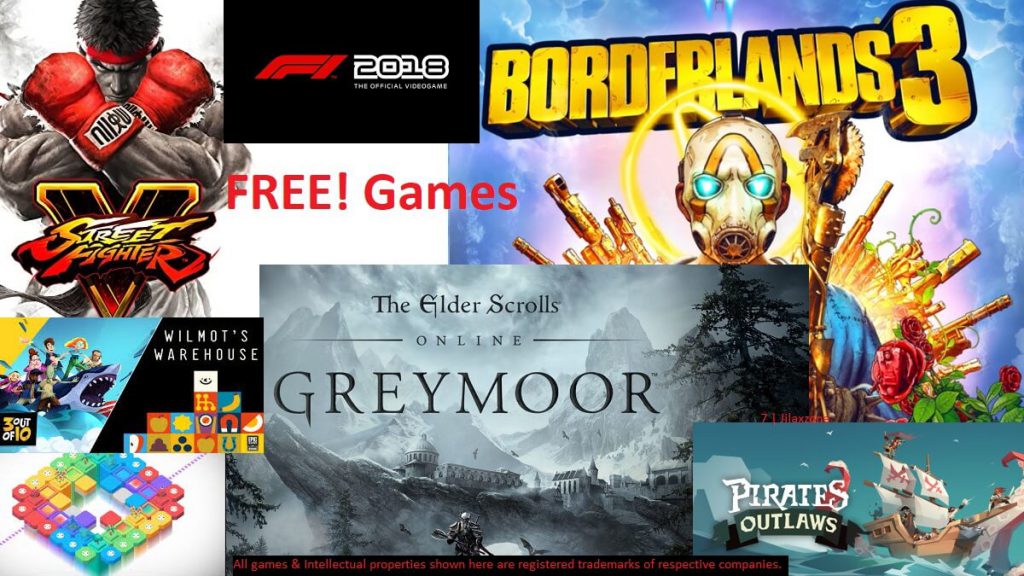 For other episodes of FREE!, check them here: FREE! All Episodes.
Play better with Controller!
Some of these games below, you can play them with a Bluetooth Controller. In case you are interested, here's the controller I use.
iPega 9083: For playing PC and Android games. I like it because the fact that it can be used both on PC and Android without much hassle (driver auto- detected and installed), plus when I'm playing any Android game, I can put my Android in between – just like a Nintendo Switch.
On Amazon:
Alternative link in case you can't see the link above: iPega 9083 Amazon link.
On AliExpress:
IPEGA 9083
Alternative link in case you can't see the link above: iPega 9083 AliExpress link.
SteelSeries Nimbus+: For playing iOS games. I like it because it's MFi certified – Made for iOS, any controller-compatible games will for sure run with this controller.
On Amazon:
Alternative link in case you can't see the link above: SteelSeries Nimbus+ on Amazon. If you need to buy the smartphone clipper, here: Nimbus iPhone clipper on AliExpress.
See the controllers in action.
Note: If you buy anything from Amazon using links above, I will earn a small commission at no extra cost charged on your purchases.
FREE! GAMES
These are the FREE! Games for this episode. The games are sorted alphabetically. Enjoy!
7 Stories
7 Stories has been fully remastered! Featured on the front page of the app store in 2011, 7 Stories was one of the first RPGs on iOS and now fully supports modern devices. Choose one of 7 unique characters in this fully remastered classic RPG designed specifically for iOS.
Age of Fear: The Free World
Age of Fear: The Free World is an introduction to a seven-year old turn-based strategy series that fuses a tabletop wargame with RPG elements. Choose your faction (Undead Legion, Human Kingdom or Greenskins Horde), build a unique army and embark on exploring the realm!
Amnesia: A Machine for Pigs
First-person horror that will drag you to the depths of greed, power and madness. Developed by The Chinese Room, the creators of Dear Esther, and published Frictional Games, the studio behind Amnesia: The Dark Descent.
Armor of Heroes
Retro tank battles with a modern shine! Featuring 4 player PVP couch co-op, destructible environments, 9 games modes, and more.
Call of Duty: Black Ops – Cold War (Open Beta)
Be among the first to get hands-on with Call of Duty®: Black Ops Cold War maps and modes in the Open Beta. Experience thrilling Multiplayer action from quintessential 6v6 Black Ops combat across new and returning modes, 12v12 Combined Arms and the all new 40 player Fireteam Dirty Bomb mode.
Endless Zone
A small, fast-paced game inspired by SEGA's "Fantasy Zone" series. Play through four worlds in frenetic arcade action as you help the hero, Opbot, evade aliens, enemies, and things from another dimension on their way to freedom!
Fateful Lore
Many years ago, the Kingdom of Damerel was attacked by the demoness Daglaxaak. War raged and, while the people of Damerel fought valiantly, they began to lose ground – Daglaxaak was too powerful. Yet, when all hope was lost, a warrior by the name of Egmulf managed to banish the demon warlord to another dimension, where she was trapped for good. But peace may not last much longer, for the magic that has been keeping Daglaxaak from coming back is weakening! And it's up to you – the greatest of the King's warriors – to venture forth and prevent chaos from ensuing once again!
Gems of War
From the creators of Puzzle Quest comes the ultimate evolution of the Puzzle-RPG-Strategy mashup, Gems of War! Immerse yourself in a world of adventure as you collect heroes from across the realm and battle foes with the power of the puzzle board. Unlock new realms with kingdoms to conquer and hundreds of troops to collect.Join the war and start your journey to becoming a puzzle legend today!
Ghost Sweeper
Amazing classic game in a modern view. "Solomon's key" inspired game with many add-on. After many centuries the dark lord is resurrected from his ashes, coming back to his castle and cursing the lands all around!! Now many ghosts and undead wander freely haunting every place, giving to the people only one option, escape! But when the hopes seem fade away… usually the heroes appear! The "Ghost Sweepers" are here! Ready to kick out some clumsy monsters! Prepare yourself to face the most fun army of darkness ever seen! Rounded ghosts, laughing pumpkins, creaking skeletons and many other weird creatures are waiting for you!
Kingdom New Lands
Tales spread of far off isles with mysteries waiting to be discovered. Rulers will need all the strength of their subjects to sail away and find new kingdoms in these New Lands.
Mario Kart Live: Home Circuit
Control a real-life Mario Kart with Nintendo Switch and watch it come to life in the game! Race a real-world Mario Kart through your home! Use the Nintendo Switch system to control your kart and watch as it reacts to what's happening in the game as you boost and drift to victory. Your in-home course comes to life on-screen with a view from right behind the driver's seat.
A Kart is required to play the game.
Nights into Dreams
SEGA Saturn cult classic! Slip off into the dream world and go on an aerial adventure as NiGHTS in this classic Saturn remake. Collect Ideya (colored orbs), rack up points, and battle bosses to help Elliot and Claris save Nightopia from Wizeman the Wicked.
To get the game for FREE, link your Steam account to Sega.
Puzlogic
Puzlogic is a unique and inovative logic puzzle game inspired by sudoku's and kakuro's (cross sums) rules. Complete puzzles dragging the available numbers on the right to the free spaces, following the provided rules. With its minimalistic style, relaxing music and 64 puzzles with increasing difficulty and complexity, it guarantees hours of fun and brain exercise.
Raji: Prologue
Raji: An Ancient Epic is an action-adventure game set in ancient India. A young girl named Raji has been chosen by the gods to stand against the demonic invasion. She must use the powers granted to her by the gods to rescue her brother as she battles to face the demon lord Mahabalasura.
Stick-Hard Challenge
Stick – this game will make you sweat! Its peculiarity is the atmosphere of gameplay and cool graphics, and the complexity is simply amazing. More levels more complexity.
Warhammer 40,000: Mechanicus
Take control of the most technologically advanced army in the Imperium – The Adeptus Mechanicus. Your every decision will weigh heavily on the outcome of the mission, in this turn-based tactical game. Will you be blessed by the Omnissiah?
Virtual Cottage
Virtual Cottage gives you a comfy place to rest and be productive without any distractions. Open the game, set yourself a goal and enjoy the atmosphere.
Not enough FREE! stuffs here?
Browse FREE! section at JILAXZONE for more FREE! contents and stuffs! While some of the FREE! contents are available within limited time and period only but many are still available as always FREE!
This controller lets you play Nintendo Switch Games on Android!
Just FYI, in case you don't know it before, now there's a Bluetooth Controller that let's you play real Nintendo Switch games on Android. And I'm not joking at all. Google around or have a look here where I detailed it for you: Controller that lets you play Nintendo Switch games on Android.
But in case you want to get it, here's the link on AliExpress.
AliExpress.com Product – GameSir X2 Type-C Mobile Game Controller Joystick for Cloud Games Cloud Gaming Platforms xCloud, Stadia, Vortex, Type-C Gamepad
In case you can't see the GameSir X2 purchase link above, here it is: GameSir X2 on AliExpress.
FYI. In case you purchase anything from the AliExpress links above, I shall earn a small commission at no extra cost on you.