Get FREE $65 Plus Other Interesting Rewards If You Start Walking & Exercising – Singapore National Steps Challenge Season 4 is here!
National Steps Challenge Season 4 is officially started today!
To know more about, what is National Steps Challenge Season 4, do check this link as I have detailed it there.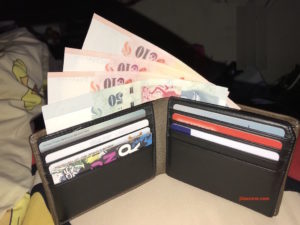 If you are Singapore residents – anyone with valid stay or working pass, you can literally get SURE-WIN $65 for FREE if you start walking 10,000 steps a day and accumulate 30 minutes of exercise time within the time period given. Interested to know more? Read more below!
Do check here for other present and past Singapore news and lobangs you missed or may have missed before.
How to get SURE-WIN $65 for FREE and other interested rewards?
This is not a scam, but a initiative done by Singapore Government, HPB, to make its residents fit and healthy! Do google "National Steps Challenge Season 4" if you are unsure.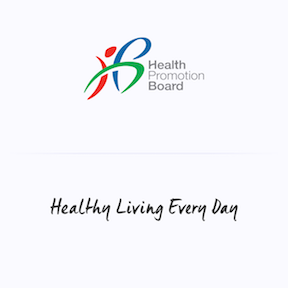 All you need to do is yourself ready to walk and little bit exercise (that's for your own good!), a smartphone, a smart fitness tracker, and Healthy 365 app. Here are the details.
1. Download and install the Healthy 365 app.
In case the app is not appearing when you click download link below and/or unable to search for it, make sure you are using a Singapore account (Android or iOS).
If you do search for yourself, make sure you select the correct app and not any wrong or malware app. The right Healthy 365 app icon is like this (below picture) and is made by Health Promotion Board.

In case you worry or lazy, just tap on the download link or scan the QR Code below.
| | | |
| --- | --- | --- |
| | iOS / iPhone | Android |
| Price | FREE | FREE |
| OS | iOS 8 & up | Android 4.3 (JellyBean) & up |
| Internet Connection Required | Yes | Yes |
| Download Link | | |
| QR Code | | |
| Alternative Link | iOS link | Android link |
Do install and open the app. Agree to the app terms and conditions.
When prompted for access to device's location, you can choose either allow or deny.
2. Register yourself to National Steps Challenge via the app.
On the app, go to Profile menu. If this is really your first time, do fill in all the necessary details and click on "Save".
If you created a Profile before, you can restore your profile by tapping "Restore Profile".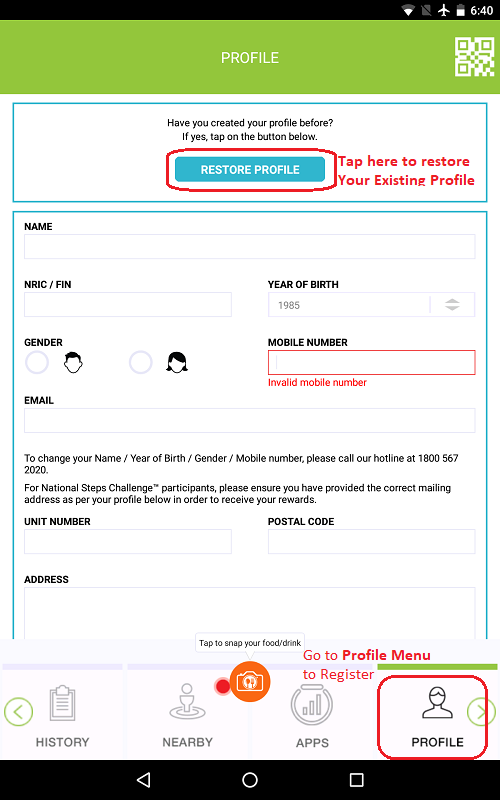 3. Choose your fitness tracker
You can use any fitness tracker you have with you. Be it just a normal smart steps tracker (eg: Fitbit, Xiaomi Mi Bands), or smart fitness tracker (Eg: Apple Watch, Samsung Gear Watch), or HPB Issued trackers. So, it is NOT a must to use HPB issued-trackers.
List of fitness tracker which compatible:
– Any HPB issued fitness tracker (for complete list of HPB issued trackers, open the app, go to Apps Menu)
– Any Google Fit compatible tracker (if you are using Android)
– Any Apple HealthKit compatible tracker (if you are using iOS)
– Any Samsung SHealth compatible tracker (if you are using Samsung device)
– Actxa
– FitBit
– Your Phone (worst case :p)
They may add more fitness trackers in the future, do check inside the Healthy 365 app, Apps Menu for the most updated list.
If you are on budget and currently doesn't have/use any fitness tracker with you, don't worry. You can still use your phone as your fitness tracker – since most modern phones are equipped with accelerometer which can be used to track your steps – not as accurate as the real fitness tracker but it does the job.
To maximize your SURE-WIN rewards, do make sure you are not just using smart steps tracker, but smart fitness tracker – those with the capability to record your heart rate.
---
Find other awesome articles, tips, tricks related to Life and Tech, iOS and Android quick review on:
---
4. Configure the fitness tracker
Once you get your hands on the fitness tracker, next is to configure the fitness tracker, sync it with Healthy 365 app. On the Healthy 365 app, go to App menu. If you can't find it, scroll the bottom menu by tapping the right arrow sign.
Choose one of the options – depends on your fitness tracker. Whenever prompted, agree to the terms and conditions or tap ok/confirm.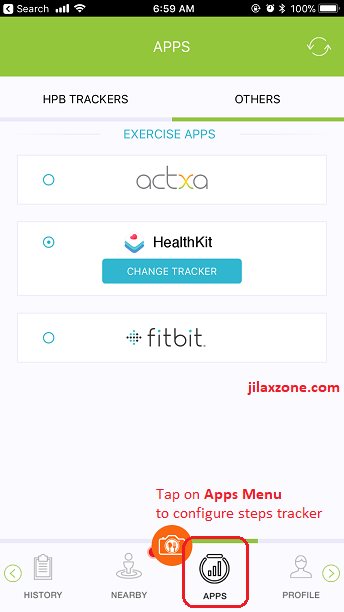 Healthy 365 National Steps Challenge Season 4 – Configure Fitness Tracker on Apps MenuFor me, since my primary device is iPhone and currently I'm using Apple Watch, thus I select HealthKit, since Apple Watch is compatible with HealthKit.
5. Accept the challenge
Go to Challenges Menu, find National Steps Challenge Season 4 – Sign up.Tap on it and choose I consent to start the challenges.
6. Take the action.
Start walking! As simple as that.
Just do your normal activities such as going to work, wash that dishes, do the chores. If doing your normal activities don't get you enough steps, do extra exercises or switch to alternatives, such as take staircases for going up or down instead of taking escalator or lift or other way is if your home is just walking distance, do consider to walk back home and skip the bus.
7. Don't forget to sync your steps
Before going to sleep, at the end of the day good if you can open the Healthy 365 app and sync it daily. In case if you are lazy to sync it each and every day or forgot to sync it in one of those days, you can sync it once a week but try to be not more than a week. Certain fitness tracker can only remember the past 7 days activities.
By right, just opening the app will sync your steps automatically from the fitness tracker. However in case you are not seeing your progress getting synced, here's to sync the steps to Healthy 365 app manually.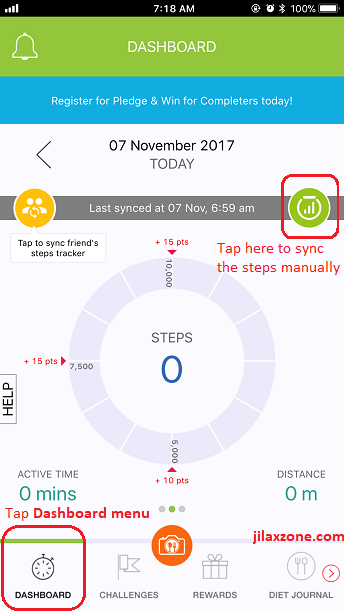 To sync the steps manually to Healthy 365 app do the following:
a. Open the Healthy 365 app.
b. Go to Dashboard Menu.
c. If you see 'X' number of kcal burnt, 'X' number of kcal consumed, slide the screen from right to left until you see the screen like shown above (see image above), showing 'N' number of steps with a big circle around it.
d. Tap on the green colored icon (fitness tracker icon) located on the top right of the screen (see image above) to start sync it manually.
e. Wait until it sync successfully.
Voila! Now you managed to sync your steps manually. You only need to do this in case the app is not automatically sync the steps for you.
National Steps Challenge Season 4 Period
Start date: Saturday 27th October 2018
End date: Tuesday 30th April 2019.
For Singaporean and Singapore Permanent Residents: FREE Fitness Tracker for you!
On top of the SURE-WIN $65 and other interesting rewards, every Singaporean and Singapore Permanent Residents are eligible to collect a FREE Fitness Tracker on National Steps Challenge 4 – regardless if you have collected one before on previous season or not.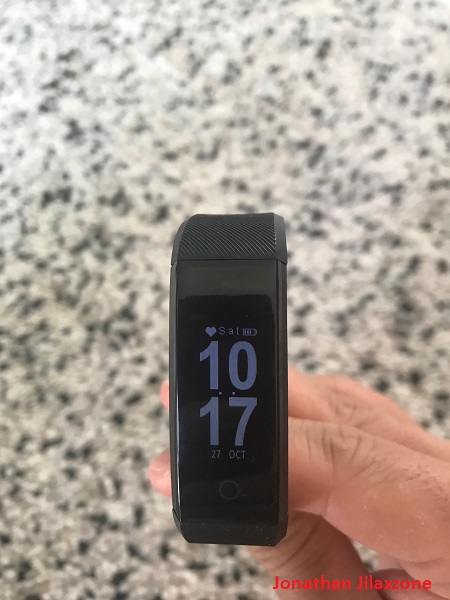 There are 2 ways to collect the FREE Fitness Tracker:
1) Come to HPB Roadshow
The schedule is taken from HPB official website here, however do note that they may change without prior notice. The best way is to check HPB official Facebook page here before coming over for the events and roadshows.
Click the image to enlarge, or check here for high-res image.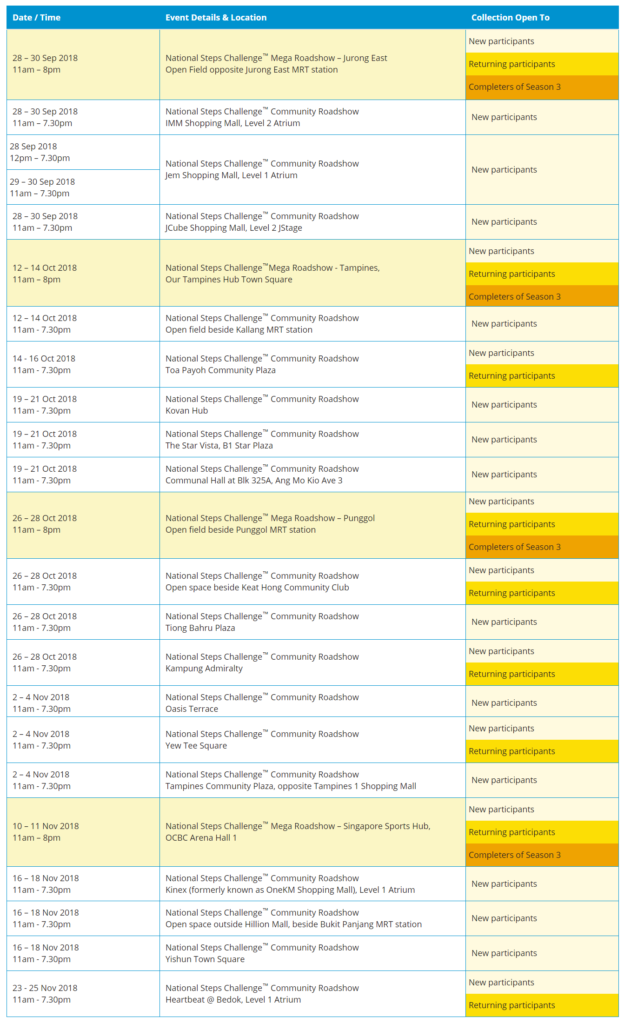 If you are totally new participants, means you never really join all 3 previous seasons before, you can just go to any events and roadshows mentioned above to register and collect your FREE fitness tracker.
However if you are returning participants, and would like to collect your FREE fitness tracker, only go to the bright yellow highlighted events and roadshows mentioned above to collect it.
For those who wish to collect their completer's kit, only go to the orange highlighted events and roadshows mentioned above to collect it.
2) Collect at SingPost
The roadshows for sure are going to be jam-packed with people. In case you want something less-hassle, doesn't want to queue that long, the alternative to collect the FREE fitness tracker is via Singpost. But first you have to make appointment.
Here's the link to make your appointment.
Bring It All Together
Apart from the National Steps Challenge Season 4, there are also other challenges which you can compete on. Isn't it all great, getting paid for our own health? Be sure to join this programme!
In case you have queries, do post them on the comment section below. Cheers!
---
For Life, Tech tips, iOS and Android Apps and Games quick review, do visit below:
---
Hi, thanks for reading my article. Since you are here and if you find this article is good and helping you in anyway, help me to spread the words by sharing this article to your family, friends, acquaintances so the benefits do not just stop at you, they will also get the same goodness and benefit from it.
Thank you!