Train Service Disruptions in Singapore – What to do?
The lion city, Singapore, relies heavily on their public transport systems. However despite all the efforts spent on the maintenances and upgrades, breakdowns may occur and happen anytime either during the day or night, peak or non peak period. And it's always sucks if you happen to travel or need to travel during the breakdown time.
If you are looking for alternatives to go to Changi Airport, do check
here
.
If you are tourist visiting Singapore, here is 101 things to know about Singapore, do check
here
.
Here's what to do – some tips and tricks to ease your hassle and mind and not to stress about the situation.
These are the things I normally do during the breakdown. And you should probably do too.
1. Save your time and get prepared and get the latest news by installing MyTransport app.
MyTransport app is an app made and as initiative by LTA – Land Transport Authority Singapore.
By installing the app and enable push notification, you'll be among the first to know if there's train service disruption.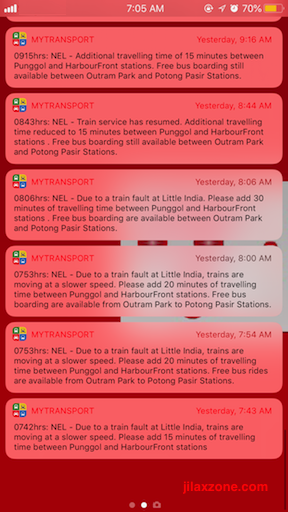 What happen during train disruptions is that most people they don't know and thus they come to MRT stations despite its being disrupted and end up complaining. Save your time, energy and stress free by installing the app.
Here's the official download link.


In case above links don't work for you, use the following links below.
Android download link
iOS download link
2. Take Free Bus. Ask the passenger service staffs on the location of the buses.
During train service disruptions, LTA provides us with free bus. Go find and ask Passenger Services at MRT Station if you can't spot the free bus. They will happily help you to find it.
3. Take Public Bus.
Rather than not moving at all, public bus is also one of your best bet. Do take note, during train service disruptions, most people will also think the same thing.
So expect bus stops crowd with people and expect the bus you are going to take is also full of people. And do expect longer journey time since most likely the bus needs to stop on each and every bus stops and the bus captain needs to ask on each stop for onboard passengers to move in and give way to the new on-boarding passengers.
4. Find alternative route. Use Google map or Singapore map (Street Directory).
If you are staying in place like Tampines, you can quickly switch to Blue Line in case Green Line is having issue or vice versa.
But if you are staying in place like Punggol, where there's only one MRT Stations and the whole Purple line is breaking down, you can first go to Serangoon MRT by public bus, once you reach Serangoon MRT, you can switch to Yellow line.
Basically don't give up. Find alternative route.
---
Find other awesome articles, tips, tricks related to Life and Tech, iOS & Android quick review on:
---
5. Walk or Cycle.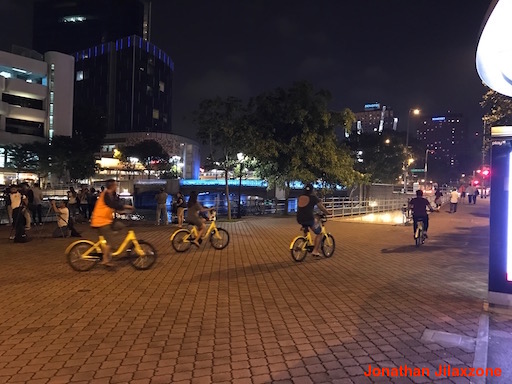 If it's just one or two stations away and both free bus and normal bus are full of people, consider to just walk or cycle to your destination.
Use the share bike. Full article and download link
here
.
6. Take Taxi/Ride Sharing.
If possible and can afford, do consider taking taxi. If you are rushing for the meeting, call your company and see if they allow your taxi fares to be reimbursable – given the situation.  Here's the Singapore taxi hotline.
Taxi Cab Hotline (info from this website)
Dial-A-Cab            6342 5222
Comfort Taxi        6552 1111
CityCab                  6552 1111
SMRT Taxis          6555 8888
TransCab               6555 3333
Premier Taxis       6363 6888
Prime Taxi             6778 0808
Yellow-Top Taxi   6293 5545
Taxi Singapore     6600 2800
If taking taxi is too expensive for you, you can however ask around who want to split the taxi within the same destination.
7. Consider to delay or cancel your journey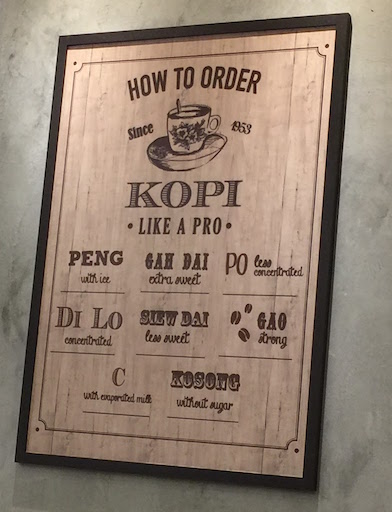 If possible to delay or even cancel your journey, best to do it. Rather than sweating around and getting stressed about it, delay the journey until situation is getting better. You can either return back home or enjoy a cup of Kopi O Kosong.
Those are me. What about you?
Will you do the same thing? Do give your comments and thoughts on the comment section down below. Cheers!
---
For Life & Tech tips, iOS & Android Apps and Games quick review, do visit below:
---
Hi, thanks for reading my article. I do spend my time and efforts writing this article based on my own experiences for my own journal as well as to share the knowledge to whoever read it so hopefully they can get the benefit out of it
If you find and feel this article is good and helping you in anyway, help me to spread the words by sharing this article to your family, friends, acquaintances so all this goodness, my spent time and efforts do not just stop at you, they will also get the same goodness and benefit from it.
Thank you!