Living Expenses in World's Most Expensive City
Inspired by many other bloggers out there where they shared their monthly expenses with the intention to not just purely share but also to inspire or at least give a background how much they are spending in a month, so given the chance I would like to also share what my hubby and my expenses look like with the same intention.
Introduce me: Mrs. Jilaxzone 🙂
Oh before going much deeper, allow me to introduce myself. I am Mrs. Jilaxzone – wife of my hubby Jonathan Jilaxzone. I will, hopefully, become a frequent contributor here on my hubby blog sharing my life experiences around money: spending habit, lobang (offers/promotions), which hopefully become benefit for you who read this article and many articles to come in the future. Let's get started.
Living Expenses in the Most Expensive City in the World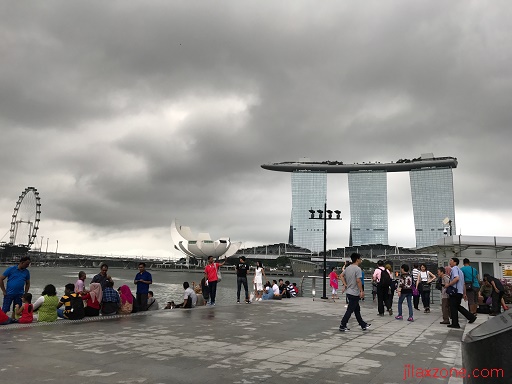 FYI, we are couple living in Singapore, one of the most expensive city in the world. This article -like I said earlier – hopefully can give people picture the cost of living in Singapore, especially to help those who are thinking of moving to the lion city, so at least before you are coming over here, accepting job or business opportunities you can roughly estimate how much you need to live here.
Our November 2017 Expenses
Let's cut to the chase. Here they are my hubby and my expenses for November 2017, sort by the amount. All dollar amount are in Singapore dollar.
| | | | |
| --- | --- | --- | --- |
| No | Category | Amount | Percentage |
| 1 | Rent | $875.00 | 27.67% |
| 2 | Parents allowance | $600.00 | 18.97% |
| 3 | Eating out | $492.28 | 15.57% |
| 4 | Vacation | $314.43 | 9.94% |
| 5 | Tax | $250.00 | 7.91% |
| 6 | Transport | $240.00 | 7.59% |
| 7 | Groceries | $238.24 | 7.53% |
| 8 | Phone | $65.42 | 2.07% |
| 9 | Gift | $40.00 | 1.26% |
| 10 | Household | $36.90 | 1.17% |
| 11 | Haircut | $10.00 | 0.32% |
| | Total | $3,162.27 | 100.00% |
As you can see, all these items accumulated for S$3,162.27 – despite my hubby and my considered-frugal-lifestyle. So when you are getting a job and planning to move here to Singapore, you have to put into considerations the living expenses here and don't just blindly accept any offers – since they seem high enough, especially if you are coming from third world country like we are.
Details breakdown
Last month, November 2017, we spent $3,162.27, these are the details breakdown.
1. Rent $875
Unlike most people who are renting the whole flat, in order to save money to buy our future house ourselves, we opt to rent only an apartment room since anyway there are only my hubby and me and we don't really have plenty of items to store to.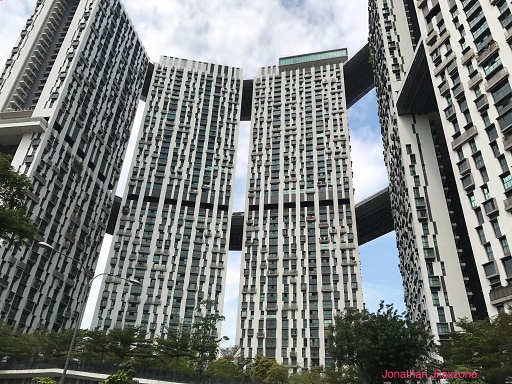 We stay in the far east of Singapore – Tampines to be exact. It takes roughly half an hour to forty minutes – if no MRT breakdown – from Tampines to reach city/Orchard/CBD area. Tampines is also known as Orchard of the east. The rental price is considered so-so, but definitely cheaper compared if you rent on the city/Orchard/CBD area. 
Oh, do take note, $875 is not the price to rent the whole apartment flat, but just 1 common room. This rental fee include utility bills (water, gas, and electricity) and internet.
2. Parents Allowance $600
This item is pretty much self explanatory. 
3. Eating Out $492.28
Eating out consists of few items. Here they are:
| | |
| --- | --- |
| Eating Out | Amount |
| Hubby's lunch | $190.00 |
| Restaurant | $49.20 |
| Hawker | $192.46 |
| Snacks | $49.22 |
| Drinks | $11.40 |
| Total | $492.28 |
Hubby's lunch – $190.00
Part of total figure is my hubby (Jonathan Jilaxzone aka Mr. J) lunch expenses. This is not the exact amount because I never really know how much exactly he spend for his lunch every working days, so I just budgeted $10 for each day he worked and had lunch outside.
Restaurant – $49.20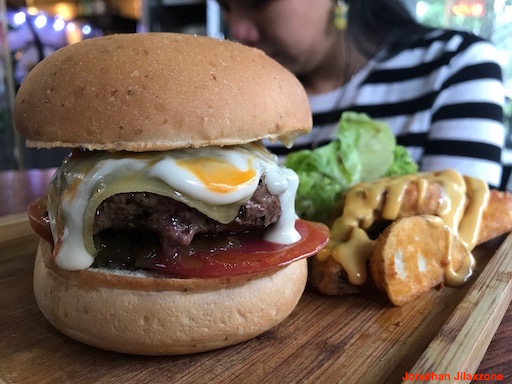 I can say last month our restaurant expenses are relatively low. Probably just went to Restaurant one to two times only. Normally we visit restaurants more often than this.
Hawker – $192.46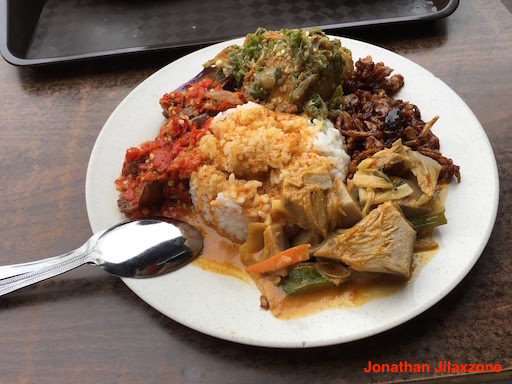 Last month turned out we visited hawker center more often. In case you guys don't know what is hawker center, it's basically kind of food court center where normally the price of foods are cheaper than the restaurants (depends really on the place but normally cheaper), plus the variety is much more than a restaurants from Asian dishes to western dishes.
Snacks – $49.22
Our snacks expenses somehow is much bigger than restaurants expenses 🙂
Last month these are the snacks we bought: waffles, bag of popcorn from Garret – I bought their limited edition dark chocolate popcorn, pastries, yogurt (llao llao – now closed and moved out from Singapore already), ice cream ($2 Daiso ice cream) and 2 packs of Korean instant noodles (my hubby really loves this – despite he always feel dizzy after eating them).
Drinks – $11.40
Any dollar amount counted as drinks here is only when my hubby and me visited stall/place that specifically selling drinks (think of Starbucks) – not restaurant (think like McDonnalds, they are selling burger plus the drink – if we buy the burger, the drink won't be part of this dollar amount).
This month we tried Costa Coffee (buy 1 get 1 free) and some drinks at the hawker centers.
4. Vacation $314.43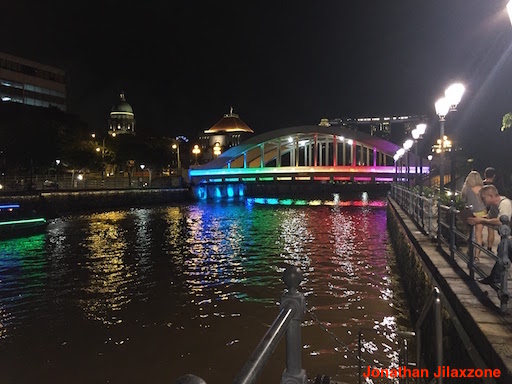 This actually an advance payment of our tickets on Feb 2018. As for November 2017 itself, we didn't go anywhere far, except in Singapore itself only.
5. Tax $250
Average amount of monthly tax income of my husband.
6.Transport $240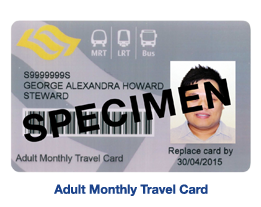 We are using monthly concession pass which allow us to do unlimited travel within 30 days for regular bus service and train. We rarely take taxi for our personal use. Do check my hubby post here related to monthly concession pass.
7. Groceries $238.24
I usually buy groceries in the supermarket, although they tend to be more expensive. However it is more convenient for me. Despite I don't need effort to keep bargaining with the shop owners, by shopping in supermarket I can accumulate points rewards, plus get a cut for bringing in my own carrier to carry all the groceries stuffs (go green!). Part of this month groceries expenses, I used $25 vouchers to further cut my expenses – in which the vouchers I got from Healthy 365 programme, if you want to get the vouchers, do refer to my hubby post here – since my credit card spent is considered full already.
8. Phone $65.42
To feed up our 3 phones and 1 mobile unlimited data services.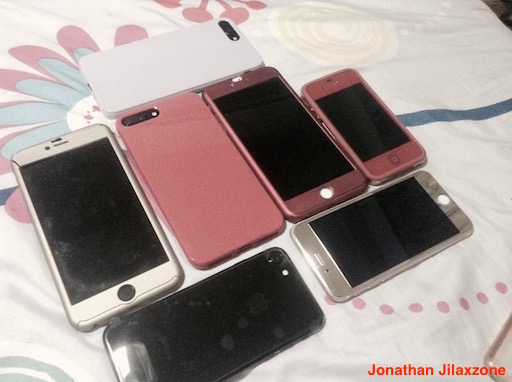 Here they are in details:
$22.42 – M1 3G Unlimited Data Plan (tax included)
$10 – to top up my secondary phone
$15 – to top up hubby's phone
$18 – to top up my primary phone
9. Gift $40
Gift for a friend.
10. Household items $36.90
This includes purchasing of storage box, peeler, toothpaste, and detergent.
11. Haircut $10
Hubby's haircut.
Summary
While not all expenses mentioned above are fixed expenses, but they are more or less our typical monthly expenses. What about your expenses? Do you spend that much as well or more or lesser?
In case you have any queries, especially related to expenses and stuffs in Singapore, do let me know on the comment section below. I'll be more than happy to help you clear your doubts. Thanks!