This is 7: Apple iPhone 7 Event Recap
 Here is recap on what's happening on Apple 7th September 2016 event:
1. iPhone 7 is born!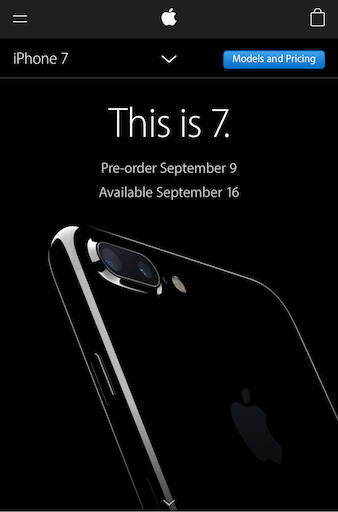 iPhone 7 comes in 2 Model
iPhone 7, like its predecessor, comes in 2 model: standard and Plus size.
Design-wise, it's practically similar to iPhone 6 and 6S with little tweaks on the antenna placement. Unlike what leaks said before, there is no pro version, it's still standard and Plus version.
iPhone 7 no longer has 16GB and 64GB storage
Apple has upped the storage for iPhone 7, starting now with 32GB, then 128GB and 256GB. There is no 16GB nor 64GB for iPhone 7.
iPhone 7 has new color: Jet Black
Now iPhone has 5 colors: Black (Space Grey replacement), Silver, Gold, Rose Gold and the new Jet Black.
For Jet Black color, Apple is selling only 128GB and 256GB model. No 32GB for Jet Black.
| | | | |
| --- | --- | --- | --- |
| Color/Size | 32GB | 128GB | 256GB |
| Black | Yes | Yes | Yes |
| Silver | Yes | Yes | Yes |
| Gold | Yes | Yes | Yes |
| Rose Gold | Yes | Yes | Yes |
| Jet Black | – | Yes | Yes |
iPhone 7 pre-order starts 9th September 2016
Get ready! The Apple US site haven't shown the non-contract price, but Apple Singapore site has shown it.
| | | | |
| --- | --- | --- | --- |
| | 32GB | 128GB | 256GB |
| iPhone 7 | S$1048 | S$1218 | S$1388 |
| iPhone 7 Plus | S$1248 | S$1418 | S$1588 |
Using today Google rate (SGD to USD ~ 1SGD = 0.74 USD), the cheapest version of iPhone 7 (standard 32GB) non-contract price in US respectively, US$778.40, which I think Apple would likely selling it for the lucky 7 numbers: $777.
iPhone 7 now has 12MP Camera at its back
With iPhone 7 Plus has telephoto camera (basically dual camera), capable of doing 2x optical zoom. Optical not digital! It can also do 10x digital zoom.
| | | | | | |
| --- | --- | --- | --- | --- | --- |
| | Facetime Camera (Front) | Back Camera | Optical Image Stabilization | Digital Zoom | Optical Zoom |
| iPhone 7 | 7MP | 12MP | Yes | 5x | – |
| iPhone 7 Plus | 7MP | 12MP, dual lens | Yes | 10x | 2x |
iPhone 7 no longer has headphone jack
Bye-bye 30-year+ old technology. Welcome digital audio! Based on what written on Wikipedia page here, the existing 3.5mm headphone jack was first known introduced back in 1964 and only became popular until today with the introduction of Sony Walkman back in 1979. Don't be and get sad. The tech is too old already. Let your ear enjoy the new digital audio world from now and then!
Apple gives you the new EarPods with lightning connector. And in case you still love your existing earphone/headphone with that old technology, Apple does give 3.5mm to Lightning adapter in the iPhone 7 box.
Apple also introduced AirPods, the wireless EarPods for those who doesn't like juggling with cables.
iPhone 7 is waterproof. Yay!
If all this time you are envy with Android users who can bring their phones – for whatever reason that is – to bath, to swimming pool, now envy no more! Apple has made iPhone 7 to be splash, dust and water resistant. Of course it has limits. Do note, water damage iPhone is not covered under warranty!
iPhone 7 has new tactile Home Button
Together with the waterproof iPhone, Apple has introduced a new Home button that give you tactile feedback as you press. And according to Apple, now you can customise it. We'll see in the next post, once I got my hands on the actual iPhone 7.
iPhone 7 is now Stereo – 2 speakers
All this time, iPhone has always had 1 speaker, located at bottom of the phone, now with iPhone 7, Apple has made iPhone 'stereo'. The 2 speakers respectively located at bottom and top of iPhone.
---
Find other awesome articles, tips, tricks related to Life and Tech, iOS & Android quick review on:
---
2. iOS 10
Devices that compatible with iOS 10
iPhone: iPhone 7 (standard and Plus), iPhone 6S (standard and Plus), iPhone 6 (standard and Plus), iPhone SE, iPhone 5 and 5S.
iPad: iPad 4th gen, iPad Mini 2 and above, iPad Air and above, iPad Pro (9.7 and 12.9 inch)
iPod: iPod Touch 6th Gen
iOS 10 availability
You can download iOS 10 starting from 14th September 2016. In case you can't wait, you can install iOS 10 public beta here.
iOS 10 New Features
There are plenty if not tons of new features introduced in iOS 10, however not all of them are noticeable, some of them are backend un-noticeable enhancements. For all new and noticeable new features, check here.
3. Apple Watch Series 2
New Apple Watch Series: Nike+, Hermes
Apple removes the Sport edition, replacing it with Apple Watch Nike+. While in between the standard and edition, now Apple introduces Apple Watch Hermes series.
Apple Watch Series 2 is completely waterproof
You can bring it while you are swimming now.
WatchOS 3
Both Apple Watch Series 1 and Series 2 are compatible with WatchOS 3.
4. Macs and MacOS
Together with the introduction of iPhone 7 and iOS 10, Apple also introduces array of new Macs, including new Macbook with it's new Rose Gold color, new Macbook Pro and Macbook Air and their latest MacOS: MacOS Sierra.
---
For Life & Tech tips, iOS & Android Apps and Games quick review, do visit below:
---