Apple Pay: What it is, How to Setup and Use it, The Advantages and Disadvantages are
Apple Pay has been around for about 1 year plus since it was first introduced (initially launched on July 2015 at US, and today is August 2016), but only recently launched here in Singapore (April 2016). If you are unaware whether it has been launched on your country, you should check with your local branch banks.
---
Apple Pay: What it is
---
For those who don't know what is Apple Pay, it is a form a contactless payment made by Apple. So in short, you can use your compatible iPhone / iPad or Apple Watch to make payments on everywhere that accepts contactless payment.
Here is the compatible Apple devices as of August 2016:
iPhone 6 and 6 Plus
iPhone 6S and 6S Plus
iPhone SE
iPad Air 2
iPad Pro 12.9 inch and 9.7 inch
Apple Watch
iPhone 5 / 5S / 5C although their form factor are the same like iPhone SE, especially iPhone 5S with Touch ID, however they don't have the NFC chip inside of them, so they are not compatible with Apple Pay and won't be compatible as you can't make hardware upgrade.
---
Apple Pay: How to set it up
---
So if you have compatible Apple iDevices, here's how to set it up:
Find Wallet app on your Apple iDevice, open it.
Find the Apple Pay logo/tab, tap the '+' button to add new card.
Tap Next and either scan your debit/credit card or manually enter the card info.
Once done, tap Next again to verify it with your card bank and tap on Agree whenever prompted.
Once done, you'll see your card inside the Wallet app. Setup is done.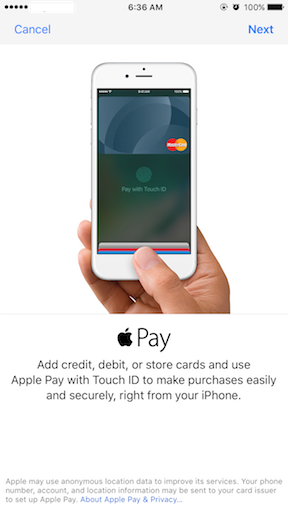 Apple Pay requires you to setup your Touch ID, so make sure your Touch ID is working and setup already.
---
Find other awesome articles, tips, tricks related to Life and Tech, iOS & Android quick review on:
---
Apple Pay: How to Use it
---
So Apple Pay has been setup, now it's the time to give it a try. To use it is pretty easy. Spot any retailer, shops, supermarket that has Apple Pay logo and you can use Apple Pay to make payments. Certain retailer/shops, they may not have the Apple Pay logo stickers on the cashier yet, but don't worry, ask them whether they accept contactless payment or ask them whether they have Visa Paywave or MasterCard PayPass, if they have and accept, that means they can accept Apple Pay too.
Here's how to use it when making payment via Wallet App:
Open the Wallet App. Choose the card you want to use to make payment.
Put your finger on Touch ID, scan it until a check mark is shown.
Tap your Apple iDevice on the payment terminal. That's it, you just made your payment with Apple Pay.
Depends on your Apple iDevice settings, you can also make payment using Apple Pay without unlocking your screen, here's how (on iOS 9 and iOS 10 beta):
Turn on your Apple iDevice.
Double click Home button. It will open your Wallet app.
The rest step is the same, put your finger on Touch ID, wait until check mark is shown, then tap your Apple iDevice to the payment terminal.
Here's how to enable Apple Pay without unlocking the screen (on iOS 9 and iOS 10 beta):
Go to Settings > Wallet & Apple Pay.
Find 'Double-Click Home Button'.
Turn it ON to enable Apple Pay from the lock screen. Done.
The idea of accessing Apple Pay from lock screen without unlocking your iDevice is that you can instantly access your Wallet to make payments. However, I, myself, disable this option and so is my recommendation to you, to disable 'Double-Click Home Button' option, making it an extra layer for the hacker/stealer to hijack your Apple Pay. Anyway, it will only takes about extra 10-30 seconds (depends on your speed) to unlock the Apple iDevice, find Wallet app and make payment. The cashier can wait. No need to rush!
---
Apple Pay: The Advantages of using it
---
Here are the advantages of using Apple Pay, based on my personal experience in using it to make payments:
More secure. For each payment, I need to scan my finger to make the payment. Unlike when you are using the physical debit/credit card, everyone can use your debit/credit card. Also when making payment with Apple Pay, Apple is not exposing your debit/credit card number to the retailer, so less chances you will get hacked.
Split the usage. Did I tell you you can actually register the same card on few Apple iDevice? Yeah you can do it. Banks nowadays have some form of bonuses if you reach certain amount of usage. Here in Singapore, banks like UOB and Standard Chartered, give extra interest to your saving if in 1 month you can spend minimum S$500. With Apple Pay, I can split the usage of my card with my wife, making it easier to reach the minimum spend criteria. You can do it too!
You look cool. Seriously. People who don't know yet Apple Pay or any other contactless payment, will stare at you and bubbling themselves, "What the … was that?". If they are brave enough, they will move close to you and ask, "What is that?". Then you play cool, explaining to them, that this is Apple Pay, the 22nd century form of payment. Haha.
Thinner wallet. I'm talking your physical wallet that you always carry with you. If most of the retailers, shops in your country accept Apple Pay or contactless payment, that means you can start leaving your physical debit/credit card back at home. You just need to bring your Apple iDevice with you and make sure you have enough battery that last while you are out there.
Get promotion! Yes, if Apple Pay is just introduced in your country or if your bank just recently support and accept Apple Pay, high chances your bank will give promotion for it. Last time when Apple Pay first launched officially in Singapore, Standard Chartered bank gave 20% cash bank of any transactions made via Apple Pay, UOB had some weekly promotions, such as S$1 for any Gong Cha drink (Taiwanese Milk Tea shop).
---
Apple Pay: The Disadvantages of Using it
---
So far I don't see any disadvantages of using Apple Pay. Have you spotted any? Do share with us.
---
The Verdict
---
If you have compatible Apple iDevice with you, and if your country and bank already support Apple Pay, why not register and give it a try to see how cool Apple Pay is?
---
For Life & Tech tips, iOS & Android Apps and Games quick review, do visit below:
---