FREE! Ep 23: FREE Games! Android, iOS, Nintendo Switch, PC, PS4, PS5 & Xbox Series X / One. Limited Period Only. Download link inside.
Who doesn't love free stuffs? I do love them. Here are FREE stuffs for this episode. Enjoy!
There are Android, iOS, Nintendo Switch, PC, PS4 & Xbox Series X, S and One FREE games available to own/download
Some of these games are available for FREE for limited period only, so go get them while they are FREE
In case there's no enough FREE games here or looking for some other FREE! things, do check at the bottom of the article to get more FREE! stuffs
Some of these games are better to play with controller, head to the controller section to get recommendation
Gathered across various sources around the world and from the internet, here I share with you all the FREE! stuffs – products or services – that I found them interesting. Some of them are totally FREE! while some of them are just temporarily FREE! So be sure to get/download/consume them while they are FREE!
This time, I found various FREE! apps & games for Android, iOS, Nintendo Switch, PC, PS4, PS5, Xbox Series X and Xbox One platforms platforms. Some of them are only FREE! to play (without you owning the game), some of them are temporarily FREE, some require you to read the instruction to get the app/game for FREE, while some others are FREE to keep. So don't wait to get and try them while they are FREE! Without further ado, here they are.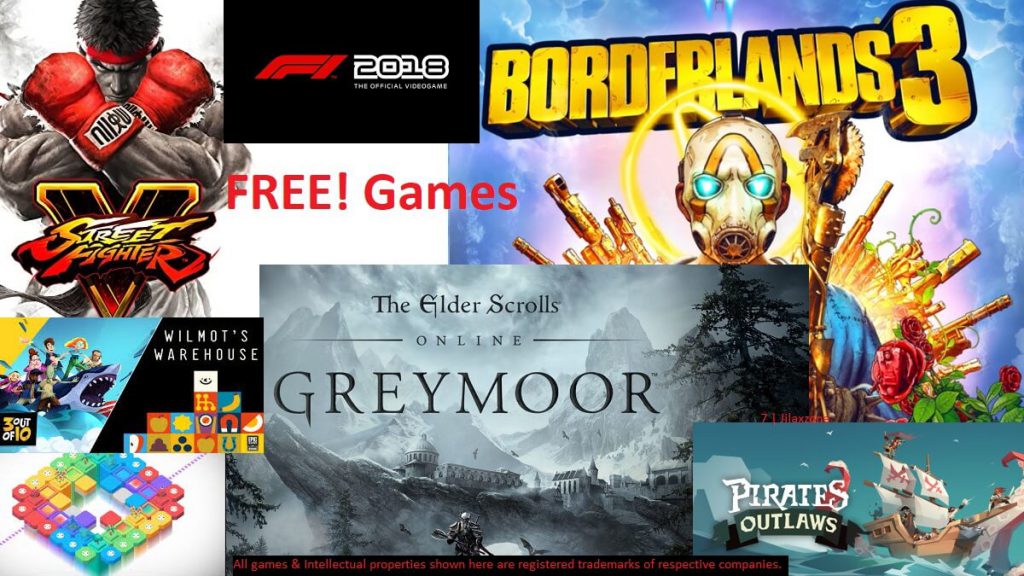 For other episodes of FREE!, check them here: FREE! All Episodes.
Play better with Controller!
Some of these games below, you can play them with a Bluetooth Controller. In case you are interested, here's the controller I use.
iPega 9083: For playing PC and Android games. I like it because the fact that it can be used both on PC and Android without much hassle (driver auto- detected and installed), plus when I'm playing any Android game, I can put my Android in between – just like a Nintendo Switch.
On Amazon:
Alternative link in case you can't see the link above: iPega 9083 Amazon link.
On AliExpress:
IPEGA 9083
Alternative link in case you can't see the link above: iPega 9083 AliExpress link.
SteelSeries Nimbus+: For playing iOS games. I like it because it's MFi certified – Made for iOS, any controller-compatible games will for sure run with this controller.
On Amazon:
Alternative link in case you can't see the link above: SteelSeries Nimbus+ on Amazon. If you need to buy the smartphone clipper, here: Nimbus iPhone clipper on AliExpress.
See the controllers in action.
Note: If you buy anything from Amazon / AliExpress using links above, I will earn a small commission at no extra cost charged on your purchases.
FREE! GAMES
These are the FREE! Games for this episode. The games are sorted alphabetically. Enjoy!
Auto Chess
Auto Chess is a brand new, highly competitive multiplayer online strategy game created by Drodo and Dragonest Co.Ltd, released and technically supported by Dragonest Co.Ltd. Since the launch of Auto Chess, it has had significant influence all over the world with its brand new gameplay mode and strategic competitive features. It has also attracted tens of millions of players around the world. Each player can play against other players from all over the world through the Internet and enjoy a brand new strategy competitive experience.
Blair Witch
Inspired by the cinematic lore of Blair Witch, experience a new story-driven psychological horror game that studies your reactions to fear and stress.
Bless Unleashed (Closed Beta)
Bless Unleashed is an open-world online game that can be enjoyed with your friends and countless others. Venture out to engage in intense combat while exploring vast regions and treacherous dungeons.
Camp Sunshine
Camp Sunshine is a 16-bit blood-soaked Horror RPG that pits you as Jez, who is dropped off at Summer Camp. He awakes in the middle of the night to discover blood everywhere, a rampaging killer on the loose dressed in a mascot costume and himself involved in a deadly game of cat and mouse! It's up to you to piece together the puzzle, and relive the past of the Summer Camp Slasher in order to put a stop to this night of terror.
Control Ultimate Edition – Cloud Version
Control Ultimate Edition contains the main game and all Expansions (""The Foundation"" and ""AWE"") in one great value package. A corruptive presence has invaded the Federal Bureau of Control… Only you have the power to stop it. The world is now your weapon in an epic fight to annihilate an ominous enemy through deep and unpredictable environments. Containment has failed, humanity is at stake. Will you regain control?
Dead by Daylight
Dead by Daylight is a multiplayer (4vs1) horror game where one player takes on the role of the savage Killer, and the other four players play as Survivors, trying to escape the Killer and avoid being caught and killed.
Dead Hungry Diner
Dead Hungry Diner is all about big combos, spells, monsters fighting monsters and finding your flow within the monstrous mayhem!Help Gabe and Gabby, patrons of "The Dead Hungry Diner", as they feed the creatures of the night buckets and buckets of juicy Brain Berry goop!(Well… that's the easy part!
DEAD OR ALIVE 6: Core Fighters
The free version of the newest installment of the leading fighting entertainment franchise – DEAD OR ALIVE 6! This is a free version which allows use of many game modes, including online matches. However, only a limited number of playable characters is available, and the Story mode will be locked. The remaining characters and the Story mode can be purchased separately as downloadable content.
Ghostbusters: The Video Game Remastered
The beloved and critically acclaimed Ghostbusters video game is back and remastered! Strap on your proton pack once again and join the Ghostbusters on the adventure with the voice and likeness of the original crew as you battle to save New York!
Glopy
New and unique puzzle and skill game comes with a different mechanics in each episode, and you'll be curious about the next glopy ball while you're playing it.
Isometric Squares – puzzle ² 
Goal is simple: to make a square from squares by fitting them all on the grid. You can do that in 2D or 3D if you want an additional spatial challenge. Either way, it's not that easy as it sounds!
Lifeline: Flatline
The Lifeline series takes a terrifying turn in this interactive horror experience. Every decision you make could help Wynn to safety, or lead her to an untimely end. Something has gone horribly wrong… Venture deep into a mysterious scientific facility, where a woman named Wynn has just woken up strapped to a hospital bed. She doesn't remember what happened to her – all she knows right now is that she has to get out of this place. And her only link to the outside world… is YOU! Help Wynn navigate creepy darkened hallways as the shrieks of something inhuman get closer… In this thrilling interactive horror experience, your choices shape the story and ultimately decide Wynn's fate!
Secrets of Magic: The Book of Spells
Dive into a magical world of witches and wizards. Travel through magical lands, relaxing music and help Victoria collect unique items along her journey to become a witch. Learn from the ancient Book of Spells in this engaging Match 3 game.
Skeleton Crew (Closed Beta)
Kick everything: friends, foes, items… chickens? Skeleton Crew is a gothic platformer with a pinball-like twist. Defeat a skeleton archer and kick his skull into a crowd of enemies. Launch your friends around the map to reach secret areas and solve fiendish puzzles in up to 4-player co-op.
SpellForce 3 (Beta)
SpellForce 3 – The perfect blend between RTS and RPG! It is the year 518. The rebellion of the renegade mages, known as the Mage Wars, has been quashed by the Crown. However, it was a Pyrrhic victory: Whole regions have fallen into anarchy, refugees roam the lands in search of shelter, and a mysterious, deadly plague called the "Bloodburn" has arisen and is spreading rapidly. In times like these people cling to any sign of hope they can find. The Purity of Light, led by a charismatic man called Rondar Lacaine, claims that mages are the source of all misfortune – and that only the second coming of Aonir, the father of all gods, will return Eo to its former splendor.
The Sims 4
Play with life and discover the possibilities. Unleash your imagination and create a world of Sims that's wholly unique. Explore and customize every detail from Sims to homes–and much more.
Tip of the Spear: Task Force Elite
Tip of the Spear: Task Force Elite is a multiplayer FPS with old school roots. Engage in infantry combat across urban and terrain-based maps in classic game modes, like Team King of the Hill, and master a realistic ballistics system to snipe the enemy from a mile away.
Warhammer: Vermintide 2
The critically acclaimed Vermintide 2 is a visually stunning and groundbreaking melee action game pushing the boundaries of the first person co-op genre. Join the fight now!
Not enough FREE! stuffs here?
Browse FREE! section at JILAXZONE for more FREE! contents and stuffs! While some of the FREE! contents are available within limited time and period only but many are still available as always FREE!
This controller lets you play Nintendo Switch Games on Android
Just FYI, in case you don't know it before, now there's a Bluetooth Controller that let's you play real Nintendo Switch games on Android. And I'm not joking at all. Google around or have a look here where I detailed it for you: Controller that lets you play Nintendo Switch games on Android.
But in case you want to get it, here's the link on AliExpress.
AliExpress.com Product – GameSir X2 Type-C Mobile Game Controller Joystick for Cloud Games Cloud Gaming Platforms xCloud, Stadia, Vortex, Type-C Gamepad
In case you can't see the GameSir X2 purchase link above, here it is: GameSir X2 on AliExpress.
FYI. In case you purchase anything from the AliExpress links above, I shall earn a small commission at no extra cost on you.