Bikin WhatsApp Sticker Sendiri. Mudah dan Gratis! Semua pasti bisa.
Beberapa saat yang lalu WhatsApp resmi mengeluarkan WhatsApp Stickers. Sayangnya, kalau di bandingkan dengan LINE Messenger, WhatsApp Stickers terkesan boring dan begitu-gitu aja.
Tapi jangan kuatir! Karena sekarang sudah ada cara nya untuk buat WhatsApp Stickers sendiri. Tinggal sejauh mana aja kreatifitas kamu. Mau pakai wajah kamu, wajah teman-teman kamu, bahkan kalau kamu kreatif, Brown dan Cony milik LINE Messenger juga bisa muncul di WhatsApp.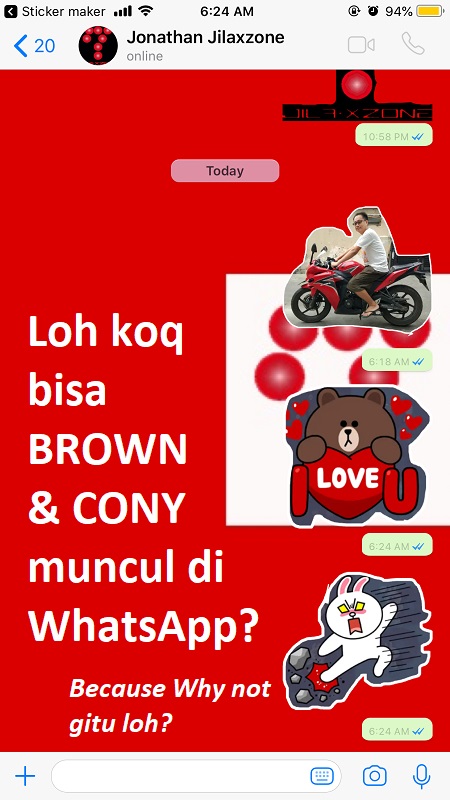 Sebelum mulai, untuk buat WhatsApp Sticker sendiri, ada beberapa cara dan metode.
1) Via smartphone: Android dan iPhone
2) Via komputer (bikin program nya sendiri, berikut sample program dari WhatsApp)
Nah, yang bakalan saya bahas disini adalah yang versi Smartphone. Karena selain mudah dan gratis, metode ini bisa di lakukan oleh siapapun, bahkan buat kamu yang nggak tahu coding.
Berikut cara bikin WhatsApp Sticker sendiri via Android and iPhone
1) Download Sticker Maker for WhatsApp
Ada beberapa pilihan Sticker Maker untuk WhatsApp, tapi yang paling popular adalah Sticker Maker buatan Marcos Roy. Punya rating 4.7 dari 5 stars, dari 1600 reviewers (Apple App Store) pada saat artikel ini di buat. Kalau kamu pake iPhone, ini aplikasi Sticker Maker WhatsApp yang popular buat pengguna iPhone.
Berikut download link nya: Sticker Maker for WhatsApp by Marcos Roy.
| | | |
| --- | --- | --- |
| # | iOS / iPhone | Android |
| Price | FREE | FREE |
| OS | iOS 10 & up | Android 4.4 (KitKat) & up |
| Internet Connection Required | Yes | Yes |
| Download Link | | |
| QR Code | | |
| Alternative Link | iOS link | Android link |
Alternative lain, Sticker Maker buatan Viko & Co. Punya rating 4 dari 5 stars, dari lebih 15 ribu orang reviewers (Google Play Store) pada saat artikel ini dibuat. Kalau kamu pake Android, ini aplikasi Sticker Maker yang popular buat Android.
Berikut download link nya: Sticker Maker for WhatsApp by Viko & Co.
| | | |
| --- | --- | --- |
| # | iOS / iPhone | Android |
| Price | FREE | FREE |
| OS | iOS 10 & up | Android 4.4 (KitKat) & up |
| Internet Connection Required | Yes | Yes |
| Download Link | | |
| QR Code | | |
| Alternative Link | iOS link | Android link |
2) Buka aplikasi Sticker Maker nya
Setelah install app nya, buka Sticker Maker app nya.
Article continues below.
---
Popular on JILAXZONE today:
---
3) Tap di bagian Create New Sticker Pack
Tergantung app mana yang kamu download (Marcos atau Viko), cari aja tombol "Create New Sticker" atau "Create New Sticker pack".
4) Kasih nama Sticker pack kamu
Ketika di prompt untuk mengisi nama Sticker pack, isi aja dengan nama pilihan kamu.
5) Mulai berkreasi!
Tergantung kamu pakai aplikasi Sticker Maker yang mana, tapi basic nya sebagai berikut:
a) Tap di tempat icon yang masih kosong.
b) Pilih Camera (Foto langsung dari kamera) atau Gallery (Foto simpanan kamu).
c) Crop gambar secukupnya.
d) Tap "Save" atau icon Centang untuk save sticker kamu.
e) Lakukan step a) sampai step d) berulang kali, sebanyak sticker yang kamu mau buat. Oh iya, minimum harus punya 3 buah sticker dalam 1 sticker pack yah, untuk bisa di export dan di save ke WhatsApp.
6) Export Sticker kamu ke WhatsApp
Setelah selesai dengan kreasi kamu, tekan tombol "Add to WhatsApp" atau "Add sticker pack to WhatsApp". Tekan "OK" ketika di prompt "Sticker Maker wants to open WhatsApp"
7) Save Sticker nya di WhatsApp
Jangan lupa untuk tekan "Save" di WhatsApp kamu untuk menyimpan Sticker WhatsApp hasil kreasi kamu yang baru saja di buat.
Berikut Sticker WhatsApp Saya!
Berikut contoh Sticker WhatsApp buatan saya.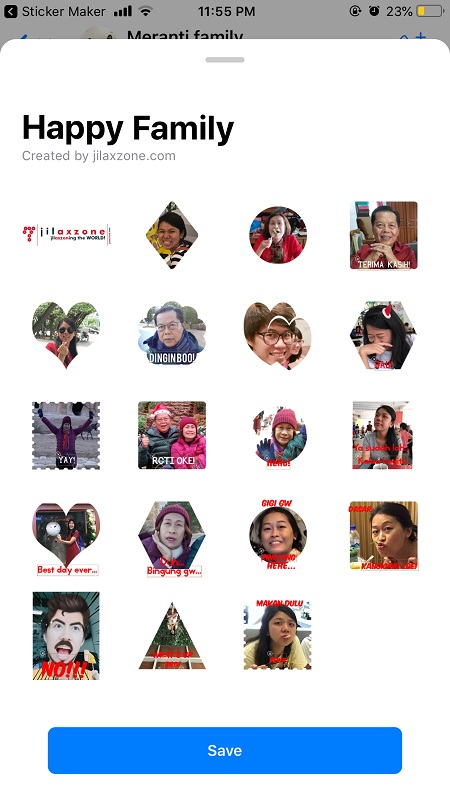 Mana Sticker WhatsApp buatan kamu?
---
Do you have anything you want me to cover on my next article? Write them down on the comment section down below.
Alternatively, find more interesting topics on JILAXZONE:
JILAXZONE – Jon's Interesting Life & Amazing eXperience ZONE.
---
Hi, thanks for reading my curated article. Since you are here and if you find this article is good and helping you in anyway, help me to spread the words by sharing this article to your family, friends, acquaintances so the benefits do not just stop at you, they will also get the same goodness and benefit from it.
Or if you wish, you can also buy me a coffee: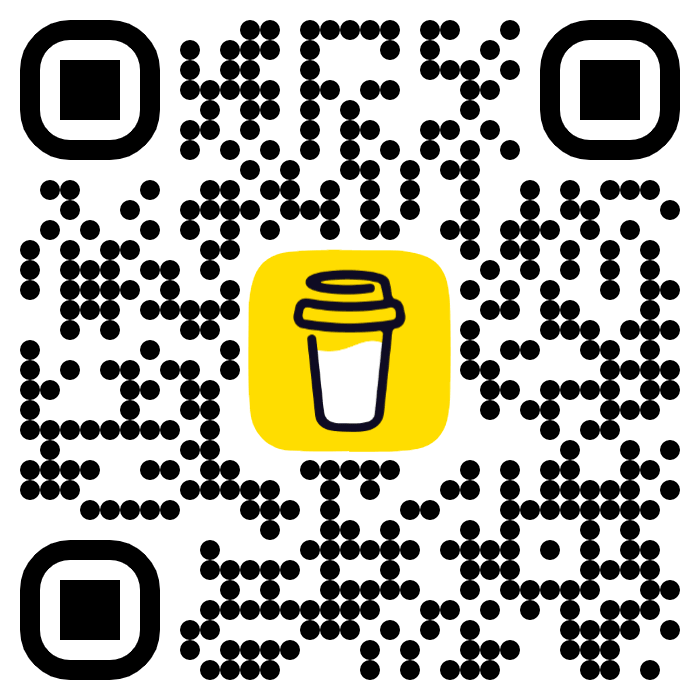 Thank you!
Live to Share. Share to Live. This blog is my life-long term project, for me to share my experiences and knowledge to the world which hopefully can be fruitful to those who read them and in the end hoping to become my life-long (passive) income.
My apologies. If you see ads appearing on this site and getting annoyed or disturb by them. As much as I want to share everything for free, unfortunately the domain and hosting used to host all these articles are not free. That's the reason I need the ads running to offset the cost. While I won't force you to see the ads, but it will be great and helpful if you are willing to turn off the ad-blocker while seeing this site.