To Bloggers: Getting productive on mobile devices is still pain in the a** | WordPress Mobile App Features Request
I always dream about a day where I can do all productive things simply by using my mobile phone or mobile devices – something that is light but powerful enough that I always carry with me whenever I go. Either Android or iOS or any future coming OS for mobile devices.
And having with me a WordPress-based website, I always wanted to do what people called as mobile blogging, or blogging-on-the-go since most of my ideas popping-up while I'm on the go and most of my free time to blog is when I'm not in front of my computer – during my time commuting, during lunch time, during travelling, during excercising, and plenty other occasion in which I always bring my phone with me but not my computer.
I did try a few times back, but using the combination of current mobile OS (I mostly tried it on iOS, while Android only a few times lesser) and the current version of WordPress mobile app to blog on the go are simply too good to be true. Well, you can create article and publish it via the mobile app, however the time taken to do it and quality-wise (formatting, layouting, adding photos and caption, embedding code) were nowhere to match the web version done via dekstop computer. Blogging-on-the-go is too damn slow.
Recently, WordPress came out with version 5.0, and with it, I did hope that its mobile app also gets a significant upgrades that allow me to do whatever a blogger normally do to publish an article. And having the new building blocks based editor – they called it Guttenberg – I did hope they implent it as well on the mobile app.
Latest WordPress Mobile app has not supported WordPress 5.0 Building Blocks Editor
As it turns out, they did update the WordPress mobile app, however the lastest version as of today has not supported the new WordPress building blocks editor.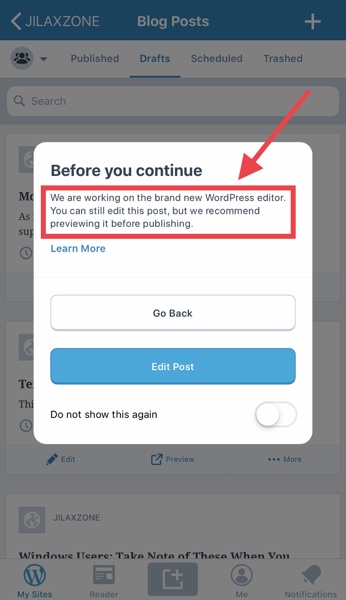 The latest iOS version available at the time this writing is version 11.3.1 which was released back on 2nd week of December 2018. I haven't tried the Android one – will give it a try soon.
When I tried to open any Guttenberg-made post, the WordPress mobile app is always ended up crashing.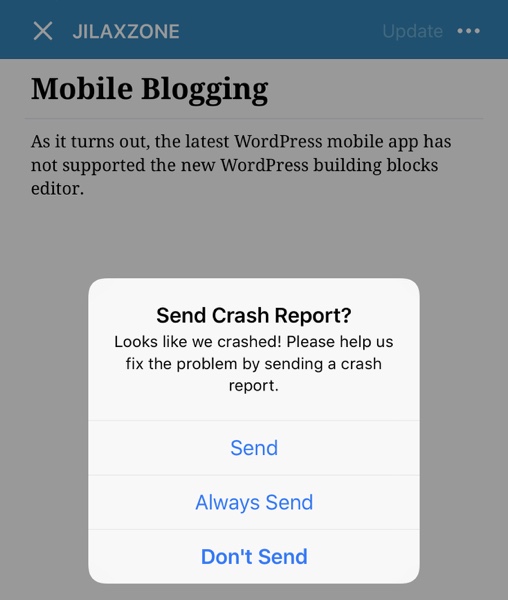 Feature request from a blogger
As a WordPress-based blogger who always seeks a way to become productive even on mobile, I would love to see the following features to be brought to the WordPress Mobile app.
To enable Building block based editor
To have reusable block feature aka template so writing on mobile doesn't always need to start from scratch
To have more and better touch friendly interface. Using something similar to Air Command found on Samsung Galaxy Note series phone is one of the sample of being touch friendly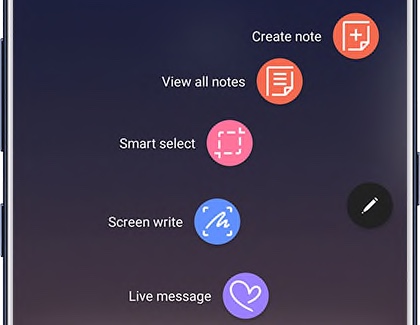 To be able to give caption easily on uploaded images and photos – directly after the image is uploaded
To easily delete permanently images from WordPress – since uploading image from a phone is prone to error
To rename photos filename from inside the app
To embed-in image editor, resizer on the mobile app
To support drag and drop from other apps to add photos, videos, text, and other supported objects
Bring it all together
If the WordPress Mobile App maker implements all those features above, for sure there will be more and more Bloggers who will do blogging-on-the-go.
Be it on the beach, mountain up high, office or cafe. Blogging can be done everywhere anytime. Even during toilet breaks. I don't need to prove this to you right?
Do give your comments and thoughts about blogging-on-the-go whether you agree with the idea or not, as well as additional features you think good to have on the WordPress Mobile App.
This post is 100% created and edited using a mobile device. No computer is involved.
---
For Life, Tech tips, iOS and Android Apps and Games quick review, do visit below:
---
Hi, thanks for reading my article. Since you are here and if you find this article is good and helping you in anyway, help me to spread the words by sharing this article to your family, friends, acquaintances so the benefits do not just stop at you, they will also get the same goodness and benefit from it.
Thank you!