[FREE APP] Diffmarts – Always Get The Best Prices for Groceries, Health and Beauty brands, Electronics
Attention to (specially) housewives, aunties and all groceries shoppers and discount hunters in Singapore, you are no longer needed to go here and there a few places just to compare prices before making a purchase. Save your precious time and energy because today there's an app that helps you do the prices comparisons.
What's more is that, the app is not limited to groceries price comparison, it also includes health and beauty brands and even electronics. So it's not just housewives and aunties, husband, uncles, boys and girls could also be interested.
All you need to do is just open the app, find anything you want to purchase, compare between supermarkets, and only go to specific supermarket once you know which one offer the cheapest.
Meet Diffmarts
Created by Tee Tiong Siong a.k.a T.T.S, Diffmarts which currently available only for Singapore, aims to be one stop place for people who like to compare prices before committing purchases.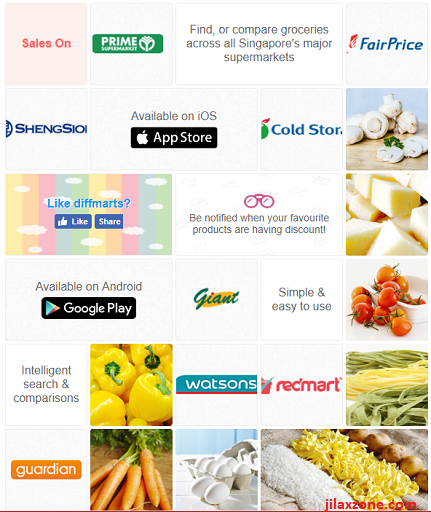 These are Providers and Vendors currently supported in the price comparison. More vendors could be added in the future.
Supermarkets and online-marts (Singapore)
Cold Storage
Giant
NTUC FairPrice
Prime
Redmart
Sheng Siong
---
Find other awesome articles, tips, tricks related to Life and Tech, iOS & Android quick review on:
---
Health and Beauty (Singapore)
Guardian
Watson
Electronics (Singapore)
Best Denki
Courts
Gain City
Hachi.Tech
Harvey Norman
Available for Android, iOS and Web
Download it now and start comparing prices before actually going to the marts to see which one giving you the best possible price.
Here's the download link.


if you can't click above links, use the download link here.
Android download link.
iOS download link.
Or if you prefer to see the website instead of downloading the app, do check here.
How accurate is the price comparisons?
This question should be number one question that pops-up to everyone's head whose interested to use the app. Well, based on my wife and my own experiences using the app to do some price comparisons, at the time I checked a few days back, the price of oats is correct and matching with the supermarket price. However, the price of a watermelon is not so accurate, the actual price on the supermarket is cheaper.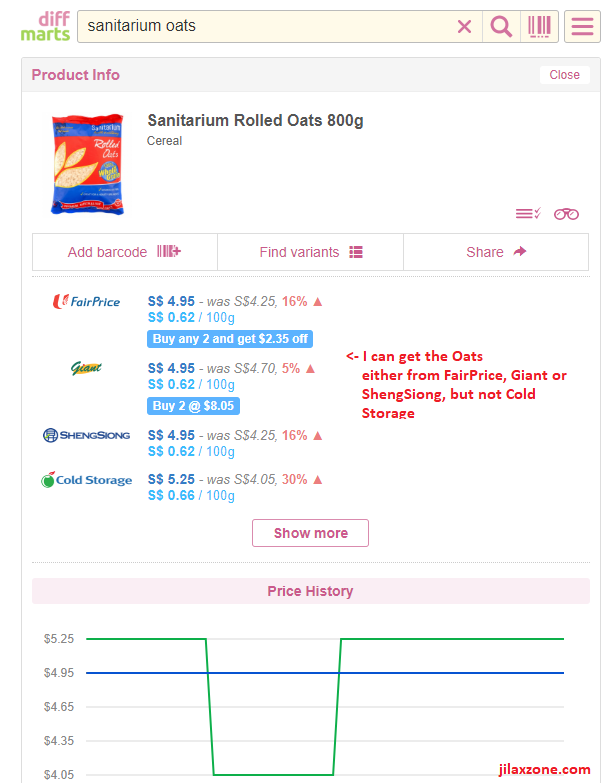 So other than comparing prices, what can Diffmarts do?
Diffmarts is published as web/app that gives us price comparisons between items, however there's hidden feature that my wife realized it during one of her search within the app, in which I don't think even the creator realized it.
The hidden feature is by using Diffmarts, you can also find whether or not the item you are looking for available on certain supermarket or marts.
For example, you are looking for certain brand of cheese, say brand ABCD. Based on the search result given, you could see that only specific supermarket carry this ABCD cheese, so again, waste no time, don't anyhow go to any supermarket but go to that specific supermarket to find your ABCD cheese.
Bring It All Together
With Diffmarts as your price comparisons references, you don't need to keep switching between places just to get the best price possible. Check the item through the app or website, only when you find the price is suitable or acceptable then you go to the mart.
Another input for Diffmarts development team, the app and web could do a lot better if you guys open price submission to everyone (not only to supermarkets and big brands – since they may not cooperating with you) and based on various inputs, apply some machine learning to validate the most submitted price likely is the correct one.
---
For Life & Tech tips, iOS & Android Apps and Games quick review, do visit below:
---
Hi, thanks for reading my article. I do spend my time and efforts writing this article based on my own experiences for my own journal as well as to share the knowledge to whoever read it so hopefully they can get the benefit out of it
If you find and feel this article is good and helping you in anyway, help me to spread the words by sharing this article to your family, friends, acquaintances so all this goodness, my spent time and efforts do not just stop at you, they will also get the same goodness and benefit from it.
Thank you!