Create Your Own Cloud Storage and Bring It With You Anywhere You Go and Access It Anytime You Need
Limited phone storage, expensive top-up to get bigger built-in smartphone storage, expensive cloud subscriptions though there are free options such as Google Drive or Dropbox but anyway they require internet to use it – which come to the next point, limited bandwidth and expensive internet data plan to access and use the cloud storage and the list goes on and on for existing cloud storage solution. Do you ever think, why not create your own cloud storage and bring with you everywhere you go and access it anytime you need – even with no internet data plan?
Turn out, there's a cheap solution for it and it doesn't limited to smartphone only but also can be used by computer.
Introducing Portable Cloud
In case any of you wondering and straight away Google that name – likely you won't find anything since it's not a company name and it's not a product name as well. It's just my term since we are going to create and bring this portable cloud with us anywhere we go and access it anytime we need it.
To create the Portable Cloud, these are the ingredients you need:
1. Wi-Fi Card Reader
2. Micro SD of any size
3. Powerbank
Hopefully I don't disappoint you as this is not pure DIY from scratch but rather make use of existing piece of available and considerably cheap technologies.
Given all modern smartphones and computers are coming with Wi-Fi modules, so does this Portable cloud – we'll connect to it via Wi-Fi.
All you need is to plug the Micro SD to the Wi-Fi Card Reader and plug the Wi-Fi Card Reader to the Powerbank and there you go. You have your own portable cloud which you can bring it anywhere you like, access it anytime you need and have the capacity as big as you like.
Here's how it does look like in action.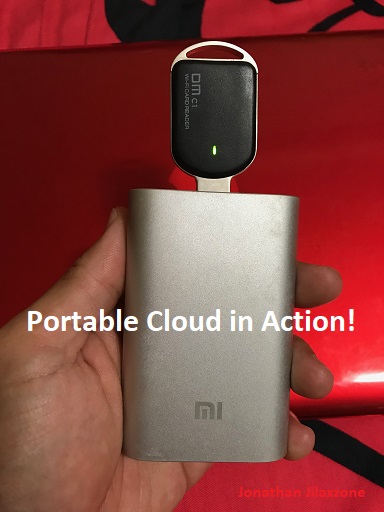 ---
Find other awesome articles, tips, tricks related to Life and Tech, iOS & Android quick review on:
---
Advantages of Portable Cloud
1. It's a one time cost to buy Wi-Fi Card Reader, Micro SD and Powerbank. No recurring subscription cost.
2. You decide how big is your cloud. You can even buy multiple Micro SD cards and switch between them when necessary.
3. Store any kind of files and not limited to certain file types as long as your smartphone or computer support them.
4. Access anywhere anytime you need. Even on top of the mountain or deep down on a cave where there's likely no cellular services.
5. No internet data plan required to access (read/write) the cloud.
If you traveling a lot, like to take photos and shoot videos a lot, you can just bring your smartphone and the portable cloud and few Micro SDs with you. You don't need to bring laptop with you just for the sake of backing up photos and videos you took during your trip. How awesome is that!
What are you waiting for?
Unleash the power of cloud in your own hands! Find what you need to built your own Portable Cloud on links down below. It doesn't need to be a specific brand, any Wi-Fi card reader, any Mirco SD card and any Powerbank will do the job. Don't be shy to ask if you got questions, do ask on the comment section down below, I'll be more than happy to help answer your queries. Cheers!
If you happen to live in Singapore and you need the components, you can visit my online store here.
---
For Life & Tech tips, iOS & Android Apps and Games quick review, do visit below:
---
Hi, thanks for reading my article. I do spend my time and efforts writing this article based on my own experiences for my own journal as well as to share the knowledge to whoever read it so hopefully they can get the benefit out of it
If you find and feel this article is good and helping you in anyway, help me to spread the words by sharing this article to your family, friends, acquaintances so all this goodness, my spent time and efforts do not just stop at you, they will also get the same goodness and benefit from it.
Thank you!