Turning ON Airplane Mode ✈️ Now Doesn't Turn OFF Bluetooth – iOS 11 📱
You may need to turn Bluetooth off separately nowadays and going forward.
Ever since Apple is releasing iOS 11 to the beta testers and eventually to public, it was indeed Apple intention to make both Wi-Fi and Bluetooth turned on all the times. While they may not necessarily connect to WiFi router or other Bluetooth devices, but Apple need them turned on for other different purposes, some of them I may even not knowing it yet. But few most obvious ones are to still connect to Apple Watch (Bluetooth and WiFi), to get better positioning on GPS and Maps, plus to able locate your iPhone and iOS devices should they lost (Wi-Fi).
There are times when you want to completely turned off both Wi-Fi and Bluetooth – like when you want to board the airplane or when you don't bring/wear/use any Wi-Fi or Bluetooth connected devices with you and you want to save battery or when you want to charge faster by turning off unnecessary things that eating the battery, while previously it can be done simply by turning ON the airplane mode, no you can't do that anymore.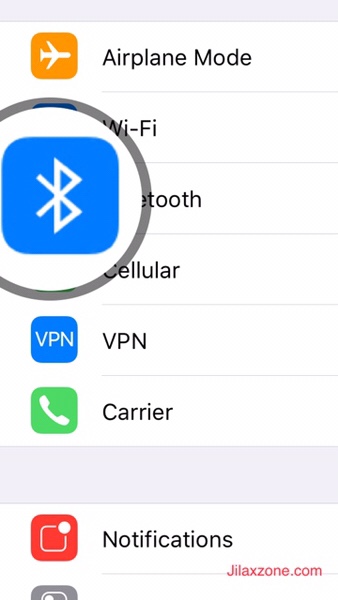 Turning ON airplane mode won't turn off your Bluetooth. You still need to turn off your Bluetooth manually.
🆗 Turning OFF 🔷Bluetooth on iOS 11 📱
Follow the following step to completely turn off Bluetooth manually:
a. Go to Settings > Bluetooth.
b. Find Bluetooth, slide it off.
To turn OFF Wi-Fi completely, do refer to the following post here.
---
For other interesting tips and tricks for Apple, iPhone and iOS 11, do check Jilaxzone.com
---
Hi, thanks for reading my article. I do spend my time and efforts writing this article based on my own experiences for my own journal as well as to share the knowledge to whoever read it so hopefully they can get the benefit out of it
If you find and feel this article is good and helping you in anyway, help me to spread the words by sharing this article to your family, friends, acquaintances so all this goodness, my spent time and efforts do not just stop at you, they will also get the same goodness and benefit from it.
Thank you!
---
This post is created and published fully on mobile device to be consumed best on mobile device. Pardon me for typos, any mis-alignments and any mis-layouting.
Do support CREDIBICONMOD Movement.
Don't just consume only but CReate EDIt puBlIsh and Consume ON MObile Device.