Enable hidden Night Shift Mode in iOS 11 Control Center
Apple with iOS 11 introduces a new Control Center look and feel. Now with iOS 11, no more scrolling to the left or right just to find your shortcuts as Apple now made it in 1 page with optional up/down scrolling when you have too many shortcut icons in the Control Center.
No more Night Shift Mode in iOS 11 Control Center
However if you notice, you won't see Night Shift mode in the Control Center anymore.
Those who are previously using or still using iOS 10, you should be easily find Night Shift Mode in Control Center.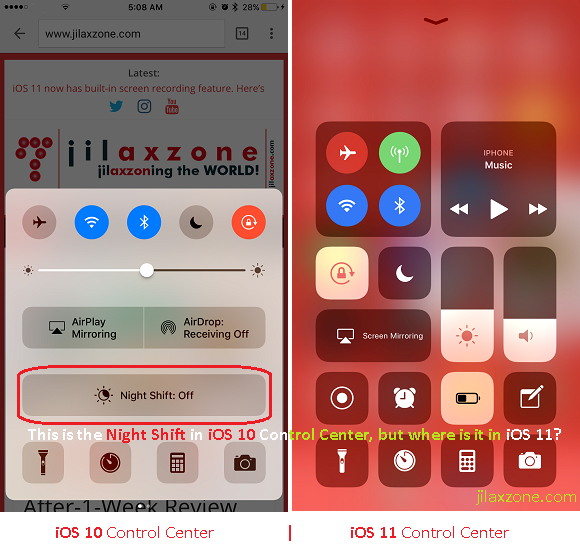 I did recognize the night after I upgraded my iPhone to iOS 11 while I was trying to use my iPhone in the dark before went to sleep. The Night Shift just simply gone.
After looking around and after a few days painfully activate Night Shift mode by going to Settings > Display & Brightness, I found out that actually Night Shift icon is still available in the Control Center, however Apple made it so hideous so if you don't really look hard, chances are you won't find it.
---
Find other awesome articles, tips, tricks related to Life and Tech, iOS & Android quick review on:
---
Here's how you can find Night Shift mode in iOS 11 Control Center
1. Swipe up from iOS bottom screen to bring up Control Center.
2. Tap and press (3D Touch) the Display & Brightness.
3. When you managed to 3D Touch it, there goes the Night Shift mode hiding there.
4. Tap on the Night Shift mode icon to activate it and close Control Center
Redo the steps above to deactivate/turning OFF Night Shift Mode.
How to get yourself iOS 11
To get yourself iOS 11 preview edition, do check
this link
.
---
For Life & Tech tips, iOS & Android Apps and Games quick review, do visit below:
---