UOB Card December 2017 Promotion: Everything $1 at Satay by the bay
Own one or a few UOB card(s)? Well, then good news for you. UOB just came out with its $1 December promotions. Any UOB cards, be it UOB credit card or debit card, as long as they are registered to one of these platforms and at the same time you can make use the platform to make payment then you'll be eligible for the promotion. The platforms are UOB Mighty (UOB handphone app), Apple Pay or Android Pay.
So What are the UOB Promotions?
Buy any of these foods at Satay by The Bay at just $1 each. Though the name is Satay by the bay, but there are plenty of foods – apart from satay – that you can also enjoy.
And for this UOB $1 promotion that includes the following foods, drinks and dessert – in total there are 23 participating stalls, here they are in food-alphabetical order:
1) 10 pcs of Satay (U.P. $7.00) at Jumain Satay stall
2) 10 pcs of Satay (U.P. $7.00) at Kampong Satay stall
3) 10 pcs of Satay (U.P. $7.00) at Opah Satay stall
4) 10 pcs of Satay (U.P. $7.00) at Sri Geylang Sate stall
5) 2 cups of Sugar cane (U.P. $6.00) at Fruit/Fruit Juice stall
6) BBQ Steamboat Buffet (U.P. $27.00-$30.00) at Marina Bay BBQ Steamboat Buffet stall
7) Char Siew Roast Pork Rice (U.P. $6.00) at Roast Duck & Chicken Rice stall
8) Chicken Kebab (U.P. $7.00) at Turkish, Mediterranean, Thai Spize stall
12) Fish Porridge (U.P. $8.00) at Porridge Stall
13) Fried Carrot Cake (U.P. $6.00) at Fried Carrot Cake stall
14) Fried Chicken or Masala Briyani Rice (U.P. $6.80) at Nasi Briyani stall
15) Hokkien Mee (U.P. $6.00) at Lorong 29 Geylang Hokkien Mee stall
16) Indonesian Grill Chicken Set (U.P. $7.00) at Indonesian BBQ & Grill stall
17) Lala White Bee Hoon (U.P. $10.00) at Marina Live Seafood & Steamboat stall
18) Mee Goreng (U.P. $6.00) at Makan by the bay stall
19) Popcorn Chicken with Cheese (U.P. $8.90) at No 26 Bar & Bistro stall
20) Strawberry Snowy Ice (U.P. $6.00)  at Ji De Chi Dessert & Asian Snack stall
21) Summer Holiday (U.P. $10.00) at Dessert stall
22) Traditional Rojak (Big Plate) (U.P. $6.00) at Huat Huat BBQ Chicken Wings stall
23) Yang Zhou Fried Rice (U.P. $6.00) at Boon Tat BBQ Seafood stall
Interested? Feeling hungry? They are all for grabs for $1 each -regardless of their price tags. Continue to read then.
---
Find other awesome articles, tips, tricks related to Life and Tech, iOS & Android quick review on:
---
UOB Card Promotion Period
Each day for the whole December 2017 – that means from 1 December till 31 December 2017 – enjoy $1 food everyday at Satay by the bay.
UOB Card Promotion Terms and conditions.
There are limited quantities of $1 food per stall per day. That means if you come way too late then sorry, you won't be able to enjoy the $1 food promotion. But don't get worry, if you miss it today, you can always come back the next day as long as within the promotion period to get the $1 promotion food.
Full terms and conditions, do
check here
to UOB website.
Where is Satay by the Bay?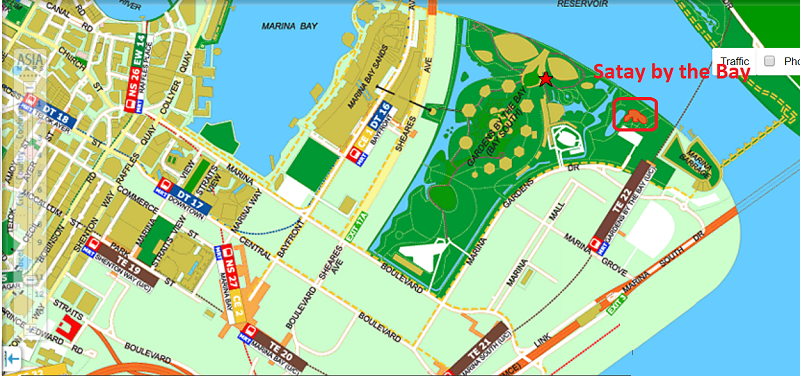 Satay by the bay, located just within the Gardens by the bay premise.
Here's the full address: 18 Marina Gardens Drive S018953
And how can you go there to Satay by the Bay?
As you can see from the map, Satay by the bay (indicated by red circle on the map above) is located inside Gardens by the bay and just next to Marina Barrage.
So any bus/train that goes to these 2 places: Gardens by the bay and Marina Barrage also goes to Satay by the bay.
The most convenient way
– for me – is to alight at Downtown MRT (Blue line) and take bus service 400 and alight at Marina Barrage. From the Marina Barrage bus stop,  I use one of the rental shared bikes (
read here
how you can rent one of them).
This is me at Satay by the bay
I went to Satay by the bay yesterday on Sunday 3rd December 2017 during lunch time. To my surprise, there were only few people eating and most of the stall still have the UOB $1 promotion. So trying not to miss the opportunity, my wife and I order quite a few foods from different stalls. Here they are.
What you guys see is only the first wave. Haha. These are the second wave.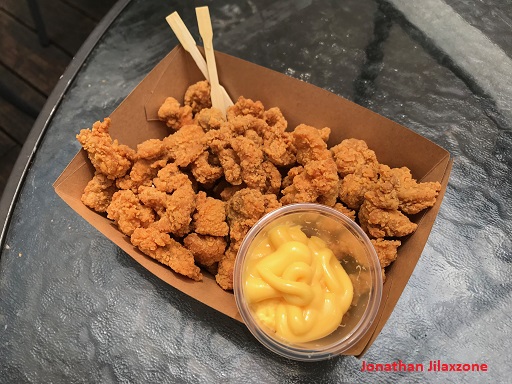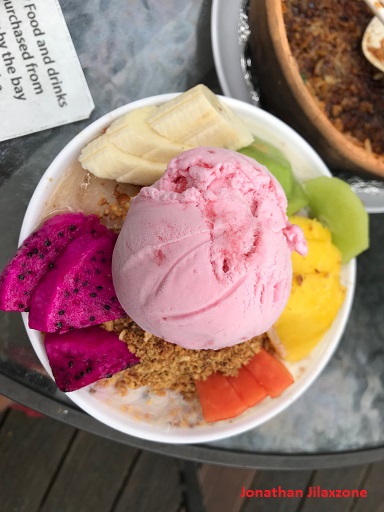 All these foods are $5 in total. Have a feast everyone!
Additional help that might handy for you
---
For Life & Tech tips, iOS & Android Apps and Games quick review, do visit below:
---
​Hi, thanks for reading my article. I do spend my time and efforts writing this article based on my own experiences for my own journal as well as to share the knowledge to whoever read it so hopefully they can get the benefit out of it
If you find and feel this article is good and helping you in anyway, help me to spread the words by sharing this article to your family, friends, acquaintances so all this goodness, my spent time and efforts do not just stop at you, they will also get the same goodness and benefit from it.
Thank you!