Enable Additional 70 New Emoji on Your iPhone, iPad and iPod Touch (Not Animoji)
These days who doesn't know emoji? Those funny looking icons that is available on your iPhone keyboard – as well as iPad and iPod Touch. There won't be Animoji and its famous and hilarious Animoji Karaoke today if it wasn't for emoji. Yes, Emoji is the root of Animoji. And without much knowing, Apple recently introduced lots of new emojis to its iOS platform.
Have you enable these new emojis on your iPhone or iOS devices?
Apple in total released 70 new emojis – from emoji showing various types of occupations, emoji showing type of sports to type of transportation/vehicles.
In case you haven't got those 70 new Emojis, here's how to get the new iOS 11 Emoji.
The answer is turned out very simple. To get those 70 new emojis, all you need to do is to update your iOS to (minimum) iOS 11.1.
To update your iPhone or iOS Device's iOS to iOS 11.1: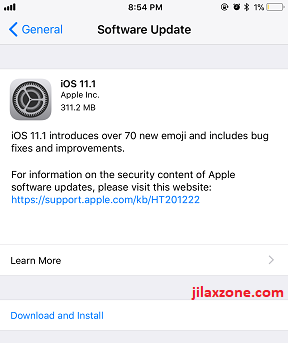 a. Open Settings > General > Software Update
b. Wait until the loading screen finished. If you see (minimum) iOS 11.1 is appearing, then proceed to next step. If what you see is "iOS 11.1. Your iOS is up to date" (iOS 11.1 is the minimum requirement, if you see something higher then it's ok), then you don't need to do the update anymore – you have those 70 new emoji already.
c. Tap Download and Install
d. Wait until it finished downloading and tap on Install now.
e. iOS will start to install the updates then restart.
After the restart, go to any apps, you should see now your keyboard is equipped with these 70 new emojis.
---
Find other awesome articles, tips, tricks related to Life and Tech, iOS & Android quick review on:
---
Why I can't find any emoji on my iOS Keyboard?
In case you can't find any emojis on your iOS keyboard, do the following, high chance you haven't enable emoji on your iOS.
Enable Emoji Keyboard on iOS
To enable Emoji keyboard on iOS, these are the steps:
a. Go to Settings > General > Keyboard
b. Tap on Keyboards 
c. See if you have Emoji listed, as one of your keyboard.
     If you have Emoji listed as your keyboard, skip the rest of steps, you just need to activate the keyboard.
     If you don't have it, proceed to next step.
d. Tap Add New Keyboard and find Emoji. Tap on Emoji to add it to list of your iOS keyboards.
e. Once added successfully, you'll see Emoji on your iOS keyboard list.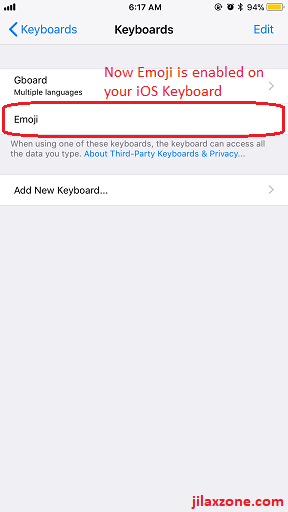 Activate Emoji on iOS
After enable Emoji keyboard, to activate Emoji keyboard, follow these simple steps:
a. Open any apps that enables keyboard.
b. Find and locate the globe icon on your iOS keyboard, tap on the globe icon. Tap until you see the Emoji keyboard.
That's it. That's how you activate Emoji keyboard on your iOS devices.
Which iPhone and iOS devices eligible for iOS 11.1.
Basically all iOS devices which can be updated to iOS 11 before, can get update to iOS 11.1.
And that includes:
– iPhone 5S or any iPhone released after it (exclude iPhone 5c) – iPhone 6 series, iPhone 7 series, iPhone 8 series, iPhone X.
– iPad Air or any iPad released after it – iPad Air series, iPad Pro series, iPad 2017.
– iPad Mini 2 or any iPad Mini releases after it.
– iPod Touch 6th Gen.
Enjoy the new Emojis!
---
For Life & Tech tips, iOS & Android Apps and Games quick review, do visit below:
---