[FREE GAME] Fist of Rage – Rare Good Side Scrolling Beat 'Em Up Game – Must Try!
These days it's very hard to see and find a good side-scrolling beat 'em up game that was king during the 90's era. There are side-scrolling beat 'em all games but either they have too many in-app purchases or too many "forced" advertisements during the game itself, making the experience during playing to be not that good.
Lucky today we have TouchTen who bring us a good quality side-scrolling beat 'em all game named Fist of Rage staring Deddy Corbuzier. For those who doesn't know who's Deddy Corbuzier, he is an Indonesian mentalist-turned to now-become-TV entertainer and entrepreneur on his own.
Fist of Rage – Download link
Android download: here.
iOS download link: here.
Both Android and iOS game are FREE to play. However if you would like to go Premium, you can.
Here's what you get when you go for premium: No ads shown + 2000 gold coins where you can buy items and upgrade your character.
Fist of Rage – The Story
Pretty much similar with the 90's era game opening, Fist of Rage starts a little bit on the future. The year is 2027 where finding a good and healthy food is a something rare. Everywhere is selling junk food that in the end makes people sick. This is done on purpose by "The Corporation".
There's this Chika, a scientist who is trying to create a cure to the sickness made by The Corporation. Due to her clumsiness, one day she went out without locking her lab – duh! – resulting the in-progress cure to be stolen. Deddy Corbuzier who – in this game – is a retired MMA fighter and  also is friend of the scientist, is trying to get back the stolen cure from The Corporation.
Long story cut short, now it's your turn to combat the thugs, half zombies, and whoever trying to hold you back from getting back the cure and to shut down The Corporation for once and all and for good. You are playing as Deddy Corbuzier – the retired MMA fighter.
Fist of Rage – Gameplay
The game contains 13 levels (as of current version 1.2). The game started when Deddy arrived on the pier on his pursuit of the cure taken by The Corporation. Like other side scroller, you can go to the left side or right side of the screen. However, unlike other side scroller, this game, apart from beating 'em all, contains  missions as well in which if you can complete all of them, the more gold coins you can get. The more gold coins means you can buy weapons to carry with you on the start of the game. So try to complete all the missions.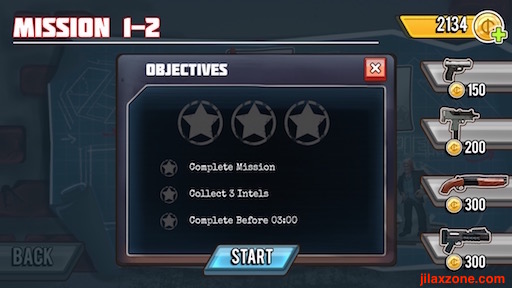 The gold coins you get also can be used to upgrade your character. Unfortunately, the current version of game does not allow you to use gold coins to unlock the character's other costumes.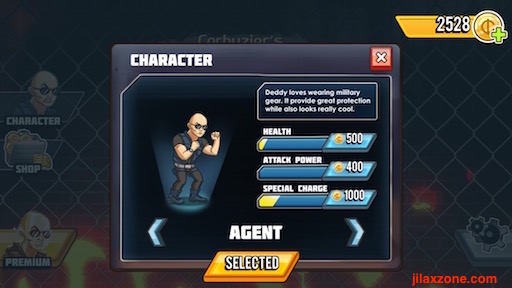 ---
Find other awesome articles, tips, tricks related to Life and Tech, iOS & Android quick review on:
---
Fist of Rage – In-Game Control
In-game control is relatively easy.
On the left side you get 2 buttons: left and right.
While on the right side, you get 2+1 buttons: punch, jump and optional shoot button if you have a pistol with you.
Character Moves:
Tap Left: move to the left
Tap Right: move to the right
Tap Punch: performing punch
Tap Punch multiple times: combo move
Tap Jump: jumping up
Tap Jump twice: jump higher while performing kick move
Tap Shoot: shoot using pistol (if you have it with you)
Tap Jump + Punch: side kick move
Tap and hold Punch: performing Special move – you can do unlimited times
Tap Left or Right in front of the enemy: grab the enemy
Tap Left or Right in front of the enemy then tap Punch: grab and throw the enemy
Fist of Rage – The Verdict
After playing the game for quite sometime, here's my verdict.
Fist of Rage – The Pros
+ Good ol' graphics and music.
+ Good gameplay – Easy to play. Does not require you to think much except keep beating em up!
+ Plenty of levels – and all are accessible without spending a single penny.
+ The most important thing of FREE to play game: No annoying ads during the gameplay. Ads only shown when you need to get item, you are dead and would like to replay the game from last checkpoint or want to get double coins at the end of the mission. There's no in-game ads which suddenly shown during the game.
Fist of Rage – The Cons
– Non adjustable control on-screen. To me the on-screen control, the gap between buttons are too far, although my hand is not that small but a bit difficult for me to reach.
– No unlocking of character's new costumes via gold coins.
Fist of Rage – Download link
In case you missed the download link above, here they are.
Android download: here.
iOS download link: here.
Check here the game trailer:
---
For Life & Tech tips, iOS & Android Apps and Games quick review, do visit below:
---