Pokemon Go: Pokemon Craze in Singapore – Kiasu to Catch 'Em All
Starting Saturday 6 August 2016, Pokemon Go was officially launched in Singapore. The news didn't take long to go spread island-wide. Many, including me, called friends and relatives saying more or less, "Hey, now you can play Pokemon Go here in Singapore!" and then friends called another friends and relatives and so on and so forth, creating what they called "Domino effects".
I didn't manage to take photo on 6th August 2016 morning and afternoon, because I, myself, am busy writing the news and playing Pokemon Go myself. But here they are, Pokemon craze all over Singapore that I find during my visiting to the neighborhood.
Day 0 – 6th August 2016: When the Pokemon 'plague' begin
Pokemon Trainers gathering at The Cathay, Dhouby Ghaut – mostly teenagers and few grown ups.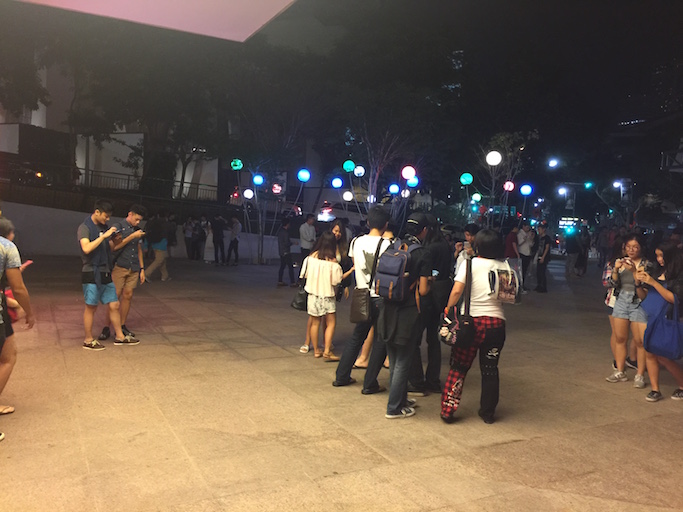 Many are sitting nearby the Pokemon Pokestop or Pokemon Gym's.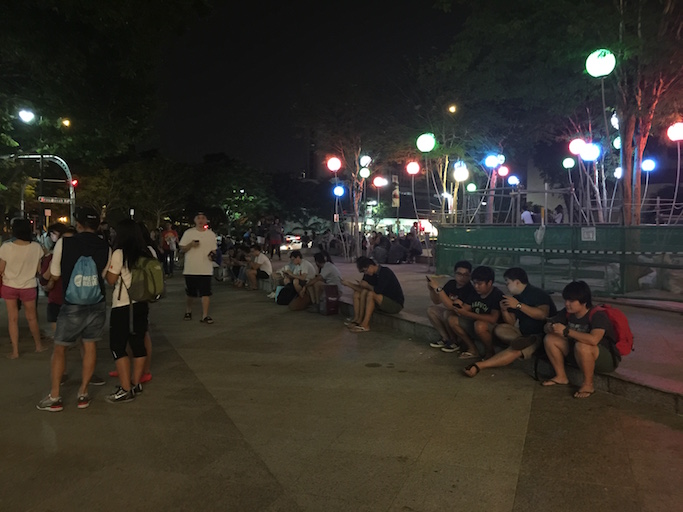 Day 1 – 7th August 2016 – First day after the Pokemon 'Plague' spread Island-wide
Not only in City area, places like somewhere at Bedok North, at an HDB court, filled with people playing Pokemon Go. Awesome finding!
I was coming from Bedok MRT, then planning to go to Bedok Reservoir, thinking there would be plenty of Pokemon to be catch, instead of taking bus from Bedok MRT to Bedok Reservoir, I was thinking to give it a walk since it's just nearby (about 1.8 KM), while check point to nearby Pokestop to get ransom and Pokeballs.
While walking, I saw 3 active Pokestops with lure's modules, then I said to my wife and friend (we are 3 grown-ups playing the game by the way), "Hey, let's go that 3 active Pokestops area." and then surprised by this.
This time, although mostly were teenagers, but have some adults playing the game too.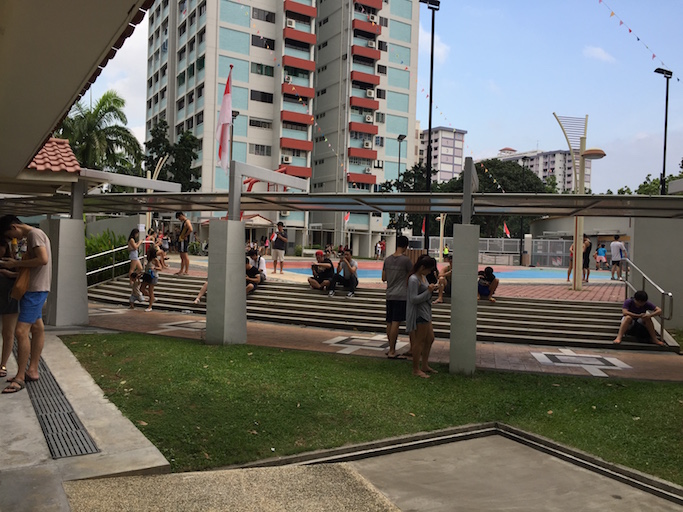 Some were standing and walking, some were just sitting on the court's staircases.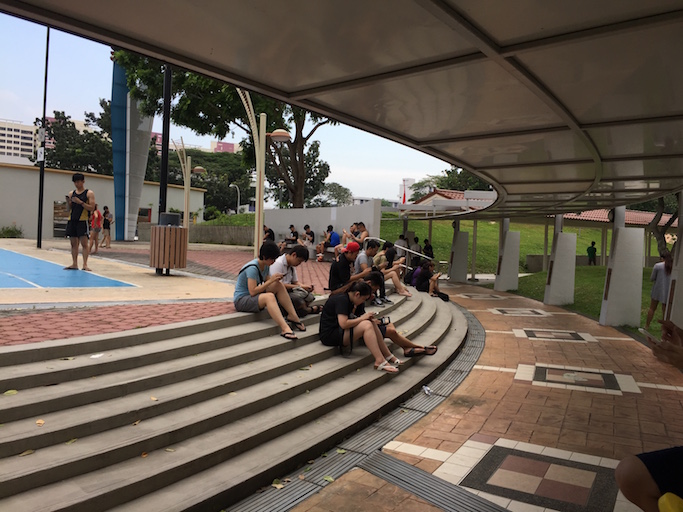 Finished with Bedok North's HDB Court, 3 of us then walking to Bedok Reservoir. As guessed, there were plenty of people gathering to catch the Pokemon.
Few people passing by wearing sport attire doing walk/run, but most of them gathered here for playing and catching the Pokemon. It was like 30-70, 30% doing sport activities, 70% playing Pokemon.
The gym itself kept exchanging owner. Not even hold for 5 minutes, it kept exchanging from team red, became blue, then yellow, and so on so forth.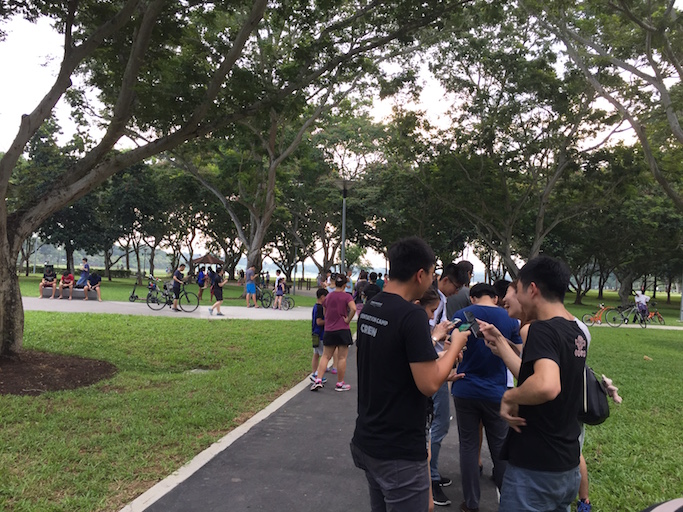 Tired hunting Pokemon, we headed for dinner somewhere nearby. Then decided to go home since it's quite late already.
When reached Tampines (I stay in Tampines), I said to my wife, there were active Pokestops near the Sun Plaza Park. I told her, "Why not we see and check?"
The finding was fantastic! The park that usually not this crowd, especially Sunday night, last night was full of people, again playing Pokemon Go.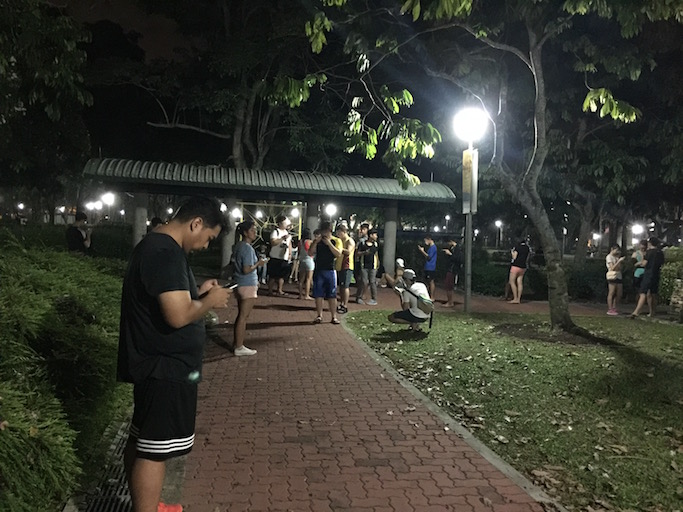 ---
Update on 9th August 2016:
Day 2 – 8th August 2016 – Second day after Pokemon Go infected Singapore
On Monday 8th August 2016, I went to work. My workplace is somewhere Alexandra.
During lunch time, here's what I found. People were gathering around the bus stop, because the bus stop has Pokestops and it had lures module. This time, they were all grown-ups.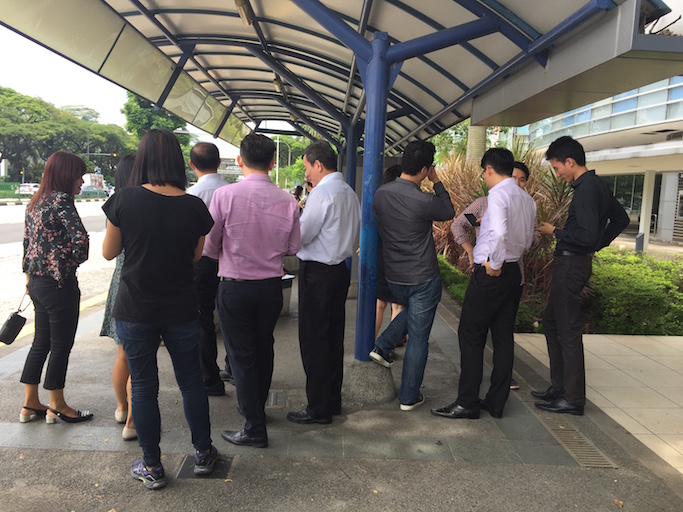 And here's what I found when I went back to Tampines yesterday. Even after they reached their destination (which is Tampines), like me, they weren't exit the station directly, but instead wandering around, catching nearby Pokemon at nearby Pokestops.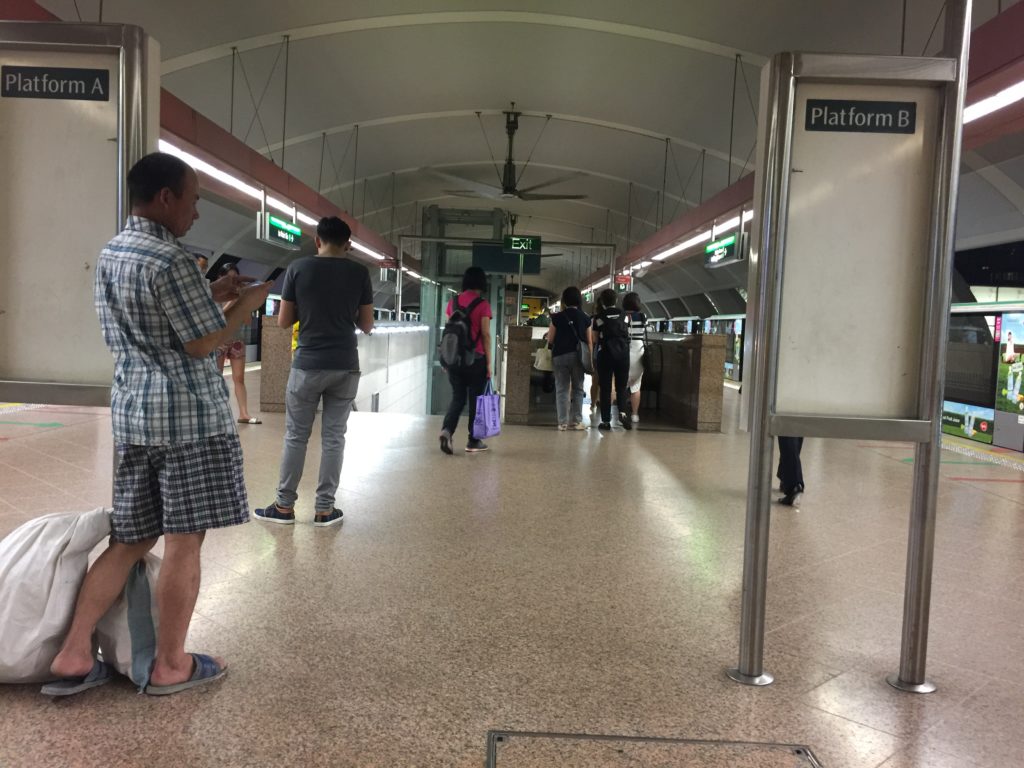 ---
Updated on 16th August 2016:
Day 7 – 13th August 2016 – The Aftermath
The picture below was taken on 13th August 2016, 7 days after Pokemon Go launched officially here in Singapore.
The aftermath was amazing! Even after 7 days, it's not showing any decrease but increase. Now even mom with 4-5 years old kid also wondering around, playing together with their loved ones.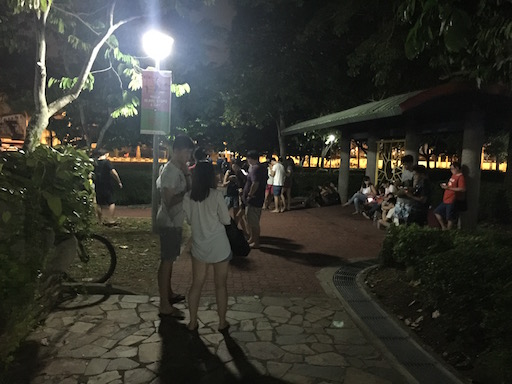 1 Week After – 14th August 2016 – The Mission to Get Pikachu
If there is one Pokemon people in common always curious and want to catch is, nothing else other than Pikachu. The yellow color skin Pokemon with with it's iconic lightning-bold-shaped tail is not so easy to be found here in Singapore. Only at certain places, one of them is Changi beach, the creature can be found. So there goes my last week destination.
Arrived at the beach around 2.30PM with my wife, it was a hot sunny day, but I saw a lot people with their phones up finding Pikachu. So I quickly grabbed my tablet (check here for real life hack you can do for Pokemon Go) and started searching. In just few minutes, my wife spotted Pikachu for the first time. Then I spotted him as well. It was around 250+CP. Even though I was on level 18 but catching him was no easy task. I spent a lot of Pokeballs the normal and the blue one until finally able to catch him.
At the end of the day around 6.30PM, before leaving Changi beach, I pocketed 8 Pikachu.
---
How about you and your neighborhood? Are they having the same crowd, people playing Pokemon Go?
We'll see how long this Pokemon plague is going to affect us, including me. Oh, there's another Pokestop, gotta catch 'em all! Bye.
---
For list and/or quick review of iOS & Android FREE APPS, FREE GAMES and/or FREE tips & tricks and latest iOS & Android news, visit below:
---