Don't let this slowing down your website growth. Must read for Website owner!
Long time no see! Well, it's been a while since my last proper writing. I was on long vacation 3 weeks back for 3 weeks long. And it wasn't because I was lazy to write while I was on vacation. In fact I would love to. However something unexpected happen.
Long story short, my blog was down and to many of you who happened to visit my blog on that period (during my vacation) was likely hit with HTTP 508 – Resource Not available error. What made it even worse, the issue started happening just one day before my planned long vacation. The vacation – as initially planned – was supposed to be my testing ground on whether I can still earning passive income while I was away, but then it went to the opposite direction. I earned almost nothing (from Google AdSense), thanks to the HTTP 508 – Resource Not available error. It was sort of ruining my vacation mood. Every night, while the rest are sleeping, I logged in to my blog console to find out what went wrong and try fixing them. Night after night, so many hours spent but there were little to no improvement to my blog. It was still hitting with resource issues.
HTTP 508 – Resource Not Available. Sooner or later, it may hit your blog/website too!
Read to know more and to avoid the same thing from happening to your website.

In case you don't know what it means by getting HTTP 508 – Resource Not available error, is that your blog or website doesn't have enough resources to serve the incoming traffic. What happen to visitors trying to open your website is that they will see none of your contents but white screen with black text showing "508 – Resource Not Available". If you happen to get the same error message, that means your web hosting has reached it's capacity to serve more traffic.
For a blog or website to be able serving the incoming visitors (traffic) and render the contents to them, it needs enough CPU processing power, RAM and Network transfer quota. Unless you manage your own web hosting, typically every website subscribes to one of many packages offered by web hosting providers. And depends on the packages, they contain variation of how many CPU cores, RAM, disk size and network quotas you are getting.
Shared Hosting and Lesson Learned from it
It's like a public bus jam packed with people.
The cheapest package normally a web hosting provider offers is called Shared Hosting. I do believe, most starters and even those who has live running websites choose Shared Hosting package to run their blogs and websites – since the fact that it's the cheapest. I did choose the same too, until I hit with HTTP 508 error.
Shared Hosting Package is typically the most affordable web hosting package you can get. And like its name suggested, Shared Hosting means it's shared. Shared across different tenants (read: website owners).
While there's shouldn't be an issue on getting the cheapest possible web hosting package out there and share it with other tenants, the real issue is – as a tenant – we don't know how many other tenants have been joining too in one single server and as a tenant, we don't know whether or not our provider impose a limit on how many tenants should stay within one server. On my case, there no such information publicly available.
A parable for Shared Hosting.
Imagine this. You are going somewhere by a public bus. It's during peak time so the bus is crowded with people. The next available bus is coming the next hour. So you don't have much choice but to hop in. As a result, you don't get a seat and have to stand. As the bus going, for profit sake, the bus driver keep allowing people to go into the bus without really looking whether or not it has reached the capacity. At some point, you (or other passenger) may shout to the bus driver, telling him it's already jam packed inside, asking him to stop taking more passengers. The bus driver, however, to get more profit, ask all passengers to move in and squeeze in. At this time, the bus driver may also shout back to you telling to squeeze otherwise, please get off and take taxi. That's what exactly happen to Shared Hosting – though this may not happen to all good web hosting providers but in my case, it did happen to me and I was getting that HTTP 508 error.
Don't let that happen to your blog and website. Consider doing this.
Let this incident happen to my blog only and not to your website. Consider doing this before it's too late.
After that HTTP 508 error incident, I started to look around to find solutions. What I found was shocking and surprising. Shared Hosting package was known to be the entry point for many as it's known to be the cheapest on the market, however today that's not the case. Shared Hosting is no longer the king – when it comes to price.
I found that fact after trying to fix HTTP 508 error on my blog. After I had applied all solutions I can find on the internet and still ended up with resources limit issue, and after almost gave up with the situation, I did search for VPS and then I came across one amazing product from AWS.
---
Before continuing, to note: I'm not AWS nor Amazon employee, so this isn't a sponsored article. I'm just one happy AWS customer who like to share my experiences. And I won't get anything from AWS by sharing this.
---
It's called Lightsail. AWS Lightsail to be exact. It's a VPS – Virtual Private Server – a better and one level up web hosting package compare to Shared Hosting. And it's cheaper than many of the Shared Hosting packages offered by web hosting providers.
At the time this article is written, the lowest AWS Lightsail package is US$3.50 per month, compared to my Shared Hosting package which was around US$6 per month and you are getting a VPS with 1 vCore, 512MB RAM, 20GB Disk Drive (SSD) and 1TB network transfer. Depends on how big and heavy your website contents and traffic are, but the lowest configuration AWS Lightsail offering works great for my blog. So back then, I decided to move my blog to AWS Lightsail.
Should you move to AWS Lightsail too?
Well, why not. The fact that AWS Lightsail is a VPS and not a Shared Hosting and the price offered per month is cheaper compared to what many Shared Hosting providers are offering, so pretty much justify the move. However since moving website is considered hassle for many (and perhaps for you too – but don't worry I'll detail them on my future post), my best suggestion is to first observe your website's web hosting performance. Check its CPU status and RAM usage. If its showing high usage, you may want to consider moving before it's too late.
I shall detail how I moved my blog – which is WordPress based – to AWS Lightsail for the sake of sharing knowledge and help people with the same issue as me, but on separate article (please do wait patiently for it). It's a little bit of hassle but pretty much doable even for non-coding person.
Meet my new website: JILAXZONE 2.0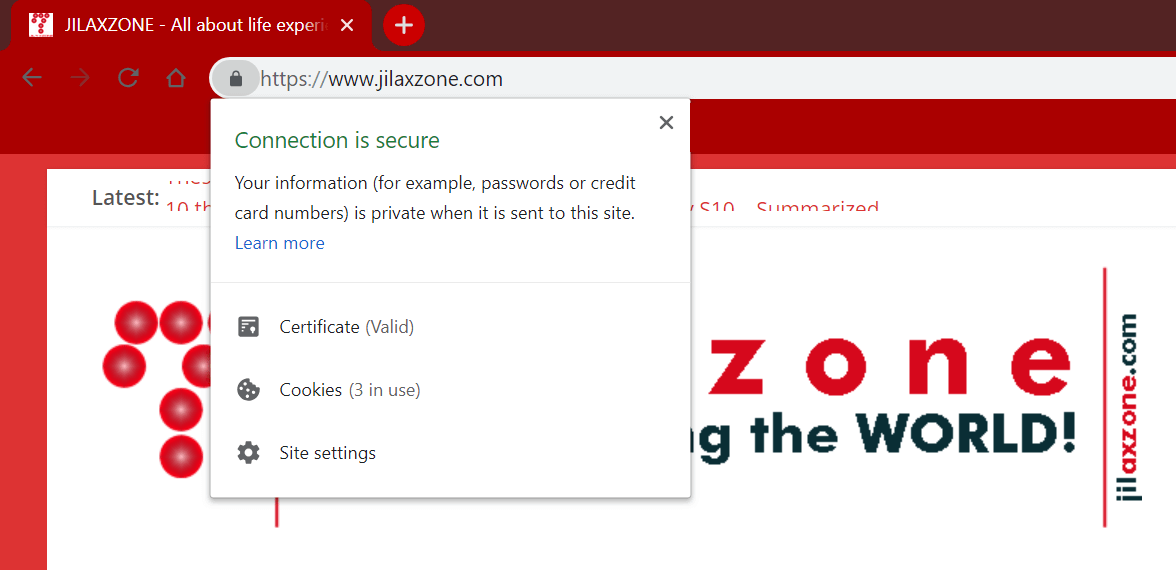 So 13th April 2019 ago marked my blog, Jilaxzone.com, turning into what I called myself – version 2.0. It's running great on VPS (AWS Lightsail) and it's SSL-encrypted (or many known as HTTPS). Now visitors visiting the blog, would never see "Not Secure" tagging anymore on their browser. What a journey worth sharing!
In case you have queries about Shared Hosting, WordPress, blog and anything related to it (such as performance), don't hesitate to comment and ask on the comment section down below. I'll be gladly to help. Cheers!