Fare Review Exercise: Singapore MRT and Public Bus price increase per 29 December 2018
Tapping out a bus and feel you have been charged an unusual higher price? Or tapping out MRT and LRT but see the total price is different from the usual and higher?
Well, you are not alone! And the feeling you have been charged higher is not a false feeling.
Singapore MRT and Busses Price Increase!
As per 29 December 2018 ago, Singapore LTA and PTC (Public Transport Council) and 4 bus operators (Go Ahead Singapore, SBS, SMRT, Tower Transit) has not only announced but also applied what they called as Fare Review exercise 2018 which translates to fare increase to MRT, LRT and bus services.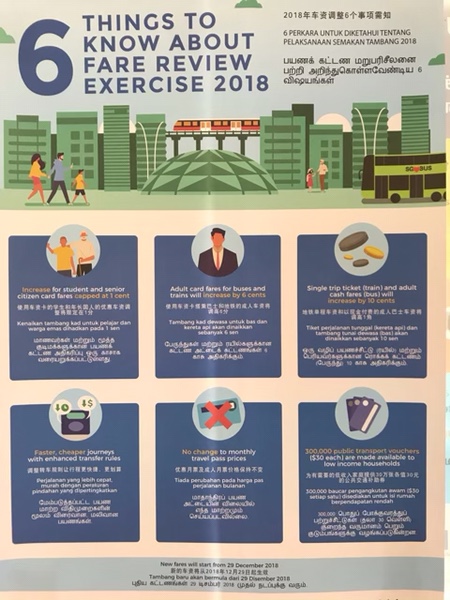 Who's impacted by the Fare Price Increase?
Pretty much everyone except the monthly travel pass holders (check here for details) and that means adults (including children who uses adult pass), students, single trip ticket (train), adult cash fares (bus) and even senior citizens.
However different people get different price increase.
For students and senior citizens, the fare increases is capped at 1 cent.
For those using adult passes, the fare increases by 6 cents.
For single trip ticket (MRT) and adult cash fares (bus), the fare increases by 10 cents.
For monthly travel pass holders, no changes. The pass is still $120/month.
Consider this for traveling in Singapore.
For those who travel a lot, consider getting the monthly travel pass, especially if your public transportations expenses (exclude Taxi) are always hitting $120 or above.
I've got an article detailing whether or not getting the $120 monthly travel pass is worthy. Do check here for the details.
This article is 100% created and edited on a mobile device. No computer was involved.
---
For Life, Tech tips, iOS and Android Apps and Games quick review, do visit below:
---
Hi, thanks for reading my article. Since you are here and if you find this article is good and helping you in anyway, help me to spread the words by sharing this article to your family, friends, acquaintances so the benefits do not just stop at you, they will also get the same goodness and benefit from it.
Thank you!