SEGA Heroes Cheats, Tips and Tricks to Win Without Spending any real money
Rejoice Sega fans! SEGA has just announced a new game called SEGA Heroes where all SEGA heroes and villains meet in one place. Sonic meet with Axel Stone from Street of Rage series, Ax Battler from Golden Axe, Hotsuma from Shinobi and plenty other heroes from other SEGA franchises – Phantasy Star, Super Monkey Ball, Jet Set Radio.
As a puzzle turn-based RPG game, you are controlling at max 4 characters via the in-game Tetris-like tile matching. The more you match the tiles the more powerful it gets.
In case you haven't played the game and seen the trailer before, here it is the official SEGA Heroes trailer.
For other Android games/apps/news/tips and tricks, do check here.
For other iPhone/iOS games/apps/news/tips and tricks, do check here.
SEGA Heroes Download Link.
SEGA Heroes is available on both Google Play Store (Android) and Apple App Store (iOS).
| | | |
| --- | --- | --- |
| | iOS / iPhone | Android |
| Price | FREE | FREE |
| OS | iOS 8 & up | Android 4.1 (JellyBean) & up |
| Internet Connection Required | Yes | Yes |
| Download Link | | |
| QR Code | | |
| Alternative Link | iOS link | Android link |
---
Find other awesome articles, tips, tricks related to Life and Tech, iOS and Android quick review on:
---
SEGA Heroes Cheats, Tips and Tricks
To avoid making you get disappointed, all the cheats, tips and tricks presented here are not the kind of cheats, tips and tricks that will get you banned – something like mod apk, I rather not share that kind of cheats – but rather to help you avoid to spend real money while continue playing the game.
1) There are 2 FREE chests. Not just one. One is on the Main menu, the other one is on the Shop menu.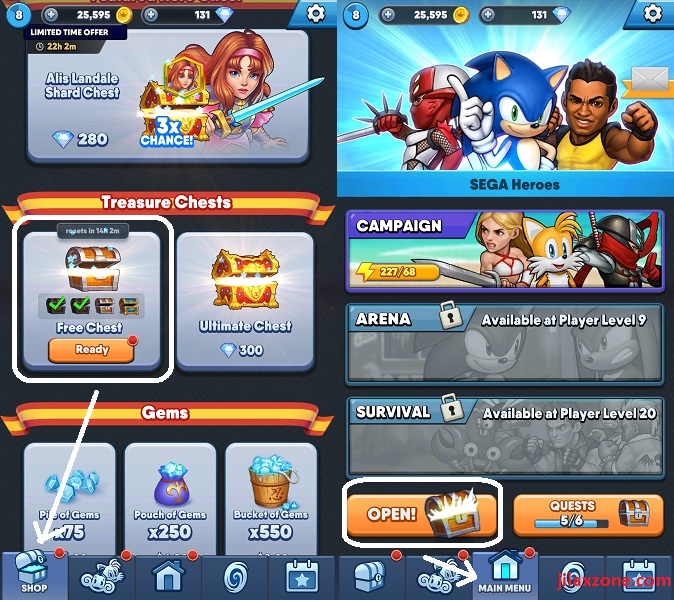 2) To maximize your FREE chests gains, do set timer on your phone/tablet, so you can directly loot the treasure chests once the waiting time is over.
3) Check and follow the quests closely. Try as much avoid looting, upgrading characters, proceeding to next level, when the quest are not asked you to do so. If you need to get experiences for your characters leveling up, do redo the existing places you have accomplished.
4) Loot only when quest ask you to loot. And when you loot, use x1 (multiplier x1) only. Don't use the multiplier since less chances for you to get "more items" from the same looting place.
5) Upgrade your characters only when the quest ask you to upgrade. Otherwise you may find it hard to close your quest.
6) Once you unlocked Death Adder, replace AiAi. Death Adder could help you pass the first few difficult levels, since he's super strong.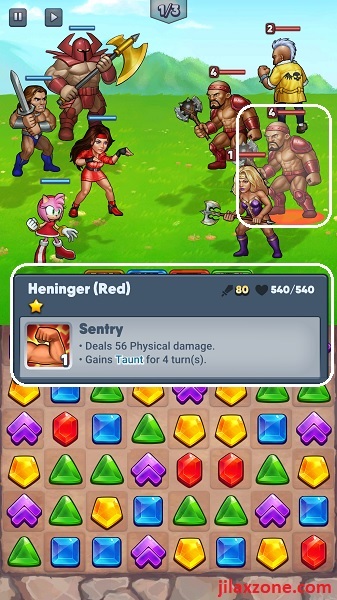 7) When encountering enemies, don't just attack randomly. Find out who are the enemies, what they do (by tapping on them, one by one), and decide to focus attacking one single enemy until the enemy is defeated. Use the following rules to decide which enemy to attack first.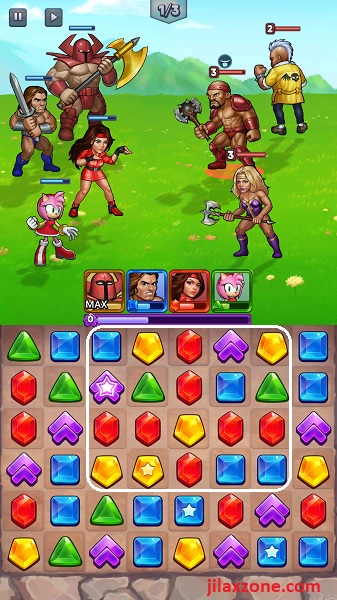 8) Defeat the enemy with taunt first, because anyway after he do his taunt, you won't be able to attack other enemies except the taunter (mocker).
9) Only then defeat enemy with destroying tiles capabilities.
10) Then continue defeat enemy with healing capabilities.
11) Then defeat the most weak enemy (see their HP), this to reduce the number of hits your team shall get on the next turn. The lesser number of enemies, the lesser hit your team will get.
12) Next one is to defeat enemy with the most powerful attack (see their attack power).
13) Events is unlocked when Player reach Lv 7
14) Arena is unlocked when Player reach Lv 9
15) Get to know your team power from the Arena screen
16) Battle at Arena requires 1 key for 1 battle, make sure you are not pausing the game during battle, otherwise you'll be disconnected and assumed defeated.
---
If you keep following the cheats, tips and tricks mentioned above, you'll end-up spending not a single dime in this game – but it will take your passion, your time and your persistence to achieve it.
I will keep adding more and more cheats, tips and tricks whenever I find something new and good to share. At the same time, if you have some great findings, don't be shy and stingy, share them here on the comment section down below.
---
For Life, Tech tips, iOS and Android Apps and Games quick review, do visit below:
---
Hi, thanks for reading my article. Since you are here and if you find this article is good and helping you in anyway, help me to spread the words by sharing this article to your family, friends, acquaintances so the benefits do not just stop at you, they will also get the same goodness and benefit from it.
Thank you!