Timezone Singapore Promotion October 2018: Double Game Credits – Double The Fun! Be sure not to miss it.
Celebrating its 40 years of existence, Timezone Singapore is giving out SUPER promotion! Double game credit for double the fun!
Yes, you read it right. Below are the details.
Do check here for other present and past Singapore news and lobangs you missed or may have missed before.
Double Game Credits at Timezone Singapore!
When you top-up $30, earn another $30 for FREE, so you'll get in total $60 game credits, or
When you top-up $50, earn another $50 for FREE, so you'll get in total $100 game credits.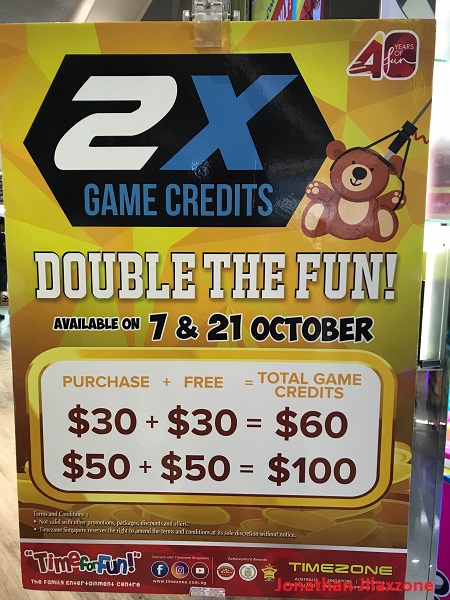 It's like playing the game with 50% discounts for all games available in Timezone!
If you are keen on playing at Timezone (either today, tomorrow, next week, next month or next year), be sure not to miss this deal.
Take note of the following important dates!
This top-up to get "Double Game Credits" only applicable on the following dates in October 2018:
Sunday 7th October 2018
Sunday 21st October 2018
This "Double Game Credits" promotion is available on all branches of Timezone in Singapore.
Find yourself the nearest Timezone by checking on the following official link at Timezone Singapore website.
Do remember, you can play the "Double Game Credits" you earned, however you can only top-up to get "Double Game Credits" only on the mentioned dates above.
Need more info about this promotion, well you can go to Timezone official website here.
PS: I'm not a Timezone employee nor have any relation with Timezone. I just share the good news to everyone because sharing is caring and sharing is POWER!
---
For Life, Tech tips, iOS and Android Apps and Games quick review, do visit below:
---
Hi, thanks for reading my article. Since you are here and if you find this article is good and helping you in anyway, help me to spread the words by sharing this article to your family, friends, acquaintances so the benefits do not just stop at you, they will also get the same goodness and benefit from it.
Thank you!