Cryptocurrency Bitcoin and altcoins Mobile Mining using Android. Is it Possible? Here's how to do it.
Most questions people asking about mobile mining are these:
Is it even possible?
Is it really working?
Is it profitable?
Short answer for all those queries above are yes, yes and not really.
Read more to know more and better before taking decisions.
Disclaimer: This is not an invitation. This article is just to show you that despite the crazy mining rigs with their crazy power and price, you can actually start mining with just what you and most people have today: Android phone/tablet.
Doing mobile mining using Android device pose your device to break faster than it should, due to various factors such as heats generated from continous processing power used. Do at your own risk.
Under no circumstances will I be held responsible or liable in any way for any claims, damages, losses, expenses, costs or liabilities whatsoever (including, without limitation, any direct or indirect damages for loss of profits, business interruption or loss of information) resulting or arising directly or indirectly from the use of this article and its contents.
Cryptocurrency mining
The word cryptocurrency mining, especially Bitcoin mining is getting more and more common and more often to hear, you may not only see or hear it on the internet, but nowadays it's on all over the media: newspapers, magazines, news on TV, you name it.
What's the biggest cryptocurrency today?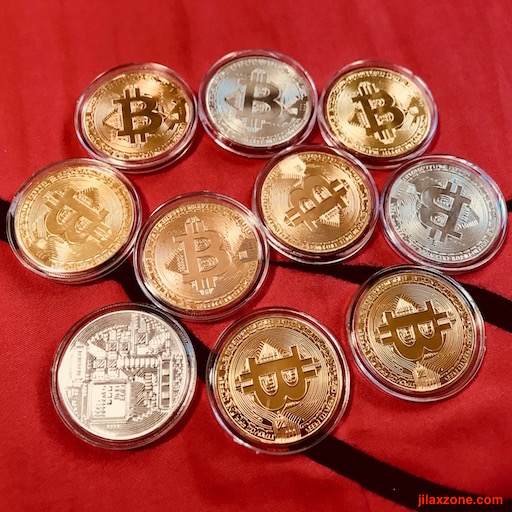 According to
coinmarketcap.com
, the 4 biggest names in cryptocurrencies today in terms of Market Capitalization are (from the first to the fourth): Bitcoin, Ethereum, Bitcoin Cash, Ripple.
For details of the price, statistics and other coins market capitalization, do check on directly on 
coinmarketcap.com
.
How you can benefit for mining?
Like people who mine gold and diamonds, if they found them, they own them.
Same thing applicable for cryptocurrencies coins mining. If you put the effort to mine, what you get and find are yours.
If you see Bitcoin price today against USD, 1 Bitcoin worth more than USD4,000 today. Which means, if you put efforts to mine and eventually found one, then the Bitcoin is yours. Like gold and diamonds, you can either keep it with you hoping the value will keep increasing overtime or you can sell to the market.
---
Find other awesome articles, tips, tricks related to Life and Tech, iOS & Android quick review on:
---
What you can mine with Android?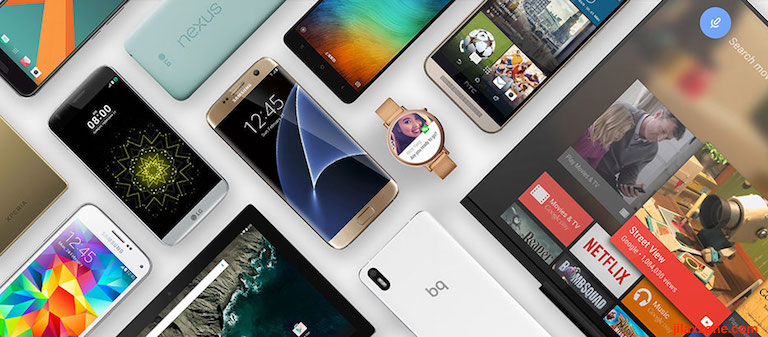 Although mining Bitcoin seems to be the most lucrative way to go, however given the market capitalization, people who transacts and mines Bitcoin, it's impossible for you/me/whoever else to mine Bitcoin with Android. Continue reading to know why it's impossible to mine Bitcoin with Android.
However just because Bitcoin is out of the picture now, doesn't mean the world is going to end for Android users. Well, luckily there are other alternatives to Bitcoin that you can still mine using Android although I, unfortunately, have to say this: it's going to be just for fun, you won't make any profits using Android as your rig to mine coins. Let me further explain why it will be just for fun and not profits.
Is it profitable mining using Android?
Short answer: No, for any existing more than a year-old coins. But could get some results (not yet profitable) for any new coins – given if they have the corresponding Android app for it.
Why it's not profitable mining using Android?
Compare to desktop/laptop, Android processing power is just way too low – even the top performing Android devices today, let alone compare with GPU-heavy rigs or ASIC machines.
Here's the mathematics why it won't be profitable even if you don't need to pay for electricity and get the device for free.
Above screenshot is taken from LiteCoinPool.org (I'll detail you how to mine here – keep reading) – one of the pool that enable Android users to do mobile mining.
Like what you see, yes, it's the pool for mining LiteCoin. At the time this post is written, LiteCoin is in the fifth position in terms of Market Capitalization (as seen on 
coinmarketcap.com) 
and as the time the screenshot was taken, 1 LTC is worth US$77.
From the screenshot above, the past 24 hours rewards is 0.000003253280 LTC. Yes, that's how much I get after about 12 hours mining using 2 Android devices together – as seen on the workers section.
Now, for 12 continuous hours I got 0.000003253280 LTC, which means I will get 0.00000650656 LTC from 24 continuous hours mining aka 1 day.
For me, using the setup I did (2 Android devices do mobile mining continuously), in order to get 1 LTC (worth US$77 at the time screenshot was taken)  I will need:
1 LTC / 0.00000650656 LTC per day = 153691.04 day aka 421 years.
So like I said earlier, even if you don't need to pay for the Android devices and you don't need to pay for the electricity, you won't live that long enough to see your Android devices and LiteCoin finally reach 1 LTC.
While it's not profitable to mine using Android but I can tell you it's fun. Yes, so much fun.
After you saw my calculation and still want to proceed to mine using whatever Android devices you have with you, follow these steps to get started in 5 minutes time. What I'm going to show you below is mining LiteCoins (yes, the 5th largest Cryptocurrency by Market Capitalization as of today) using Android device from LiteCoinPool.org pool and using its Android app: PocketMiner. You can also try some other pools with their own Android mining app.
Warning:
Due to nature of Google Play Store that is quite open (when compared to Apple App Store), do check to few sources before downloading a mining app. Make sure what you are downloading is really a legit mining app and not some malware.
1. Android device with Android 4.4 or above. Anything with Kitkat OS or newer should be able to be used.
2. Download the PocketMiner app from the Google PlayStore. Download it
here
. It's totally FREE.
3. Install the app. Do not open yet. Be patience 🙂
4. Go to LiteCoinPool.org to register. Click
here
in case you are lazy 🙂
5. Choose CPU as your "Main Hardware" if you plan to use your Android to do mining. In case you are wondering, choose something else won't give you any benefits.
6. Once registered, login to the site.
7. Go to "My Account" and register your first worker (aka your Android device). Register as many Android device as you want. The more the merrier = the more LTC you'll get.
8. Once you registered your Android devices. Take note of the username and password.
9. Now go to your each Android device, open the PocketMiner app. Key in the worker Username and Password and tap on Log in. Do note, the username and password is the worker username and password and not your LiteCoinPool.org username and password.
10. Tap on "START MINING" to start mining your very first LTC.
Yay! Congratulations. You just made your first Android "mining rig". It's super recommended if you plug your Android device to its wall charger, since mining will require a lot of processing power. It's also recommended to leave your Android device at a cool place to avoid it from overheating.
Show case: my litecoin mining on LiteCoinPool.org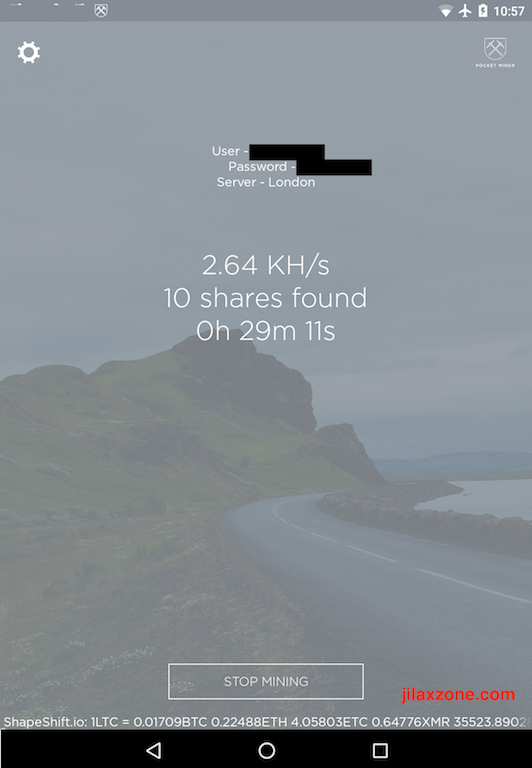 I have a few Android devices, however only my Nexus 7 2013 and my Minix Android TV box are capable of doing mining in LiteCoinPool.org.
Their app, PocketMiner, has the minimum requirement of Android 4.4 or above.
Bring it all together
Mining altcoins is possible to be done on Android, however even given the best spec Android phones and tablets out there, mining with Android is still only for fun. You won't get any financial benefit from it.
Let me know if you plan to try mining with your Android devices on comment section below.
---
For Life & Tech tips, iOS & Android Apps and Games quick review, do visit below:
---