How to Restart Your iPhone, iPad and iPod Touch Easily on iOS 11
iOS 11 brings so many advancements to iPhone (and iPad and of course iPod Touch). Unfortunately not all those advancements Apple manage to tell us during their WWDC events. Most of them we have to discover ourselves. I, as technology enthusiast, like and love to explore and help to share the findings to the world. This time is how you can restart your iPhone and other iOS device easily.
Since the born of iOS back in 2007 (it was named as iPhoneOS back then) and until iOS 10, there was no easy way if you would like to restart your iOS device.
There were, however, easy solutions if you jailbroken your iOS device though but there were none from Apple.
In the past, if you need to restart iOS device, you need to basically turn it OFF and turn back ON. Many of us ended with broken power button from this activity itself only (turning it OFF and back ON).
Now with the introduction of iOS 11, Apple has finally give us, the iOS users, a way to restart our iOS device easily and won't make Power button become faulty. This also helps for people with already broken power button.
---
Find other awesome articles, tips, tricks related to Life and Tech, iOS & Android quick review on:
---
Here's how you can restart iPhone and iOS device easily on iOS 11
1.
Enable Assistive Touch
. Refer to
this article
to know how in detailed step by step to enable Assistive Touch. Assistive Touch may appear anywhere on the iOS screen. Find the white dot floating icon on your screen like shown below.
2. Once Assistive Touch is enabled, tap on it. Then tap on Device.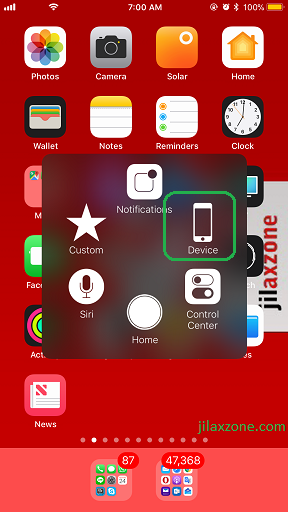 3. Tap on More.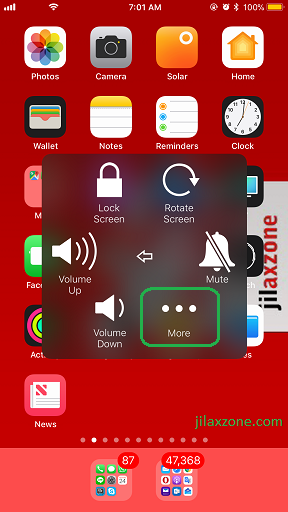 4. Find the Restart icon.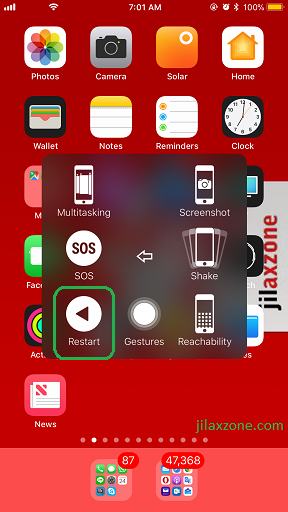 5. Tap on Restart.
6. When prompted, tap on Restart.
Voila, now your iOS device is restarting. Easy and won't break your Power Button.
I need not restart but to Shut Down my iPhone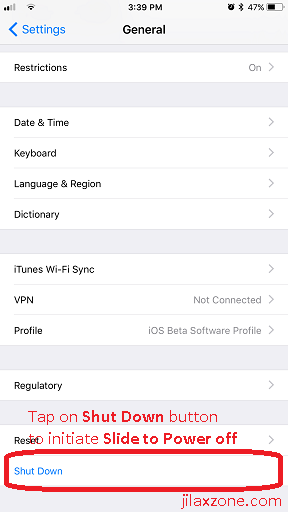 In case what you need is shutting down the phone but without pressing the Power Button (for whatever reason that is, be it broken power button or something else), you can do it easily as well on iOS 11. Check
this link
for the details.
Bring it all together
With all the new features Apple introduced on iOS 11, now our life – iOS users – is becoming more and more easier than before. Broken Power Button or Home Button, with iOS 11 that's not considered a problem anymore. Cheers!
How to get yourself iOS 11
If you feel this article is good and helping you in anyway, help to spread the words by sharing this article to your family, friends, acquittances so they will also get the benefit from it.
---
For Life & Tech tips, iOS & Android Apps and Games quick review, do visit below:
---
​I do spend my time and efforts writing this article based on my own experiences for my own journal as well as to share the knowledge to whoever read it so hopefully they can get the benefit out of it
If you found and feel this article is good and helping you in anyway, help me to spread the words by sharing this article to your family, friends, acquaintances so my spent time and efforts does not just stop at you, they will also get the same goodness and benefit from it.
Thank you!
---