7 Must Visit Places in Seoul – South Korea – According to my wife and agreed by me
Thanks to my wife who had patiently crafted our Seoul itinerary which she gathered from anywhere from books, blogs, official website, YouTube and other sources;  here are 7 must visit places in Seoul, South Korea – according to my wife and what I had experienced during our trip to Seoul, South Korea.
To take note, this is work-in-progress, I haven't finished writing but couldn't really wait to share with you.
1. Hongik University (홍대) – For staying and the ambience
Highlights:
| | |
| --- | --- |
| Closest subway/train station: | Hongik University station (Seoul Subway Line 2) |
| How to get here: | Take train to Hongik University and find exit 9 |
| Best day/time to visit: | Thursday, Friday, Saturday after 7PM |
| Must try food: | Isaac Toast |
| Must see place: | Friendly Pedestrian Walk |
Like its name, Hongik University area, or known to local as Hongdae, is near the Hongik University where not only arts students gather but also people around the city as well as tourists. There are plenty of shop-houses selling various kind of items from socks to phone cases, plenty of 24-hour eating places, plenty of arcades, plenty of guest houses to stay here, also plenty of clubbing places to spend the rest of the night.
Looking for a place in Seoul to go for midnight shopping? Hongik University area is the right place. While other places in Seoul might have closed and slept, depends on the day you are visiting Hongik University – Thursday, Friday and Saturday are the best – plenty of shops – branded and independent –  in Hongik University area are still open until late midnight.
On Sunday afternoon, along the friendly pedestrian walk (check on the map below – highlighted by red-marker line), you can see students/youngsters showing off their abilities and capabilities such as singing, break-dancing and doing many other performances.
My wife and I consider ourselves as budget travellers, so instead of booking a hotel to stay in Seoul, we picked up guest house and Hongik University area is – as explained before – one of the best area in Seoul to find the best guest houses with the best surrounding area (midnight shopping, 24-hour eateries).
Come Inn Guest House
Based on review in TripAdvisor, we picked and stayed in Come Inn guest house during our 7 day trip to Seoul. Finding the place was not really an issue although the guest house is located somewhere in the Hongdae narrow alley. It's roughly about 800m-1KM from Hongik University station exit 9 to the guest house. But don't worry, you won't feel exhausted, because along the way, there's plenty to see. There are few ways to get into the guest house, see on the map above as I have highlighted in blue-marker line. The guest house keeper during my visit – Bobby, who turned out to be the owner of the guest house – is very kind and friendly person. When I asked him about the place to eat Jajangmeyon (Korean black-sauce noodle – recommended to try), he was more than happy to give us recommendation, even wrote the order for us on a piece of paper so we wouldn't order wrongly. So if you happen to stay in his guest house, do ask him anything about Seoul, he will definitely help! Because of his friendly-ness and kindness (thanks for the fried chicken treat), that's why I'm more than willing to write him and his guest house on my blog. Thanks Bobby.
Isaac Toast
Many said you haven't really gone to Seoul if you haven't tried Isaac Toast. So there I go on my first day in Seoul. It was already 8pm and we had already our dinner and although it's known best for breakfast but me and my wife ordered it for our supper snacks.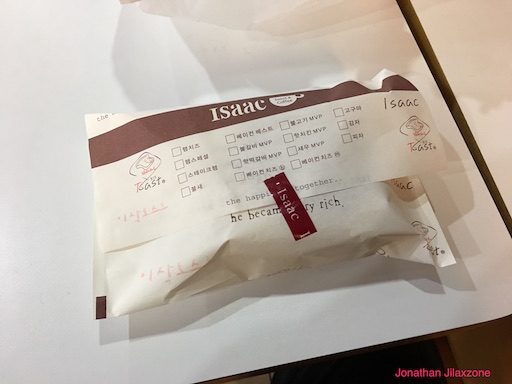 The toast is pretty much similar to "Roti Bakar" (Indonesian version of toast bread), however unlike the Indonesian version which stuffed with chocolate, jam, cheese or noodle (yes you read it right), Isaac toast is stuffed with meat, egg, tuna and salmon, depends on what you order. For those who never tried stuffed toast bread before, should definitely give it a try. But for those, especially Indonesian, the toast – put away the meat – is more or less just taste similar: buttery.
2. Myeong-dong (명동) – For cosmetics and fashion
Highlights:
A shopping haven and destination for fashion items and cosmetics. Don't come here too early. All the crowds usually starts only after 11AM. Plenty of shops offers freebies such as masker as long as you visit their shops, so if you want to collect the freebies, just pretend to walk in front of their shops, only when they offer you the freebies, then you walk into their shops. Haha.
If you are hungry, along the shopping centers, located in between the fashion and cosmetics shops are the street food stalls and sellers, from Korean snacks such as hot tteok-boki (read: Topoki), Korean strawberry mochi to fruits and drinks.
Myeongdong Kyoja
Oh you should visit and try Myeongdong Kyoja, a noodle place serving Gyoza. Not only full with tourists but local also eats here. Just in case you don't know or not aware, Kyoja is Korean word for Gyoza.
There are 2 Myeongdong Kyoja restaurants nearby Myeong-dong vicinity, either one is fine. And although the queue is terribly long, I didn't wait too long until get my turn to sit and eat. Check the map for direction below. The 2nd restaurant is not exact location as I forgot to take photo of it, but shouldn't be far from the red dot I dotted on the map.
There are only few selections, mainly the noodle with soup or dry and the kyoja.
During my visit, November 2016, a bowl of noodle was 8000 won, while a bowl of kyoja was 10,000 won. My wife and I ended up ordering 2 bowls of noodle with soups and 1 bowl of kyoja.
3. N Seoul Tower (N 서울타워) – For the awesome view
Highlights:
Namsan Tower or mostly known as N Seoul Tower is a perfect combination of Tokyo tower in Japan and Victoria Peak in Hong Kong as N Seoul Tower has its tower (just like Tokyo Tower) and is located on top of the hill (just like Victoria Peak).
Even though Seoul city lights at night is not yet as gloriously bright as Hong Kong in terms of lamps and light shows, but seeing the Seoul city from up high still a great experience.
On top of the great view of Seoul city, you can also see the world's first OLED TV tunnel by LG on one of the entrance.
If you are couple coming here, you can bring or buy padlock then write your name and your couple name on it then hang the padlock on the destined place – there are thousands of them already. Don't forget to visit the romantic pathway as well.
4. Gangnam (강남) – For Samsung D'light Concept Store
Highlights:
Gangnam area is big, but one of the must-visit place, especially for tech-geek is to visit Samsung D'light concept store where you can see all the unreleased-concept only items to a South Korean only Samsung phone and gadgets.
5. Garuso-gil (신사동 가로수길) – For Naver LINE Flagship store
Highlights:
Garuso-gil is actually a common term used by South Korean to say streets surrounded by trees lining along the way or in short tree-lined streets. But one Garuso-gil that is famous to the world is Sinsadong Garuso-gil.
Garuso-gil is indeed another shopping haven for shoppers. Plenty of boutiques, both branded and independent, are there.
However, apart from those boutiques, here lies LINE Friends flagship store, a 4-storey building (3 above grounds and 1 basement) where you can buy almost everything related to those cute LINE characters, from mugs, plates, plush toys, toy figures to biscuits and macarons. Don't forget to queue to take photos with the big Brown located on the store entrance. My wife is a big fan of LINE characters, especially Sally -the chick. Me and my wife spend some time on the cafe downstairs to get the Sally Tea cup and Sally Tea bottle. I ordered and gave out specific instructions about the cup and bottle packaging, they must be with Sally faces on it.
Not far from LINE Friends flagship store, about less than 1 KM, there's a famous Korean Fried Chicken called Hanchu Fried Chicken. Unfortunately when I asked to take out/take away the food, the staff didn't allow it, the fried chicken have to be eaten inside the restaurant. Since me and my wife were still quite full so we skipped the fried chicken. But if you pass by, you should definitely give a try since many told this is the best fried chicken in Seoul.
6. Insa-dong (인사동) – For arts related stuffs and cheap bags
Highlights:
Insa-dong is known for its arts related stuffs as the area itself, apart from the surrounding shop houses, is having one plaza named Ssamzie-gil which about 5-storey high (4 above ground levels and 1 basement level) dedicated for selling arts stuffs such as but not limited to hand crafted items, paintings, potteries, jewelries, clothes and many more. You want to try or buy Hanbok (Korean traditional clothes)? This is the right place.
On top of that,in Ssamzie-gil you can also find toys, foods, movies posters and couple cards. The latter, couple cards, you can find on the top level of the building where you can write down your name and your couple name on put any of your wishes there then hang it on the designated walls.
When you are tired, you can visit the dubbed as best tea in South Korea – Osulloc Tea. The location is just the opposite of Ssamzie-gil. It's not direct opposite but about few shop houses away. If you are coming from Anguk station, you'll first encounter Osulloc on the right hand side of the road before you'll reach Ssamzie-gil.
Oh, if you notice, in Insa-dong all the alphabetical-brand shops such as Starbucks, Inisfree, Too Cool for School are all writing their brand in Korean. But don't worry, you won't get lost as they still put their alphabetical spelling somewhere with smaller text.
Best time to visit Insa-dong is either Saturday or Sunday after 2PM as all the shop houses opened already and the main road is closed from traffic.
7. Namdaemun Market (남대문시장) – For souvenirs
Just like fashion and cosmetics where you can find in any places in Seoul but Myeong-dong is the one place you go for everything fashion and cosmetics then same thing for souvenirs, you can buy souvenirs in almost any touristy places in Seoul, but if you are looking for one place that has them all along with the more reasonable prices then Namdaemun Market is the best place to get them.
Find key chains, magnets, Korean cutlery, bags, potteries, necklaces, socks, shoes, even fruits and daily fresh vegetables.
---