I'm updating my iPhone to iOS 16 today and here's how you can update yours too (iPadOS 16 for iPad is included too!)
This article detailed the steps to get and install iOS 16 and iPadOS 16 on all compatible devices.
Although on the steps are mentioning iPhone or iOS 16, but the same steps are applicable for iPad (including iPad Air and iPad Pro) and iPadOS 16.
For other interesting articles, head to:  iOS Tip & Trick, Games, FREE games & stuffs, how-to and more at JILAXZONE.
If you find this article / content inside is already obsolete, do let me know by commenting on the comment section below so that I can update the article to reflect the latest process/news. Thanks.
After waiting for about 3-4 weeks after Apple announced iOS 16 and iPadOS 16 on WWDC22, finally the long-awaited day has come. Apple has just officially released the iOS 16 & iPadOS 16 Public Beta to everyone who would like to give iOS 16 and iPadOS 16 a try. I have detailed the steps below so in case you are interested, now you can do the same – installing iOS 16 and iPadOS 16 ahead of everyone else. It's legal, most importantly it's official from Apple and totally FREE. All you need to do is just compatible device, spare time and good will!
---
Here's how you can get iOS 16 and iPadOS 16 today
So these are steps required to get iOS 16 and iPadOS 16 today on your iPhone or iPad. Get ready to be the first few among the masses who can try, test and experience Apple iOS 16 and iPadOS 16.
Note:
Depends on your Internet speed and the iOS & iPadOS devices you plan to update, but the steps mentioned here take approximately 45 minutes to 2 hours, so ensure to spare your time when doing the steps mentioned here.

Warning!
The steps provided here is to install iOS 16 and iPadOS 16 Public Beta to your device(s). Public Beta means some applications and services may not work as expected and their data may not be backwards compatible. Be sure to back up your iOS device before installing the software (steps provided below).

---
1) Ensure you have iOS 16 and iPadOS 16 compatible devices.
Ensure you have Apple mobile devices that compatibles with iOS 16 and iPadOS 16. Full device list, refer to the table below.
iPhone
iPad
iPhone 13
iPhone 13 mini
iPhone 13 Pro
iPhone 13 Pro Max
iPhone 12
iPhone 12 mini
iPhone 12 Pro
iPhone 12 Pro Max
iPhone 11
iPhone 11 Pro
iPhone 11 Pro Max
iPhone XS
iPhone XS Max
iPhone XR
iPhone X
iPhone 8
iPhone 8 Plus
iPhone SE (2nd generation)
iPhone SE (3rd generation)
iPad Pro 12.9-inch (5th generation)
iPad Pro 11-inch (3rd generation)
iPad Pro 12.9-inch (4th generation)
iPad Pro 11-inch (2nd generation)
iPad Pro 12.9-inch (3rd generation)
iPad Pro 11-inch (1st generation)
iPad Pro 12.9-inch (2nd generation)
iPad Pro 12.9-inch (1st generation)
iPad Pro 10.5-inch
iPad Pro 9.7-inch
iPad (9th generation)
iPad (8th generation)
iPad (7th generation)
iPad (6th generation)
iPad (5th generation)
iPad mini (6th generation)
iPad mini (5th generation)
iPad Air (5th generation)
iPad Air (4th generation)
iPad Air (3rd generation)
---
2) Free storage space for the new OS.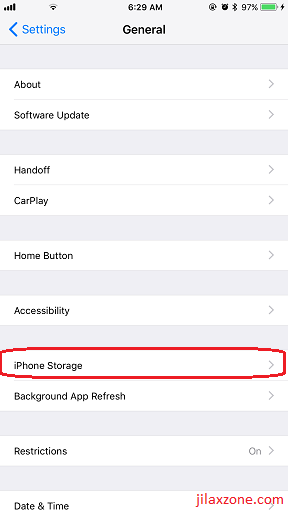 Downloading iOS 16 requires about 5-6 GB storage space (depending on your device model), installing it will take another storage space. Make sure your iOS device has enough room for the new iOS to install. Although since iOS 11, Apple has a way to install new iOS with limited space, but do spare whenever possible at minimum 10-12GB (that's coming from 5-6 GB times 2, one is used for storing the iOS before installation, one is used during installation) to speed up the whole installation process. To backup without a computer and to overcome iCloud storage limit, you may want to consider the option here: Clean and Clear Up iPhone Space – FREE Alternative to Paid iCloud Photo Library at JILAXZONE.
---
3) Backup your device.
Back up your iOS device and back up your photos, videos. Before backing-up your iOS device, it's always good to delete any unused or rarely used app. If you think you may need the app data/game save in the future, use offloading method to preserve their app data/game save. Check the Offloading method here at JILAXZONE to see how you can do it. If you found out that your iCloud doesn't have enough space to backup your whole photos and videos collection, do check out the alternative here: Apple One vs Google One: Differences and Recommendations at JILAXZONE.
---
4) Register yourself as Apple Public Beta Tester.
Apple opens Public Beta Tester to everyone for FREE! By registering, this is enabling you to install the new iOS 16 and iPadOS 16 right before everyone else. The link shared below is a registration process that will enroll you as a public beta tester. Registering as Public Beta Tester entitles you to install the public beta version of iOS 16 and iPadOS 16 where you can feel, test and experience everything related to the new OS. You can use your existing Apple ID to register.
Article continues below.
---
Popular on JILAXZONE today:
---
---
5) Enroll your iOS device.
Once Registered/logged in, go to respective tab (iOS or iPadOS), then scroll down until you find Get Started. Under Get Started, tap on "enroll your iOS device".
---
6) Download Profile.
On the next page, Apple will tell you to backup your device, if you haven't done it, do backup your device – instruction given on step 3) above. Scroll down to Install Profile section. Tap on "Download Profile" to download iOS 16 Public Beta profile to your device. When prompted, tap "Allow" to allow the profile to be downloaded to your iOS device. If you can't see the "Download Profile" button, that's because you are not opening the page either on your iPhone or on your iPad, repeat this step 6) from your iOS device.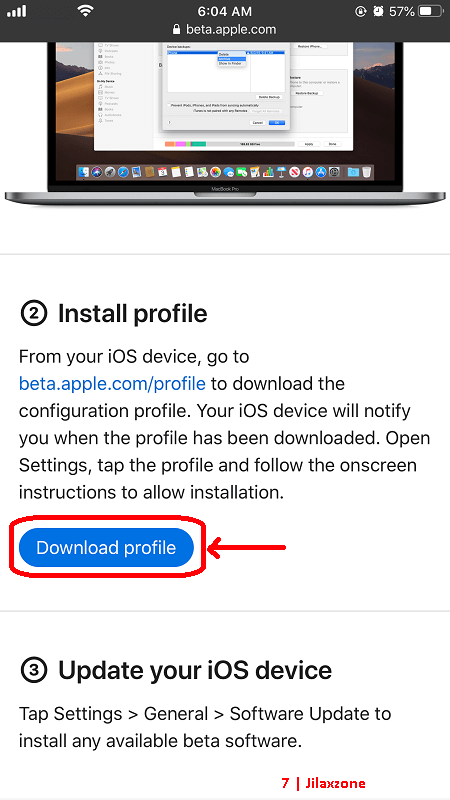 ---
7) Install Profile.
Go back to iOS Home screen. Go to Settings > Profile Downloaded. In case you can't find the menu under Settings, go to Settings > General > VPN & Device Management > iOS 16 & iPadOS 16 Beta Software Profile Beta Tester instead. On Install Profile window, tap on "Install". Key in your device passcode when prompted, then on Consent window, after reading and only if you are ok with the consent stated, tap on "Install" to proceed installing the profile.
---
8) Restart iOS device.
iOS will prompt you to restart the device. Tap on "Restart". In case you don't get the prompt, restart manually your device. Check out the link here for alternative way to restart device: Restart iOS device without using Power button at JILAXZONE.
---
9) Download iOS 16 / iPadOS 16. 
Once restarted, go to Settings > General > Software Update. Now you should be able to see the iOS 16 / iPadOS 16 Public Beta X. X refers to the iteration number. As of when this article is written, it's the first iteration (iOS 16 / iPadOS 16 Public Beta 1). Tap on "Download and Install". On my case, this is the step where it took so long to complete. While downloading was fast, but preparing the device took forever to complete.
Note:

As mentioned earlier on Step 3) above, to speed up the device preparation, it's good before you click "Download and Install", to first clean up your device – by removing unused apps, games, photos or videos.
---
10) Install iOS 16 / iPadOS 16.
Once downloaded and internally iOS has completed the preparation steps, now it's the time for you to install it. Tap "Install" to start installing the new OS. Key in your passcode in case prompted.
---
That's it. The rest is to just follow the on-screen instruction. Downloading the iOS 16 takes about 10-30 minutes (highly depending on your Internet speed) and another 30-45 minutes to prepare update, installing takes another 15-20 minutes.
---
Show off time!
What are you waiting for? Try out those fancy new iOS 16 features before everyone else: New Lock Screen, Widgets on Lock Screen, a streamlined Focus, iCloud Shared Photo Library, enhanced messaging – now you can undo/edit sent items, SharePlay via Messages, Passkeys, Lift subject from background, Live text for video and so much more! Starting today after you do the update, you can show off to everyone else that your iPhone or iPad is different from them!
---
Do you have anything you want me to cover on my next article? Write them down on the comment section down below.
Alternatively, find more interesting topics on JILAXZONE:
JILAXZONE – Jon's Interesting Life & Amazing eXperience ZONE.
---
Hi, thanks for reading my curated article. Since you are here and if you find this article is good and helping you in anyway, help me to spread the words by sharing this article to your family, friends, acquaintances so the benefits do not just stop at you, they will also get the same goodness and benefit from it.
Or if you wish, you can also buy me a coffee: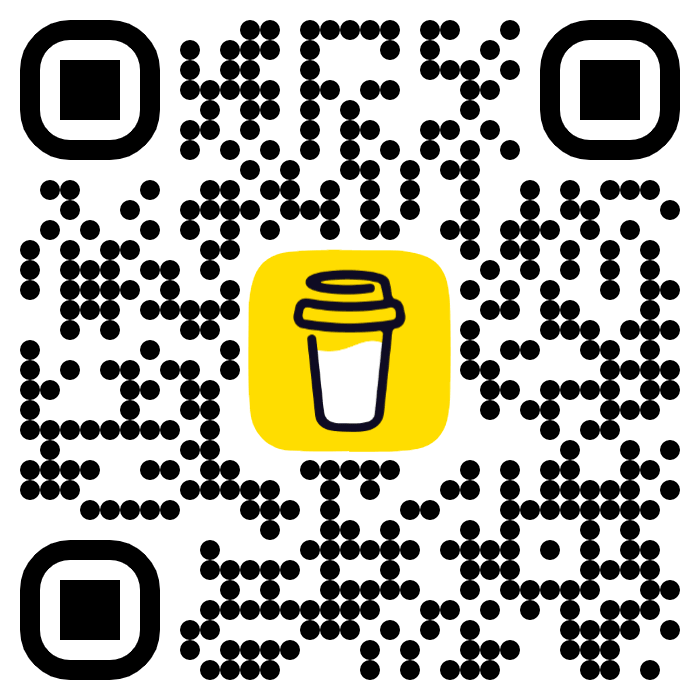 Thank you!
Live to Share. Share to Live. This blog is my life-long term project, for me to share my experiences and knowledge to the world which hopefully can be fruitful to those who read them and in the end hoping to become my life-long (passive) income.
My apologies. If you see ads appearing on this site and getting annoyed or disturb by them. As much as I want to share everything for free, unfortunately the domain and hosting used to host all these articles are not free. That's the reason I need the ads running to offset the cost. While I won't force you to see the ads, but it will be great and helpful if you are willing to turn off the ad-blocker while seeing this site.