How to Renewing PR Singapore Re-Entry Permit | Today I Learned
If you need to renew your Singapore PR, renew your PR re-entry permit, you come to the right place. Here's I'm going to walk you through the step by step to get it renewed plus the requirements to get it renewed.
Before begin, in this article I'm going to use plenty of abbreviation, so not to confuse you, let me spell them out here.
PR is short for Permanent Resident.
SPR is short for Singapore Permanent Resident.
The method I'm sharing here is to renew Singapore PR status, or also known as renewing REP.
REP is short for Re-Entry Permit.
In case you don't know what REP is, recalled when the first time you are getting your SPR card. It comes with a printable PDF called REP (see the image above for sample of REP).
For other interesting articles around and related to Singapore, do check the following link.
Facts about Singapore Permanent Resident and Re-Entry Permit
Some of these facts probably you may not know, so do take a look at them and count how many you know and how many you don't know.
Fact 1: Renewing SPR = renewing REP.
To renew your SPR status is equivalent to renew your REP. Below I shared the step by step on how you can renew your REP.
Fact 2: As SPR, you have to always bring REP with you
In case you don't know, yes you need to always bring REP with you when you are leaving and re-entering Singapore.
Apart from international passport, as a Singapore Permanent Resident (SPR), you have to have and always bring with you the REP whenever you are out and in from Singapore.
Fact 3: Many people don't bring REP with them when leaving and re-entering Singapore
Including probably yourself. While so far I, myself, have no cases where immigration officer at Airport is asking for my REP, but you and I won't know when they will ask. So best is to always bring a copy with you or at least a screenshot of REP on your phone. In fact it's written on one of the rule being a SPR, to leave and to re-enter, REP must be produced. Don't believe me? Check this official link from Singapore ICA.
Fact 4: REP needs to be renewed every 5 years and so does your SPR.
Though unlike Employment Pass (EP aka the green card) where the expiry date is stated on the card, SPR card doesn't have expiry date or better way to say it, doesn't indicate the expiry date, however as a SPR, your PR status has actually have an expiration period as well. It's just not written on the card.
The SPR status expiration date is 5 years since the first commencement of your PR card. You may want to check yours, who know your PR status has expired.
So this is how you can extend your PR status in Singapore | Renewing Re-Entry Permit
Link: http://eservices.ica.gov.sg
If you open the official link above from Singapore ICA (Immigration and Checkpoints Authority), you can renew your SPR status a.k.a renew Re-Entry Permit online. You just need to follow whatever steps required on the website.
But in case you need the steps, here they are.
These steps taken to renew REP is not more than 15 minutes and like I said, you can do it online – even from your smartphone.
1) Open the URL: http://eservices.ica.gov.sg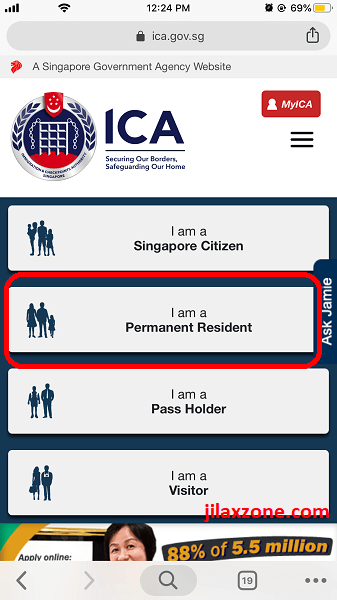 2) Choose "I am a Permanent Resident".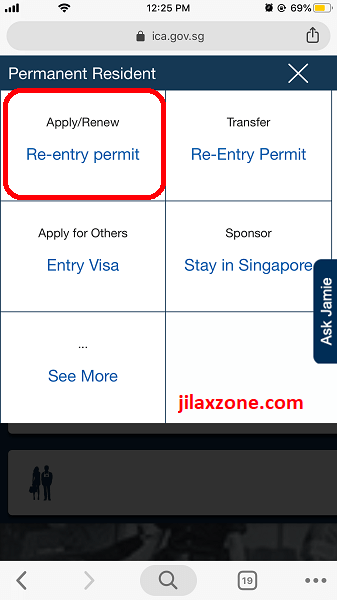 3) Choose "Apply/Renew Re-entry permit".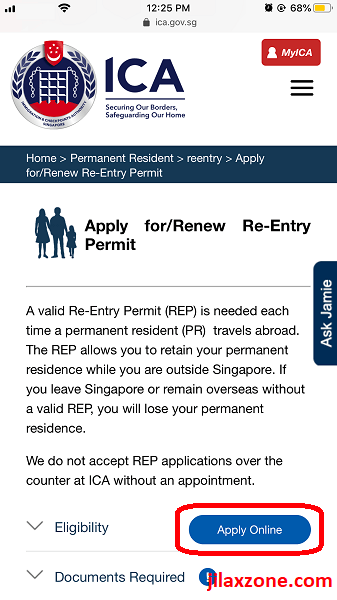 4) Check the readings and when you are done, click on "Apply Online" to apply it online. Do note, there is fee charged for renewing REP at $10/year.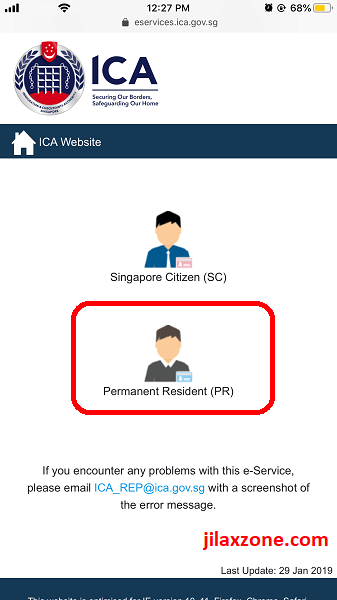 5) On the page, click on "Permanent Resident (PR)".
Article continues below.
---
Popular on JILAXZONE today:
---
6) Read the info. Basically it tells you that you'll need to state your IC number, Passport number, your fullname as per passport, your highest education, your gross salary. No documents required to be attached though.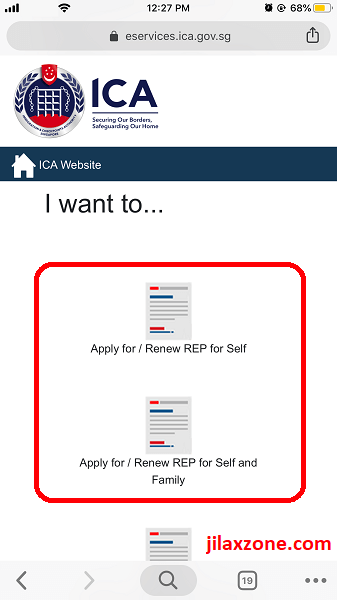 7) At the bottom, choose accordingly. If you are renewing for your self, choose "Apply for / Renew REP for Self". If not, then choose the closest one to your condition. For my case, I am renewing for both myself and my wife. So I chose "Apply for / Renew REP for Self and Family".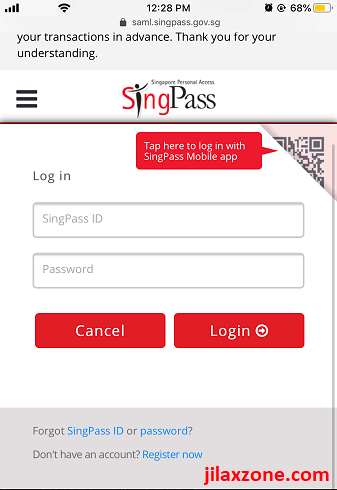 8) When prompted, login using your SingPass.
The next few prompts may/may not applicable for you – since on my case, I chose to renew both Self and Family.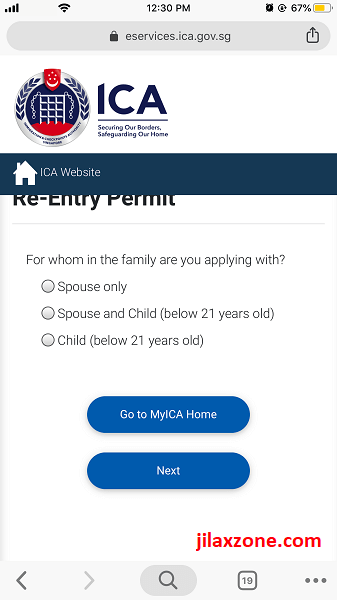 9) Choose whom in the family you are applying with. For my case, I chose spouse only. Click Next.
10) Fill in all the family details requested, such as IC number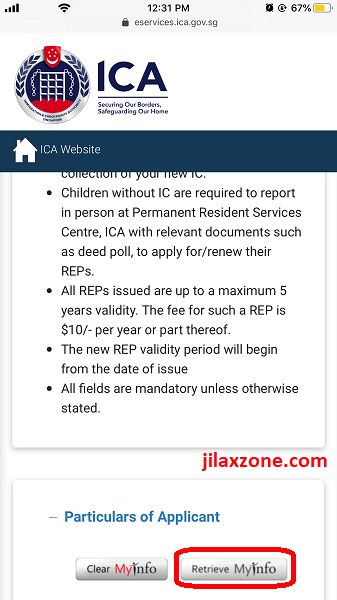 11) Whenever you see the "Retrieve My Info" button, click on that button to retrieve your particular from SingPass, save you time for filling in all the details.
12) Ensure all details are matched with the latest, if not, do update them with the latest info. On my case, somehow my marital status is still sowing single, though when I applied PR last time I have married already.
13) Once everything is filled in and ensured all particular details are updated with the latest one, click "Next".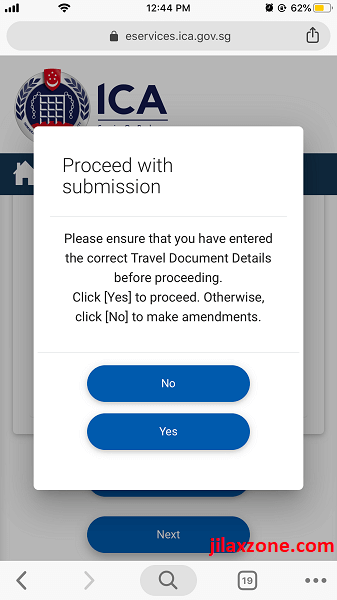 14) When prompted, click "Yes" to proceed with submission. In case you are not so sure, you can always click on "No" to recheck again and only when you are sure, click "OK".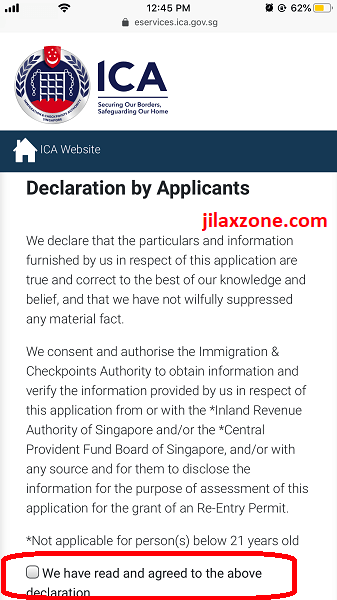 15) Read all the wording – which basically tells you to agree that whatever you are submitting are correct. Tick on "we have read and agreed to the above declaration" and proceed to the next one.
If everything is good, your application shall be approved directly – at least that's what happen to me.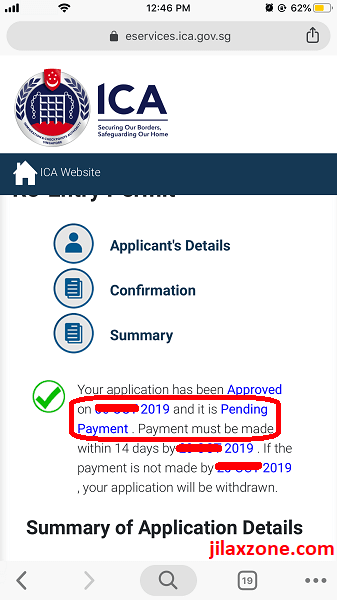 But don't close the browser yet, the renewing REP steps are not finished yet. You are just half way done. Once approved, you still need to make payment, otherwise the application will be withdrawn.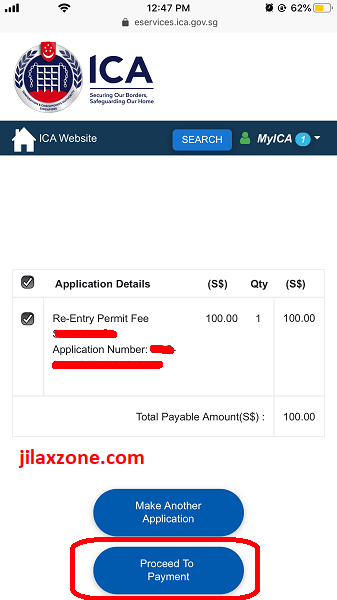 16. Click "Proceed to Payment".
How to make payment for Singapore PR Re-Entry Permit renewal
Ensure you have completed the steps to renew REP (above) and get approved.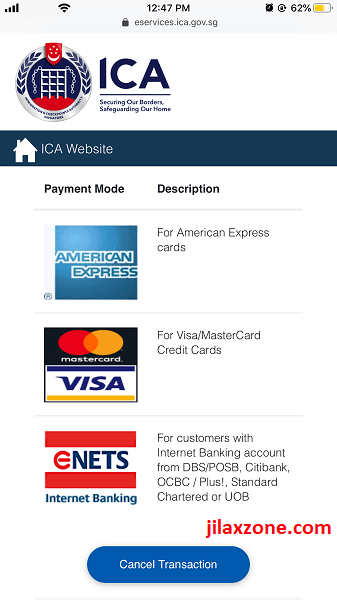 ICA accepts 3 methods of payment: Either by American Express, Visa/Mastercard or eNets. Choose which one is applicable for you and follow the steps accordingly.
The cost for REP renewal is $10/year. For SPR normally the REP is valid for 5 years, so the fee will be $50 for 5 years per person.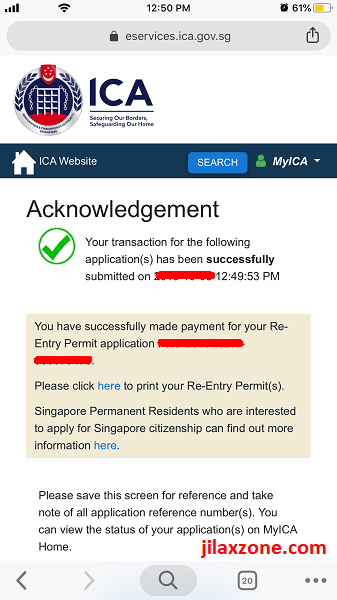 Once you have made the payment, you'll be redirected back to ICA website, and would see Acknowledgement page where it tells you that you have successfully made payment.
Don't close the browser yet, your next step is to print out the REP and keep it safe with you whenever you are traveling in/out Singapore.
That's it.
My recommendation is to set reminder on your calendar to remind you to renew your PR REP, so that you won't be denied entry when you are coming back to Singapore after holiday or business trip abroad.
---
Do you have anything you want me to cover on my next article? Write them down on the comment section down below.
Alternatively, find more interesting topics on JILAXZONE:
JILAXZONE – Jon's Interesting Life & Amazing eXperience ZONE.
---
Hi, thanks for reading my article. Since you are here and if you find this article is good and helping you in anyway, help me to spread the words by sharing this article to your family, friends, acquaintances so the benefits do not just stop at you, they will also get the same goodness and benefit from it.
Thank you!
Live to Share. Share to Live. This blog is my life-long term project, for me to share my experiences and knowledge to the world which hopefully can be fruitful to those who read them and in the end hoping to become my life-long (passive) income.
My apologies. If you see ads appearing on this site and getting annoyed or disturb by them. As much as I want to share everything for free, unfortunately the domain and hosting used to host all these articles are not free. That's the reason I need the ads running to offset the cost. While I won't force you to see the ads, but it will be great and helpful if you are willing to turn off the ad-blocker while seeing this site.