The iPad is reborn: Meet iPadOS – a new breath of life for iPad
Using iPad is going to be exciting again…
Welcome the new family from Apple OSes family: iPadOS.
Apple annual developer conference – WWDC 2019 – proved that it brought a lot of more great things other than the rumored dark mode. While what the rumors said about Dark Mode coming to iOS is true but this time it has a lot of more exciting things. And to me the most exciting one is the new iPadOS.
Journey of iPad and iPadOS
The evolution of iPad has started since at least two years back where Apple began to differentiate iOS made for iPhone with iOS made for iPad. The iPad version of iOS contains a few different features from the iOS found on iPhone. Before today WWDC 2019 announcement, iOS made for iPad contains dock (like what you have on Mac) and able to show split screen, running few apps together in one screen.
Today with WWDC 2019, finally Apple brought iPad to the next level. Now with the new iPadOS, iPad has not only a new interface but also plenty of new features that normally found on normal desktop OS like MacOS. The new iPadOS is now sort of mixes between iOS and MacOS.
iPadOS new exciting features
There are plenty of features announced for both iOS and iPadOS, however, here are the most notable iPadOS features.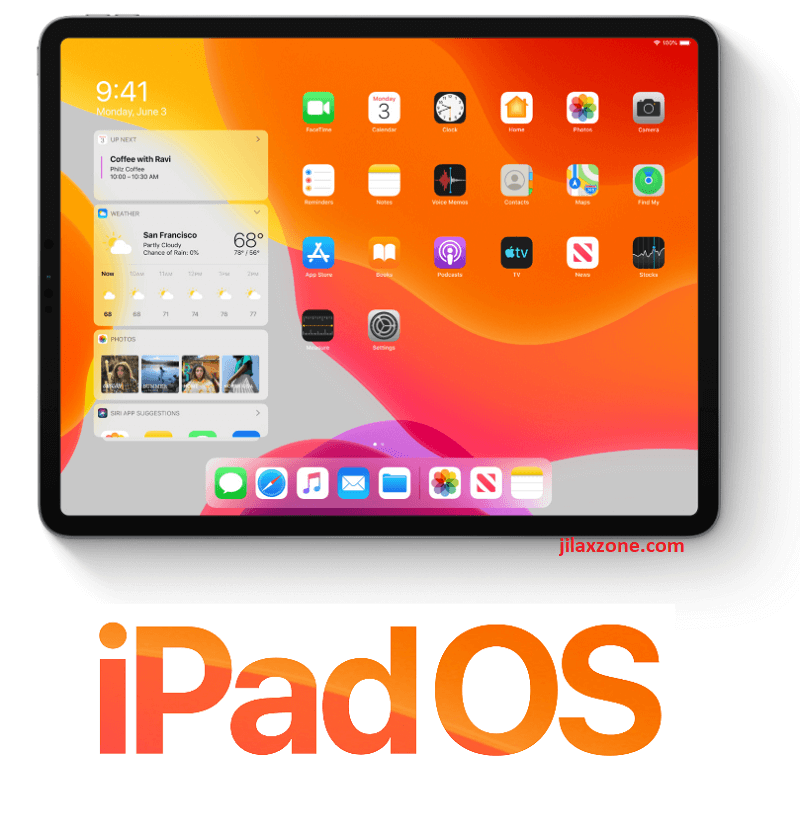 1) New Home Screen with Widgets
Now you won't see icons only on your iPad Home Screen. You can see the digital clock together with widgets on your Home Screen.
2) Slide Over & Split View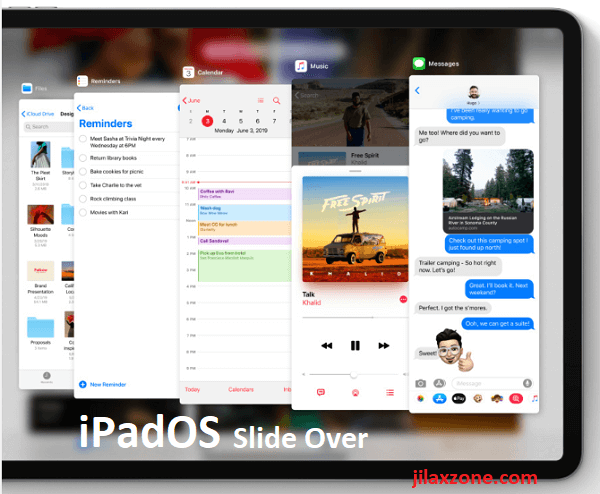 While there's nothing new about Split View, but Slide Over enables you to keep all of your favorite apps for easy access when you need to use it you just slide over and use them.
3) App Spaces & App Exposé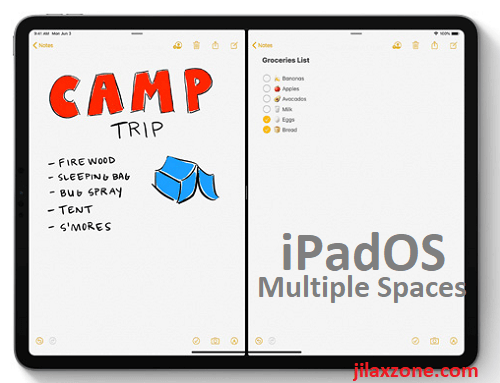 Now you can run one same app in multiple spaces. You can run multiple instances of Notes app. You can run multiple instances of Files app. Think like opening the same multiple Finder (File Explorer) in MacOS or Windows PC where you can open as many file explorer as you want. This feature enables you to work with the same app across multiple spaces, such as writing two different topics on Notes app.
4) Redesigned Files app
The Files app is redesigned to work just like Finder (file explorer) on MacOS. Now it has preview on the right most side of the screen and contains the file information (file properties) as well.
Article continues below.
---
Popular on JILAXZONE today:
---
5) Supports External Drive & Micro SD Cards
Using the new iPadOS, iPad now supports external drive for such as external hard drive, SD card reader and thumb drive.
6) New gestures for copying, pasting and undoing .
By using 3 finger.
To copy a text, select the text you want to copy and use 3 fingers to pinch the text. That's copying.
To paste a text, use 3 fingers and pinch out.
To undo the pasted text, use 3 fingers then swipe left.
7) iPad built-in keyboard now supports swiping texts.
The built in keyboard for iPadOS, Apple named it as QuickType keyboard, now supports swiping (it's similar to swiping text found on Swype or Google Gboard). Apple called it as QuickPath typing.
8) One-handed Keyboard
The new iPadOS allows you to pinch the QuickType keyboard so that it become smaller and you can use it in one-handed typing mode. Easier to type and more spaces for your apps.
9) Supports multiple Fonts
You can install new fonts from the App Store and to use the new fonts on the supported apps.
10) Download Manager
Safari has download manager now and any files downloaded, you can check the downloaded files in Downloads folder inside Files app. Works just like in a Mac or PC.
11) Sidecar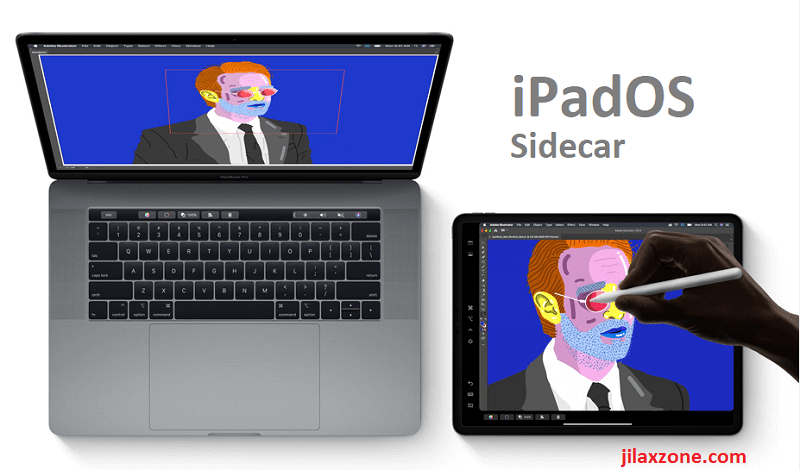 It works like a sidecar. If you pair the iPadOS and the new macOS Catalina, your Mac desktop will get extended to the iPad. This feature will greatly help on things that you can do faster on iPad rather than do it on Mac. Things like drawing details, using iPad with Apple pencil for sure is much faster rather than using Mac touch pad or mouse.
12) Supports Apple Arcade
Think like musics and Apple Music, movies and Netflix. Now Apple has games and Apple Arcade.
Read more on Apple Arcade here.
13) Faster than iOS 12
One of the most important thing is performance. Apple claimed the new iPadOS run much faster compared to iOS 12, launching apps 2x faster than iOS 12.
iPadOS compatibility
iPadOS compatibility goes as far as iPad Air 2 which was originally release on 2014.
Here are the full list of iPad compatible with the new iPadOS:
12.9 inch iPad Pro (all models)
11 inch iPad Pro
10.5 inch iPad Pro
9.7 inch iPad Pro (all models)
iPad (6th generation)
iPad (5th generation)
iPad mini (5th generation)
iPad mini 4
iPad Air (3rd generation)
iPad Air 2
How to get early access to the new iPadOS
Can't wait for the official iPadOS release scheduled this coming September – October 2019?
Well, there's a way to get early access to it. Join the Apple Beta programme to get the Beta version of the iPadOS. Follow the detailed steps here. Though the guide is made for iOS 13, but it works the same for iPadOS.
Bring it all together
Now there's a good reason for people to buy an iPad, because Apple has made iPad to be great again!
I can't wait to try myself the new iPadOS, however issue is that I don't have an iPad with me right now :p. I need to find a way to convince my wife to buy me one.
Do you think the new iPadOS will eventually replace MacBook or desktop or PC?
While at this moment likely it won't fully replace your MacBook or desktop or PC but at least it has started today with the new reborn iPadOS.
---
Do you have anything you want me to cover on my next article? Write them down on the comment section down below.
Alternatively, find more interesting topics on JILAXZONE:
JILAXZONE – Jon's Interesting Life & Amazing eXperience ZONE.
---
Hi, thanks for reading my article. Since you are here and if you find this article is good and helping you in anyway, help me to spread the words by sharing this article to your family, friends, acquaintances so the benefits do not just stop at you, they will also get the same goodness and benefit from it.
Thank you!
Live to Share. Share to Live. This blog is my life-long term project, for me to share my experiences and knowledge to the world which hopefully can be fruitful to those who read them and in the end hoping to become my life-long (passive) income.
My apologies. If you see ads appearing on this site and getting annoyed or disturb by them. As much as I want to share everything for free, unfortunately the domain and hosting used to host all these articles are not free. That's the reason I need the ads running to offset the cost. While I won't force you to see the ads, but it will be great and helpful if you are willing to turn off the ad-blocker while seeing this site.