Samsung Galaxy Note 9 is Giving FREE Upgrade to 512GB – Are You Buying?
In case you don't know, last week during Singapore National Day Parade 2018, Samsung was launched its biggest phone ever: Samsung Galaxy Note 9. Check here for the Samsung Unpacked event, unpacking Galaxy Note 9.
Samsung Galaxy Note 9 Promotion: FREE Upgrade from 128GB to 512GB!
Not sure if you get the same promotion at your local store, but here in Singapore island-wide, Samsung is promoting FREE upgrades to 512GB when you buy the brand new Samsung Galaxy Note 9 128GB. Tempting offer isn't it?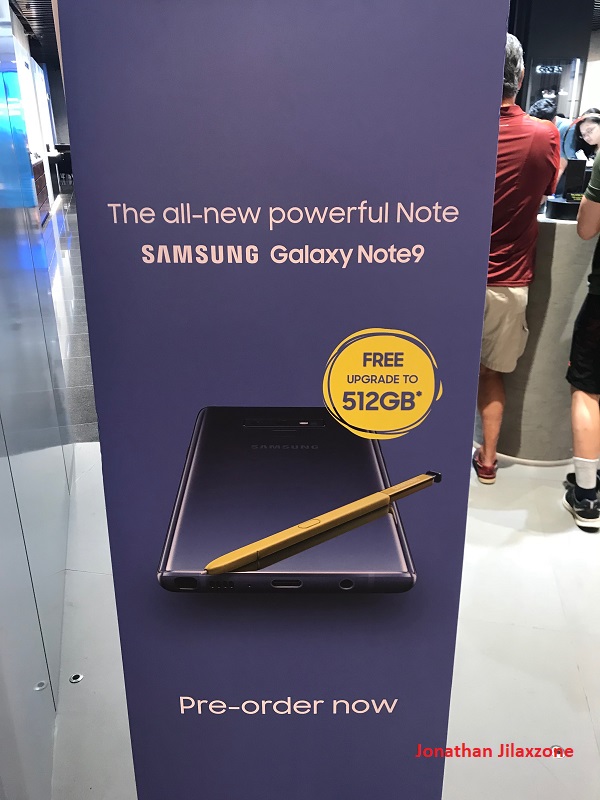 As numerous websites suggested, Samsung sales of Galaxy Note S9 since its being introduced was disappointing, so as part of bumping up the sales number, plus to attract as many customers as possible before rivals (Eg: Apple) come out with their latest and greatest, Samsung came out with this hard-to-resist promotion: FREE upgrade to 512GB.
Samsung Galaxy Note 9 $330 off!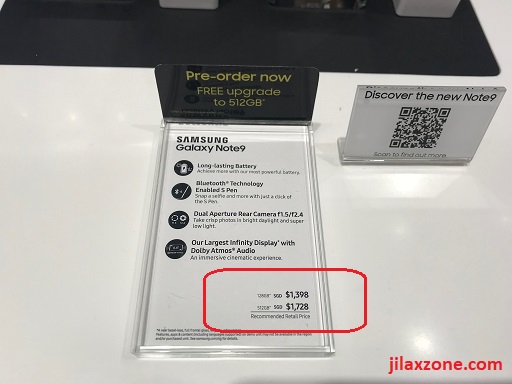 In Singapore, the base model of Samsung Galaxy Note 9 is 128GB and priced for $1398 off-contract. While the 512GB model costs $1728. That's a $330 savings! On top of it, any pre-order will get additional FREE $50 accessories voucher. FYI. All dollars is in SGD.
Are you interested? Have you pre-order?
---
Find other awesome articles, tips, tricks related to Life and Tech, iOS and Android quick review on:
---
Samsung Galaxy Note 9 Pre-Order Period
Pre-order period starts from Friday 10th August 2018 till Tuesday 21st August 2018.
If you are looking to upgrade your phone to Note 9, be sure not to miss this promotion.

Samsung Galaxy Note 9 Important Specs
These are the Samsung Galaxy Note 9 Important Specs.
1) Bluetooth enabled S-Pen, acting as a remote, enables you to capture photo, pause YouTube videos, change your presentation slides.
2) Octacore Qualcomm Snapdragon 845 (International edition) or Octacore Samsung Exynos 9810 (Korea version).
3) 6.4 inch edge-to-edge infiniti display and it's all OLED! Boasting 2,960 x 1,440 pixels which translates into 516 ppi.
4) Base model is 128GB. It has 512GB model too!
5) Choice between 6GB RAM (128 GB model) or 8GB RAM (512 GB model)
6) 4000 mAH battery which Samsung claimed as all-day battery
7) Dual Aperture 12 MP Rear Camera f1.5/f2.4 and 8 MP selfie front camera.
8) Support up to 512GB Micro SD card.
9) Android 8.1 Oreo, upgrade-able to Android 9.0 Pie.
The rest of specs, you can see here: Official Samsung Galaxy Note 9 Specs.
---
For Life, Tech tips, iOS and Android Apps and Games quick review, do visit below:
---
Hi, thanks for reading my article. Since you are here and if you find this article is good and helping you in anyway, help me to spread the words by sharing this article to your family, friends, acquaintances so the benefits do not just stop at you, they will also get the same goodness and benefit from it.
Thank you!