UberEats Drivers and Couriers Important Notes – Find Out What To Do After Grab buy Uber South East Asia Business.
Monday 26th March 2018 was a big news for the 2 big ride-hailing companies: Uber (which represents international) and Grab (which big in South East Asia), Grab finally bought-in Uber South East Asia business – which means both Uber ride-hailing business and food delivery business – UberEats – will be part of Grab in the future.
While there are so many news for Uber Drivers – even you can find the instruction on the Uber Driver itself, but not for UberEats Drivers or Couriers. That's why I write and shall publish this post to clear some confusion to those fellows UberEats drivers and couriers.
UberEats Drivers and Couriers – Important Notes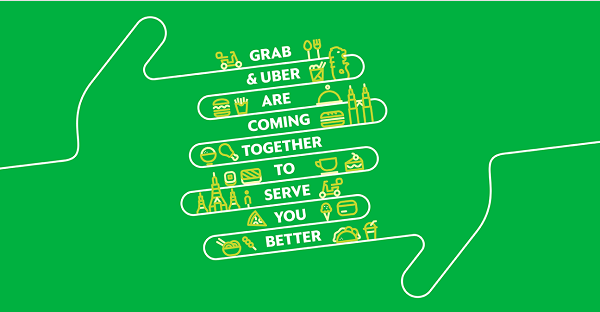 After digging around the app and both Uber and Grab website, finally I found out that, unlike Uber Drivers who will make the switch on 7-8 April 2018 (date is still changing), UberEats Drivers and Couriers will only make the switch on May 2018 (at this point of time, exact date has not been given).
Are you sure or not on May 2018, because I saw on the Uber Driver app, they tell me to make the switch before 7-8 April 2018?
Yes pretty much sure. I have the official information from the official link and website which I shared and you can find down below.
Then why the Uber Driver app tells me to make the switch before 7-8 April 2018?
Unfortunately as you know, there's no distinction or separation – in terms of the app – for Uber Drivers and UberEats Driver/Couriers. We are all using one app. And unfortunately enough, on the app -as of today – all the announcements are meant for Uber Drivers and not for UberEats Drivers/Couriers.
So what to do from today till May 2018?
Keep using Uber Driver app to get UberEats food delivery and pick-up – despite the warning to switch before 7-8 April 2018. Read more to find out why I told you to do so.
Do I need to sign-up for Grab now?
Unless you are an Uber Driver as well, then no. But when everything become more clear, you should. Don't worry, I, myself, am an UberEats courier, I'll post an update on my blog here. Stay tuned!
Main reason is that, unlike in other South East Asia countries, in Singapore Grab has not launched its GrabFood service yet.
Will GrabFood – like UberEats has Motorcycle, Bicycle and Walker as well?
While for sure, there will be Motorcycle and Bicycle, for Walker I'm not too sure. Hopefully Grab will consider Walker as well. I'm an UberEats Walker by the way. Read my story
here
.
Under Grab and GrabFood, will there will be more or less order?
As per my understanding, GrabFood are not yet launched yet – at least here in Singapore. GrabFood will only be ready by second quarter 2018 – which is next month :), so unless Grab do something – some good marketing and campaigns – people who normally order from UberEats will likely move to other platforms since I do think it will be a hassle for end-users to sign-up a new account on GrabFood especially if the given restaurants are available on other platforms as well (again unless somehow Grab can make end-users interested with their new GrabFood platform – give perks and discounts), so I hope I'll be wrong but do expect to get less deliveries at least on the first few weeks of GrabFood launch.
I am new and I would like to register as UberEats Driver / Courier. Can I register now?
I'm not really sure about this – since on the Uber Driver app, its written that from 26th March 2018 onwards, on any South East Asia countries they won't accept new driver registration however they don't really specify if that also applies to UberEats.
To make sure, you can always try to come to their hub and ask if they can register you in.
For any more info, where can I find one?
If you have queries about UberEats become GrabFood …
Feel free to post your queries, questions, thoughts down below on the comment section, I'll be more than happy to help answer your s to the best of my ability. Cheers!
To those who concerns, this post is intended more for UberEats drivers and couriers in Singapore.
---
For Life & Tech tips, iOS & Android Apps and Games quick review, do visit below:
---
Hi, thanks for reading my article. I do spend my time and efforts writing this article based on my own experiences for my own journal as well as to share the knowledge to whoever read it so hopefully they can get the benefit out of it
If you find and feel this article is good and helping you in anyway, help me to spread the words by sharing this article to your family, friends, acquaintances so all this goodness, my spent time and efforts do not just stop at you, they will also get the same goodness and benefit from it.
Thank you!