Easily Navigating iPhone with only one hand – Here's how to do it
Since the born of iOS and iPhone and until today – even on the upcoming iOS 11 – iOS navigation was never really changed. Apple has added a way to go back to last used application and that's it. Everything else stays the same. Navigation I'm telling here is those buttons located on the upper side of iOS screen, buttons such as "<Back", "Done", and whatever else since different apps will have different upper side buttons.
Last time when iPhone were 3.5 inch big, navigating the upper side was never a difficult thing, you could reach that "<Back" button with your thumb. Since 2012 where Apple introduced iPhone 5 with 4 inch screen and on 2014 iPhone 6 and iPhone 6 Plus with 4.7 inch and 5.5 inch respectively, the iPhone screen trend so far if it's not getting bigger, at least it won't go back to that 3.5 inch small screen. And since then, navigating on the upper side of iOS screen is not that easy anymore. While on Android phones you have alternative to press the physical back button normally located on the bottom part of the screen to navigate, on iPhone with iOS, you don't have any alternative – at least not the one most people know of. You either need to have longer thumb (which not everyone has it) or use two hands to help you navigate on the upper part of iPhone screen or keep using one hand with risking your iPhone to fall down since most people, myself included, are not able to hold it properly with one hand while trying to reach the upper part of the screen.
Little to everyone knowledge, Apple actually has a built-in solution for it already, they call it Reachability.
So what is this Reachability?
Reachability, first introduced on iOS 8, is a solution from Apple to easily navigate bigger iPhone screen with just one hand. When activated, it will bring down the upper half of iPhone screen to the lower half of iPhone screen so that users hand should be able to reach any portion of the upper half of the iPhone screen easily (or easier).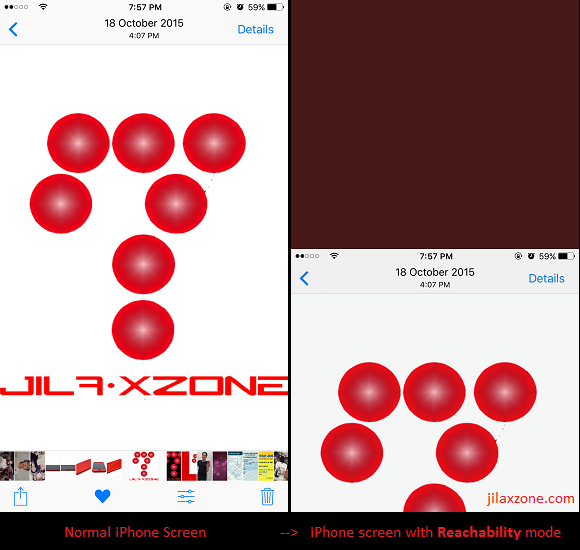 Image above showing iPhone full screen (left side) and iPhone with Reachability mode activated (right side). On the image above, touching "<" back button on the upper left of the screen can be troublesome for most of people. But with Reachability mode activated, touching "<" back button should be a lot easier.
How to use Reachability
Turn out it's super easy. If your iPhone is at least on iOS 8 or above and screen size more than 4 inch, the built-in feature is by default activated already. If not enabled, check how to enable it below.
Here's how to use Reachability:
1) Double tap on the iPhone/iOS device home button
2) Straight away the upper half of your screen will be moved to bottom half portion of your screen.
If it's not working for you, make sure you are double tapping on the home button and not double clicking it.
It works not only at home screen, and Apple menus and apps, but also all third party apps.
---
Find other awesome articles, tips, tricks related to Life and Tech, iOS & Android quick review on:
---
How to enable Reachability
In case your iPhone "Reachability" is not turned on by default, here's how to enable it.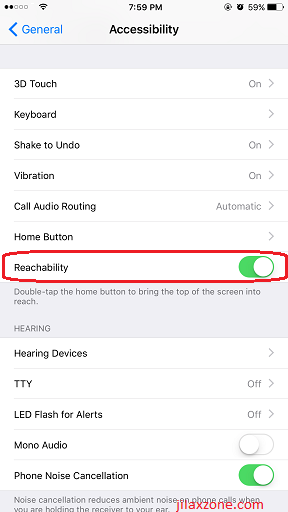 Here's how to enable Reachability:
1) Go to Settings > General > Accessibility > Reachability
2) Turn it ON
iOS 11 make it even easier to hold iPhone with one hand
With the upcoming iOS 11, check here for the 1-minute reading of iOS 11 new features, it's going to be easier to hold and use iPhone with one hand, since Apple is introducing QuickType keyboard. It's a feature, previously found on Samsung Galaxy phone which basically shrink the keyboard to the left or right, so your thumb would be able to reach the entire keyboard layout. Hopefully Apple is not just copying this feature but also do some enhancements to it to make us even more comfortable when using the iPhone with one hand.
What do you think Apple should bring to its iOS 11 and/or future iOS to make us getting more and more comfortable using iPhone and future iPhone with only one hand? Does it matter for you to able use iPhone with one hand? Give your comments and thoughts below on comment section below. Cheers!
---
For Life & Tech tips, iOS & Android Apps and Games quick review, do visit below:
---