How to Get Healthy and Get Paid For It – Getting Healthy is Rewarding
No, you are not reading it wrongly. What I am about to share you is how you can get healthy and get paid for getting yourself healthy.
How is that possible?
I won't share bull shit and non-sense here but this is what truly happening to me and it could also happen to you too. There are numerous programmes or activities you can do around you which can generate you extra money ~ well I said extra because they may or may not replace your current job but at least you can get the idea and find one that suitable for you. I live in Singapore and here are few of the samples I can do in Singapore to get myself healthy yet get paid for it.
Joining Healthy 365 Programme
Heatlhy 365 government programme where government thru its Health Promotion Board giving away total $35 to any residents who can complete the national steps challenge (read here for details).
---
Find other awesome articles, tips, tricks related to Life and Tech, iOS & Android quick review on:
---
Become UberEats Driver / Power Rider
Recently I made a blog post about how you can join and become UberEats driver (read here). One of the driver type actually doesn't require you to have any kind of vehicles including bicycle but only your pair of legs: they call it "walker".
So what walker do is that, take foods from the restaurant/hawker and deliver it to the customer within walking distance, usually from 0-2KM. Simple, isn't it?
This is how much I get last week with my own pace for delivering 12 meals during Saturday and Sunday.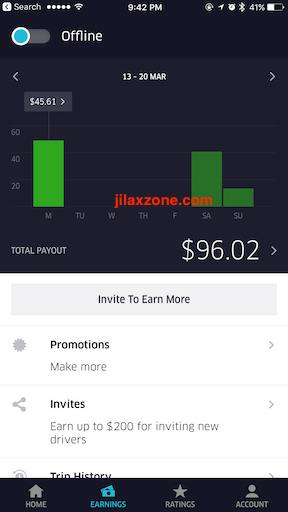 The amount $45.61 on Monday is incentives from Uber for helping them delivering meal to their customers.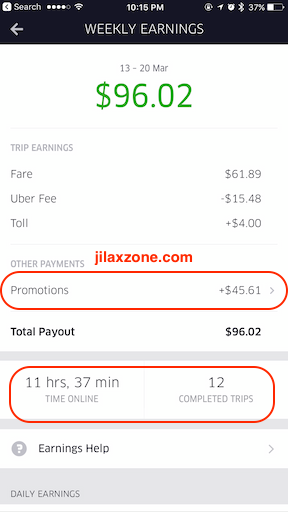 As you can see, $96 to me they are not considered small money.
If you can do the similar things within 1 month (4 weeks), then you may get extra $400 in your pocket while stay fit and healthy.
But they may not be available at my place or not suitable for me
Not staying or living in Singapore? Doesn't mean you can't do it. Gather more info around you, find something that you feel suitable for you, while they may not have money as rewards but it could be something else, something even better and more rewarding than money, such as: chance to socialize, chance to meet and make new friends, anything that to you are worthy to do so, e.g: helping the charity programme on the community center, clean the neighbouring park/drainage.
The Verdict
Most of the times for whatever reasons, most of us, myself included, are feeling super lazy to exercise to stay on shape and fit, even though we truly acknowledge that it's for own good. With the hack I share: get healthy and get paid for it – be it getting money or something else while exercising to stay fit and healthy – hopefully it can encourage you to do the same or something similar for your health and for your own good.
The hack indeed works for me. What about you? Let me know your thoughts.
---
For Life & Tech tips, iOS & Android Apps and Games quick review, do visit below:
---